LIAF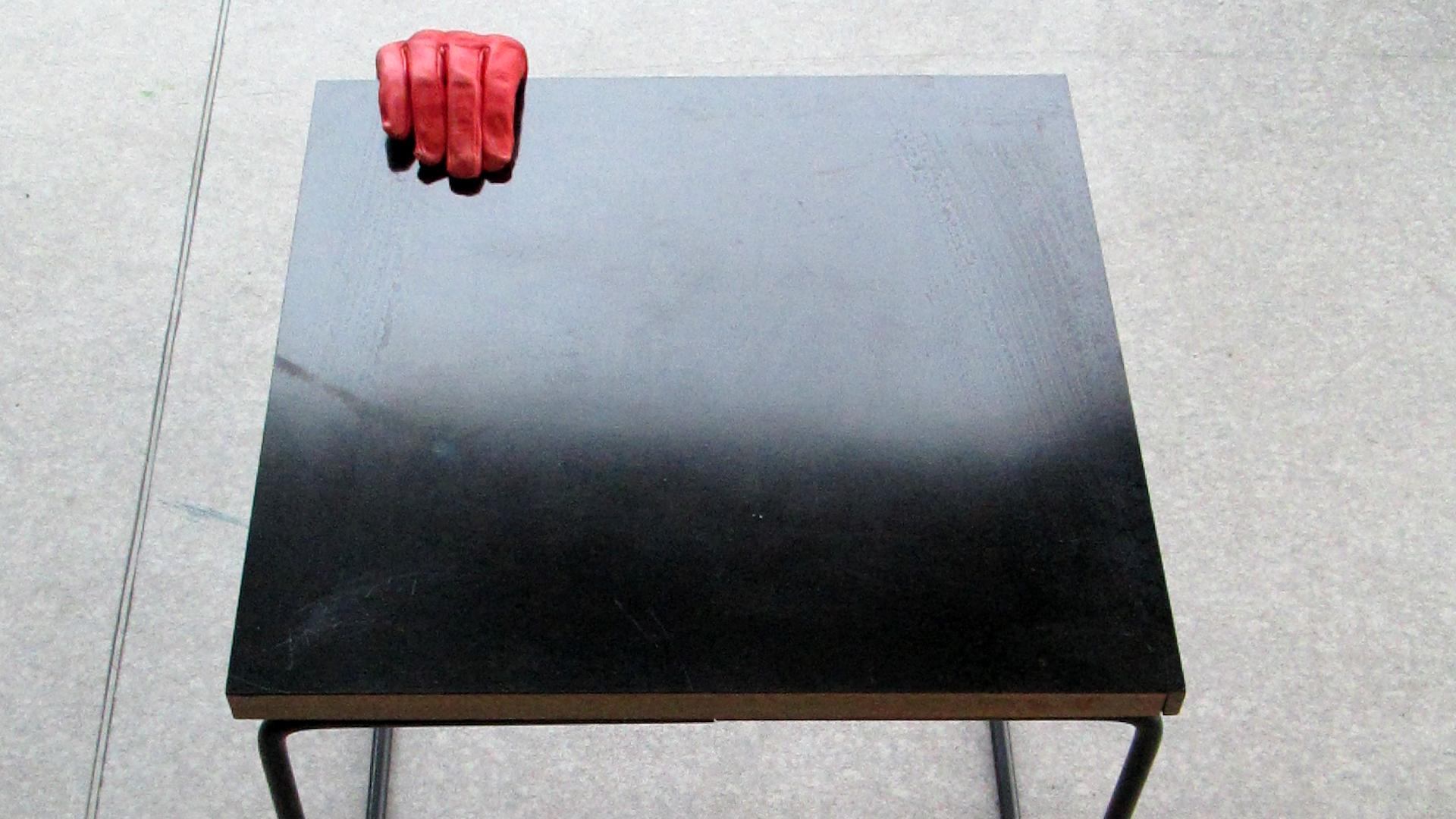 Disappearing Acts, Lofoten International Art Festival
Svolvær, Norway, August 28 to September 27, 2015
In Norway's Nordland, on the edge of the Lofoten Islands, acting as the archipelago's capital with its 4,000 or so residents, Svolvær played host to the 14th LIAF. More exactly, it was in an old hardware and furniture shop, being put to use for the last time before being destroyed, that the somewhat disenchanted statement of the two curators, Matt Packer, director of the Derry-Londonderry art centre in Northern Ireland, and Arne Skaug Olsen, a Bergen-based critic and curator, took shape: "A dystopian foreshadowing, a strong hint that our chances of directing and changing the world, and thus the basis of our very lives, are in the process of disappearing", thus summed up by the director of the Nordnorsk kunstnersenter, the LIAF's supervisor.
If, on an initial reading, it might be less than easy to glimpse constructive links between the works on view, this is because the idea behind the show is not that straightforward. Rarely, however, can an exhibition have been so contextually conceived. To such a degree, furthermore, that what people witnessed in it was nothing less than a romanticization of the exhibition venue, a place which the curators unhesitatingly described as a character, working like an allegory of their thinking: "The Jern & Bygg premises appear like a mutilated corpse with its dreams and desires exhausted, just like the rest of us", was how they wrote about it. Its pragmatic and organic architecture reflects 70 years of tentacular existence, changing from a modest shop to a more than 30,000 sq.ft. block of buildings in a staggering patchwork of styles, well removed from the sleek architecture of the big international hotels springing up all around. The fact is that Svolvær is not managing to dodge the gentrification that one might have thought a far cry in such parts of the world, the main economic resources of this particular part being, until very recently, fishing and fish farming. Nowadays, the Lofoten Islands' propensity to give rise to backdrop-postcards means that they are a major tourist destination for those fascinated by faraway and still wild places—and let us take careful note of the paradox.
Reflecting this quite recent comeback, in art, of a line of thinking about the future, after many long backward-looking years bogged down in the themes of the archive, history, modernism, and the like, "Disappearing Acts" strove to come up with a sort of multifaceted portrait of man in the offing. An exploded figure, gnawed by doubt, steeped in fears linked as much to the over-technological development of his environment as to his inability to commune with nature, a fragile body, made even more fragile by the advent, in his mental landscape, of the Anthropocene notion, a hyperobject if ever there was, which returns him to his place as a petty subject, this time belaboured by an accusation. All of which means that, here, we are a thousand leagues from the enthusiasm of Futurism. The doubt inherent in the œuvre of Hedwig Houben1, who, in a video installation produced for the occasion, continued her perfect deconstruction of the creative process, was echoed, in the far reaches of the building, by Mercedes Mühleisen's distressing animation which, beneath the features of a thoroughly nasty character, depicted nothing less than language itself, caught in its own trap after the disappearance of all carriers. What is it without any people to incarnate it, without consciousness to appropriate it, and understand it? How can it survive if not by fruitlessly trying to get away from itself?
Moan moan, I don't know
I don't know, cause it's not to know.
So, how could I know?
Declaiming its metaphysical and lyrical meditation, it evolves in the infiniteness of black and white waves breaking on themselves in a disarming symbolism. Although its implementation is relatively complex, The Gnomic Puddle focuses on evoking the artifices of baroque theatre, thus tacking between lo-fi and a whole host of layers.
The technological fascination that we picked up on at first glance in Ciarán Ó'Dochartaigh, Elizabeth Price, Katja Novitskova and the now ubiquitous2 Benedict Drew, found a happy critical counterpart in the works of each one of them. With the first, it was thwarted with snide wit in the video Sealand 2, which was part of a high-tech display, its design so egregriously of 'Nordic' inspiration that it even had the title Ode to Beovision. With its look of cinegenic advertising, Elizabeth Price's West Hinder (2012) presented a news item: the shipwreck of a freighter transporting luxury cars in international waters. Price imagined the sequel of the story, with the cars using their 'on-board intelligence' to construct a discourse marked by promotional rhetoric, but representing a non-human collective voice. Benedict Drew's stunning video, Mainland Rock (2014), seemed to devour itself from inside: beneath its strikingly seductive digital virtuosity, overplaying the pleasures of the tool, it pinpointed the hold of the machinic objective through the empathy it imposed on our senses, while the voice-over struggled to make itself heard and the images, in the end of the day, were no longer so important, until they stopped, out of breath. This Page Intentionally Left Blank was offered as a respite, before pursuing visual exhaustion.
Elizabeth Price, West Hinder (excerpt) from EP on Vimeo, 2012. Courtesy Elizabeth Price ; MOTInternational.
Diametrically opposed to these ocular tumescences, the altogether tenuous works of Jason Dodge, Emilie Pitoiset and Juha Pekka Matias Laakkonen were offered like a literal echo of the Biennial's title. A folded piece of fabric whose title indicated that In Norway, Siri Blomstrand wove yarn the color of night and the length equaling the distance from the Earth to above the weather; hanging curtains showing themselves more than hiding anything, a leather glove wearily gripping a coffee table; a kind of small bowl made of pine resin, moose faeces and spring water, simply set on the ground. Laakkonen produced this latter work during the month he spent on a small desert island which we could catch sight of from the room where the object was displayed.
The last word went to Sam Basu, guest artist but also director of the Treignac Project, curated by Matt Packer over the last two years, who declared during the symposium organized for the opening: "Art is good at existing inside the trauma more than at analyzing it". While Tue Greenfort's vehicle, running on vegetable oil, was parked in front of the large bay window.
1 Cf. Hedwig Houben by Aude Launay, 02, no. 75, Summer 2015.
2 Especially for Londoners, because de-re-touch, his most recent work, uses the advertising screens in more than 60 Tube stations for Art on the Undergound, between 2 November 2015 and 28 February 2016.
With:Anna Ådahl, Sam Basu, Sissel Blystad, Eva La Cour & Kristian Poulsen, Ciarán Ó Dochartaigh, Jason Dodge, Benedict Drew, Fabien Giraud & Raphaël Siboni, Tue Greenfort, Roderick Hietbrink, Carl Johan Högberg, Hedwig Houben, Steinar Haga Kristensen, Juha Pekka Matias Laakkonen, Dennis McNulty, Mercedes Mühleisen, Isabel Nolan, Katja Novitskova, Émilie Pitoiset, Elizabeth Price, John Russell, Jon Benjamin Tallerås.
(Image on top: Emilie Pitoiset, Sticky, 2015)