Jacques Lizène's laugh echoes on in my mind.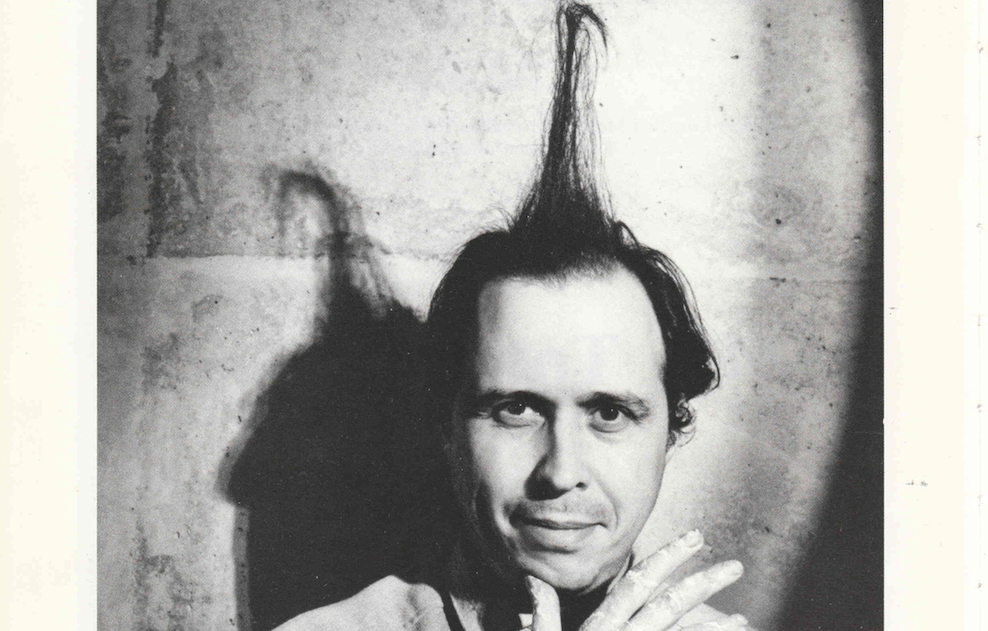 Terrible, completely terrible, Jacques Lizène left this world last year. Therefore, it seemed pointless to add to the numerous obituaries by writing something about the man I met at the end of the 1980s. To write about Lizène, an artist who described himself as a "late 20th-century non-master from Liège" is no easy feat, considering he gave himself so many titles, such as "mediocre artist," or "terrible artist," to mock the art world (Ah, Ah, Ah).1 Mediocre: "The only unclaimed niche in the arts," he told Jean-Yves Jouannais. Jacques clung to this artistic attitude to the bitter end, taking « mediocre » care to die in the 21st century, drawing out an already impressive career.
Because Jacques Lizène preferred white wine or whisky, it was neither in a cafe nor at the Cirque Divers2 that I had the good fortune of meeting him. The artist Daniel Grimaud and I discovered the existence of the Belgian artist who advocated an art sans talent in a short article published in Beaux-Arts Magazine. This is how a plan to meet him began to take root, and above all, an idea for an exhibition in Nantes, at the newly-inaugurated Zoo galerie.3 Soon enough we make contact, which gives way to our first epistolary exchange. A work in and of itself, written in all uppercase letters—as with all of the letters I would receive from him—his letter was outlined by a thick black line traced in marker and signed with an enormous signature which of course begins with an L, but written in a bizarre calligraphic way resembling the Greek letter α. Probably an allotropic alpha.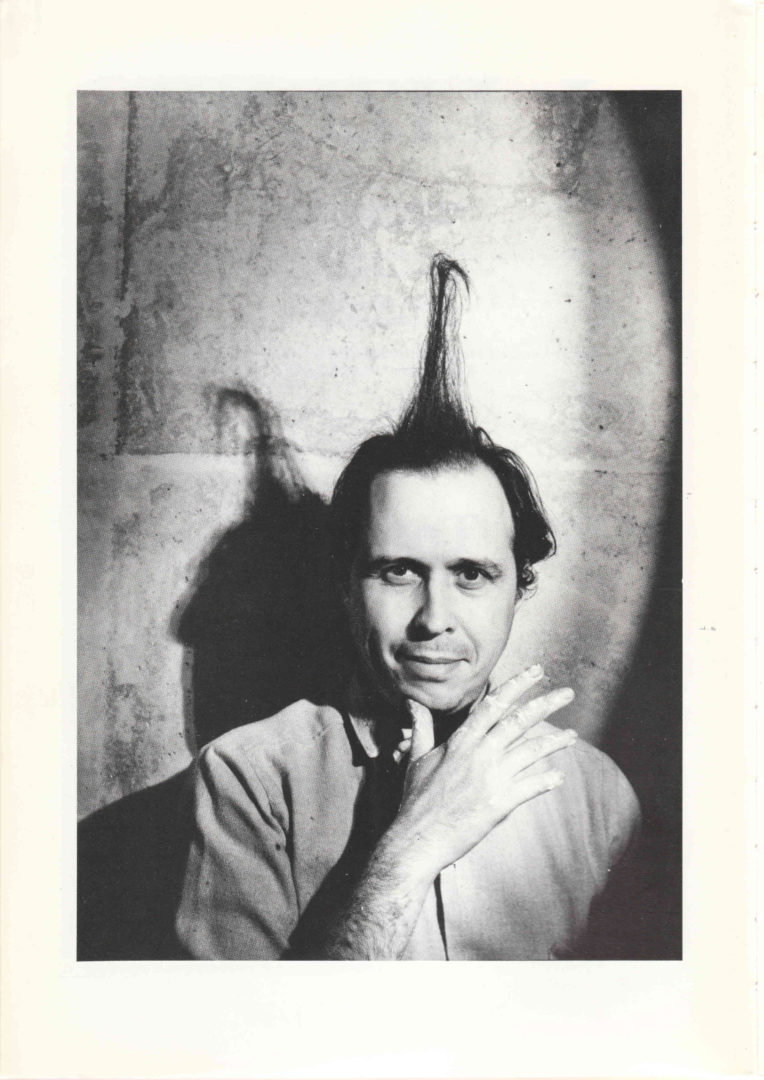 Jacques Lizène's first exhibition in Nantes took place in early May, 1990, in a small apartment situated at the rear of a courtyard located at 1, rue Santeuil, in which a gallery had been created by a group of artists and art aficionados. In preparation for the event and with a touch of humour, Lizène sent a mock-up for an invitation which was drawn on the reverse side of an invitation from the Daniel Templon gallery; it was a terrible sculpture smoking accompanied by a prehistoric-style character and details regarding the format and paper quality. On the other side, the printed texts were crossed out and replaced with new, handwritten instructions (exhibition title, dates and location). I wonder now why we didn't come up with the idea of making a facsimile of it, which could have turned out great.
Jacques's involvement was really interesting especially considering that his high standards seemed to contradict the way he defined his art. The installation of his exhibition, "Little Mediocre Drawings of Useless Sculptures 1966-1990 With or Without Smoke as Art Attitude" was a learning opportunity for the novices that we were at the time. With a kind of feigned nonchalance, Jacques handled the many frames in which he placed his drawings which were made by drawing directly on photocopies of his own drawings. Some had been painted with watercolours, which warped the surface and gave them a look which defied good taste. Similarly, empty frames were added to embellish—or maybe I should say frustrate—the exhibition, playing with an accumulation of disorderliness whose ecstatic effect was of the highest order.
A television placed sideways on top of a brick accompanied the whole ensemble. Lizène had gathered his terrible video art sequences, showcasing his urban interventions,4 such as the nailed, cracked crosswalk paintings or his film Sex Marionette, which if shown nowadays would set us up for an attack by the Puritanical league. That May, the opening was a fiasco; everyone in Nantes seemed to have preferred to be on the boardwalk. Pathetic.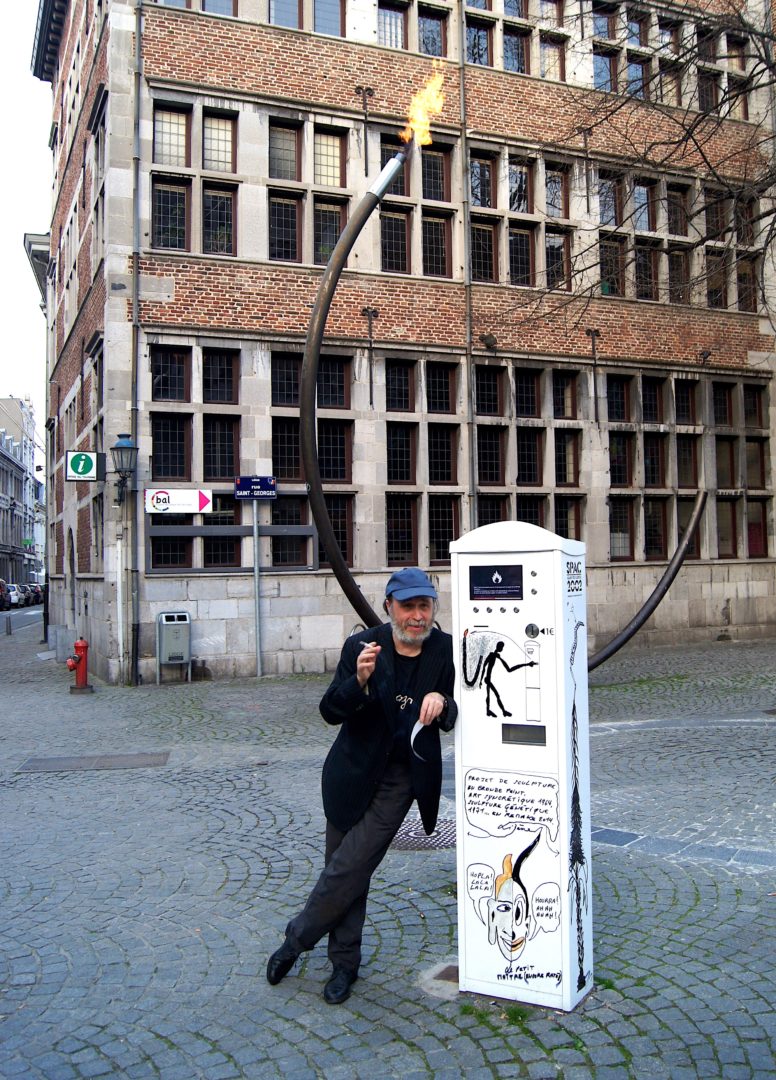 Jacques Lizène did not hold it against us. We later gave him a second exhibition which would result in a mediocre installation. Specifically for the show, Jacques, who had emptied my bottle of Ballantine's and stolen a roll of butcher paper, started to assemble something in the Zoo galerie adding a variety of other heterogeneous dust-covered finds, in order to make one of his pathetic sculptures which were so characteristic of his art: a hilariously complicated machine. The art critic Pierre Giquel was full of praise for the exhibition, which he described as "a breath of fresh air, a masterful antidote to the submission to good taste, to ascetic sadness."6 We can assume that since Lizène was willing to do two shows in Nantes, he must have identified on some level with this Cioran quote : "At the Zoo. All the animals are decently turned out, except for the monkeys. It seems that man is not too far off." 7
Jacques Lizène, Petit Maître liégeois du XXe siècle, artiste de la médiocrité, Tome II (Le Tome I est introuvable) (20th Century Non-Master From Liège, An Artist of Mediocrity, Book II (Book I is lost), 1990, éd. Atelier 340, Bruxelles, p.144, See Jacques Lizène's letter in response to Catherine Millet, and p.159, exhibition « Jacques Lizène, An Artist of Mediocrity. Little Mediocre Drawings of Useless Sculptures 1966-1990 With or Without Smoke as Art Attitude », from May 9th-June 9th, 1990, Zoo Galerie, Nantes.
Cirque Divers (1977-1999) was a cabaret in Liège with a Pataphysical ambiance, founded by Michel Antaki in 1977 with, Jacques Lizène amongst others.
« Born in Nantes Like Everyone », Interview, Patrice Joly with Pierre Giquel, Hors-série 303 / N°96/97, co-publication 303 Association Région des Pays de la Loire and of l'école régionale des beaux-arts de Nantes, 2007.
Cracked Crosswalk, Horizontal fresco, Liège, 1984.
Second exhibition at Zoo galerie from December 11th 1993 – January 15th 1994, conference with Jacques Lizène on Belgian art at the école d'architecture de Nantes (UPAN), December 9th 1993, invited by Daniel Grimaud and Philippe Szechter. Daniel ended the presentation with the following: « LIZENE had his 2nd exhibition at Zoo Galerie because he was sincerely delighted by the mediocre reception that his previous exhibition in Nantes had been given."
Ouest France, Janvier 7th 1994
Cioran, Écartèlement, 1979, Editions Gallimard, p84.
. . .
Head image : Jacques Lizène, Petit Maître à la fontaine de cheveux, 1980 (Pierre Houmant/Courtesy Galerie Nadja Vilenne)