Anita Molinero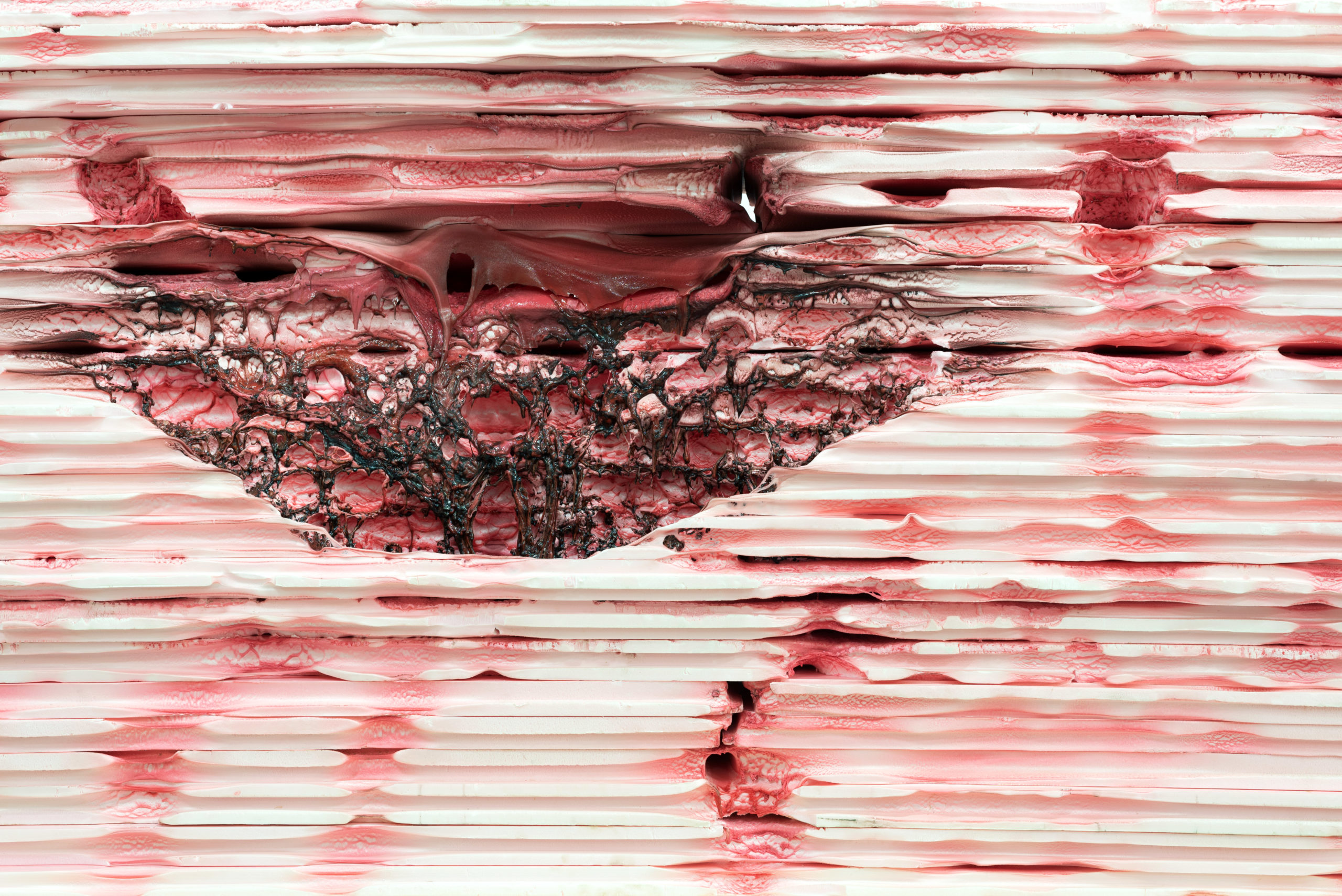 Extrudia
Musée d'Art Moderne de Paris
25.03.2022 – 24.07.2022
Je m'balance, j'm'en balance[1]
At the entrance of the exhibition, L'irremplaçable expérience de l'explosion de Smoby (The irreplacable experience of the Smoby explosion) sets the tone, the colour scheme, and at the same time, the piece sets itself apart, perhaps because its symbolic or narrative potential (an intoxicated, devastated, violent childhood?) is not what interests Anita Molinero. Here, the artist is drawn to the object as industrial product, clean and cold, without texture or asperity—a call to vandalism of all sorts. Children's playground equipment can be seen (playhouse, slide, structure for climbing), however the once-smooth and impeccable surface of these brightly-coloured plastic elements have been transformed (or mutated) into a dismembered ensemble, deformed by incongruous growths, perforations, blisters, drips and other joyous forms of collapse. Although this may no longer be a playground, we can at least bet that children will find something to excite their curiosity and sense of play.
From the very beginning of her career in the 1980s, Anita Molinero has been interested in objects, and specifically, materials, which have no particular reputation for being of aesthetic interest. Early work made from scraps of cardboard, of fabric, of foam and diverse plastics combined in rudimentary fashion, without the use of tools and having no relation to one another, resulted in precarious sculptures. Later work made use of spectacular slabs of polystyrene, traffic cones and public bins deformed by fire; the raw material of her work is often trivial or vulgar in nature, it comes from the street, from construction sites or skips, and are the residue of use, what is left behind post-consumption.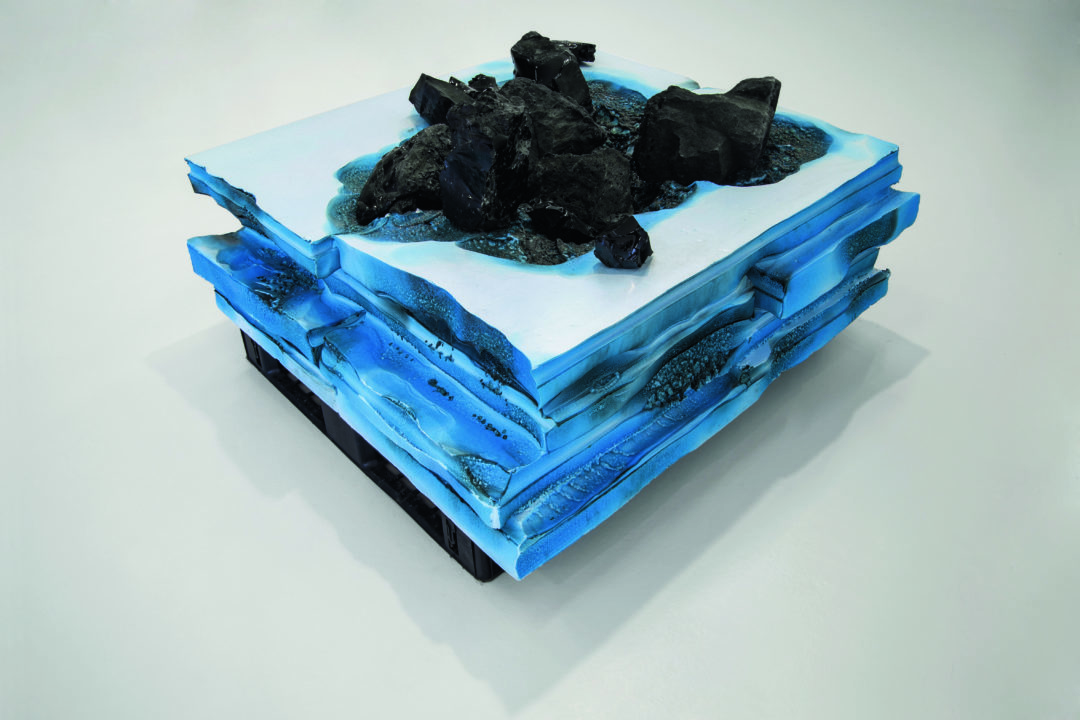 This first section of the exhibition gathers together works which date from 1980 to 2015, although there is no strict chronology. Here we discover two 'street sculptures' (the majority of which have been destroyed or disappeared) which have been enclosed in plexiglass boxes (at the request of lenders worried about conservation issues), to comedic results. One is made from a used cardboard box that looks as if it is trying to remain upright, the other is made from a scrap of cardboard tied up with what appears to be a paint-splattered t-shirt. On the lower level of the exhibition, the works from this era are presented in the form of photographic archives in one of the spaces. Experiments with assemblage or composites made of miscellaneous objects (cardboard with plastic basin, pleather bag and foam, cardboard on top of and glued to plastic bottles), rolled, wrinkled, folded cardboard boxes…a rudimentary and humble, yet obstinate form of sculpture.
A bit further on, we find a foam mattress covered with flagstones and confetti. This work is from a larger ensemble of 'mattress pieces', which date from the beginning of the 90s, revealing both a preoccupation with modernist codes of sculpture (horizontality rather than erection, an ambiguity between pedestal and sculpture, juxtaposition of solid and supple materials etc.) and a revelation of the pathos of life on the street, of arrangements and random handiwork that is taken apart as quickly as it is assembled and which constitute the daily life of people facing hardships.
Despite this inclination toward some of the most brutal realities, the artist does not completely distance herself from decorativeness, a certain design aesthetic. The nearly-chic displays are an example of this—small, painted wooden signs hang on the wall and provide a surface for the combination of a variety of practically unidentifiable objects (twisted, shredded or melted) which are rich in colour and contrast. There is also a magnificent, low wood table, covered in plexiglass and resting on top of piles of roof tiles, of floor tiles, a vase, on top of which there are several enigmatic coloured masses which reveal themselves to be, after closer inspection of the wall labels, melted plastic bags.
The introduction of the moulding of different kinds of plastics using fire dates from the end of the 90s. Inspired by burnt trashcans in the streets of Marseille, here, Molinero finds a way to express a form of controlled violence. "I am a frustrated expressionist, in other words, a debauched formalist," she said in a video on her exhibition at the Consortium1. Beginning with an "attack" on trashcans, the artist has managed to transform this matter, through the aid of a kitchen torch or flamethrower (especially)—by melting, stretching, folding, perforating, swelling—creating a multitude of unexpected motifs on its surface (see the magnificent photos of Romain Moncet in the catalog) while allowing the original object to remain recognizable. The colours are often bright (red, yellow, green, blue…), with edges of shadow or dark spots in certain places, accentuating the texture. A monumental ensemble of red bins stacked into one another has been installed outdoors in the fountain of the museum, creating a welcome hiatus in this landscape dominated by Bourdelle's La France éternelle, oreternal France, as well as the mythology-themed bas-reliefs decorating the museum's façade.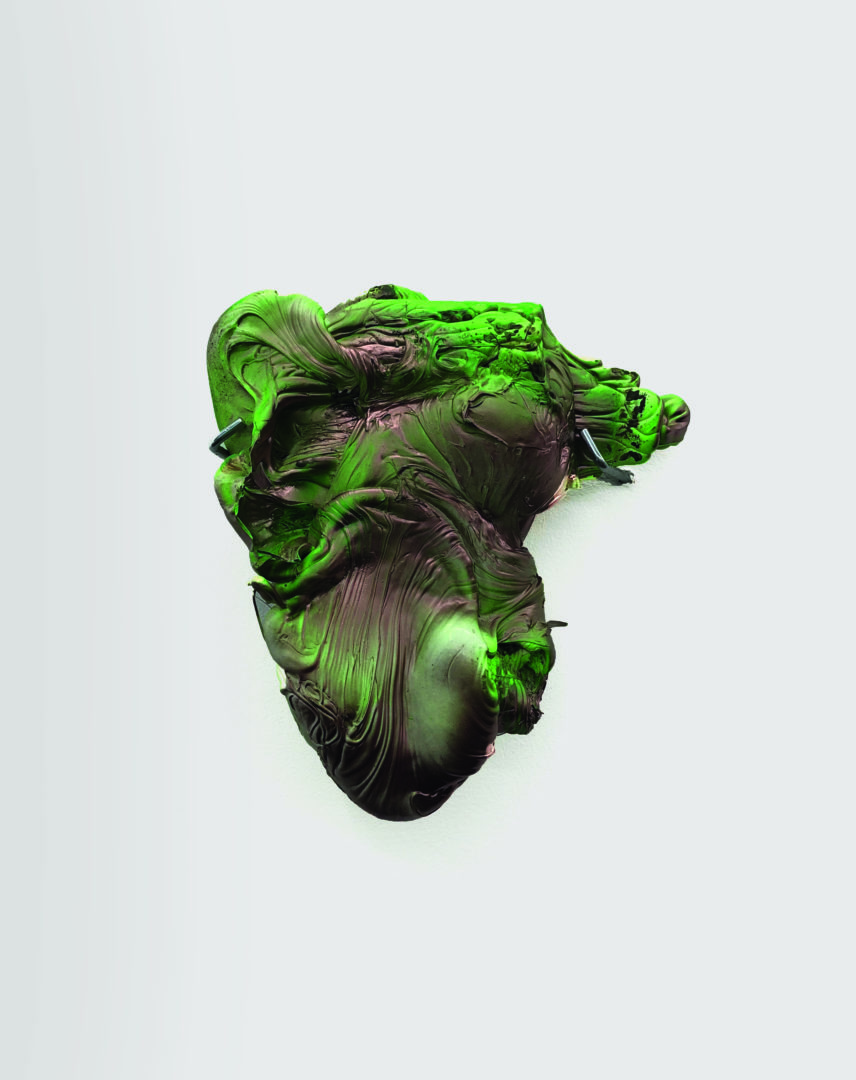 Although they are recurrent, bins and other containers are not the only targets of Molinero's vandalism. Traffic cones, tanks, headlights, and also wheelchairs are all treated with fire, sometimes accompanied by added elements which are more or less intact and provide support: exhaust pipes, steel rebar, a bicycle rack, chains…
Pieces made of slabs of extruded polystyrene, like La Rose (The Pink One)or La Grise (The Grey One) leave the figurative and the world of objects completely behind. The industrial, highly conformist origins, homogeneity and monochrome appearance of the material (used in construction) disappear due to the application of heat and pressure, leaving behind cavities, rivulets and overflows, giving the spectator the opportunity to pause, letting their gaze wander, allowing shapes to reveal themselves, analogies to form. The perforations in the material are like entrances to a cave within which the imagination can engulf itself.
The second part of the exhibition, dedicated to more recent work, opens with slightly ironic pictorial essays. Nina Childress's catalog essay expands on this theme, touching on Molinero's initiation to the world of supposed flatness, "One day, Anita gets fed up. Why shouldn't she benefit from the painting effect, for once? (…) She grabs a piece of blue extruded polystyrene, freshly burned, as if a red-hot tire had just rolled over it. Right in the middle of the wall, boom, she sticks it up there. It works; it really, actually does work."2
Bathed in a most flattering light on the museum walls, the Croûtes (Crusts) really shine; some are painted over with acrylic, acetone and/or framed in coloured plexiglass. The Fonds de cuve (Tank Bottoms) are in a similar vein. These polypropylene forms have been reclaimed and given a cursory coating of spray-paint—Molinero uses the term "painted up" rather than "painted," with regard to her working methods. Perhaps this is a playful reference to César; instead of expanding on something, the artist collects readymades and puts them on display after a little makeup session.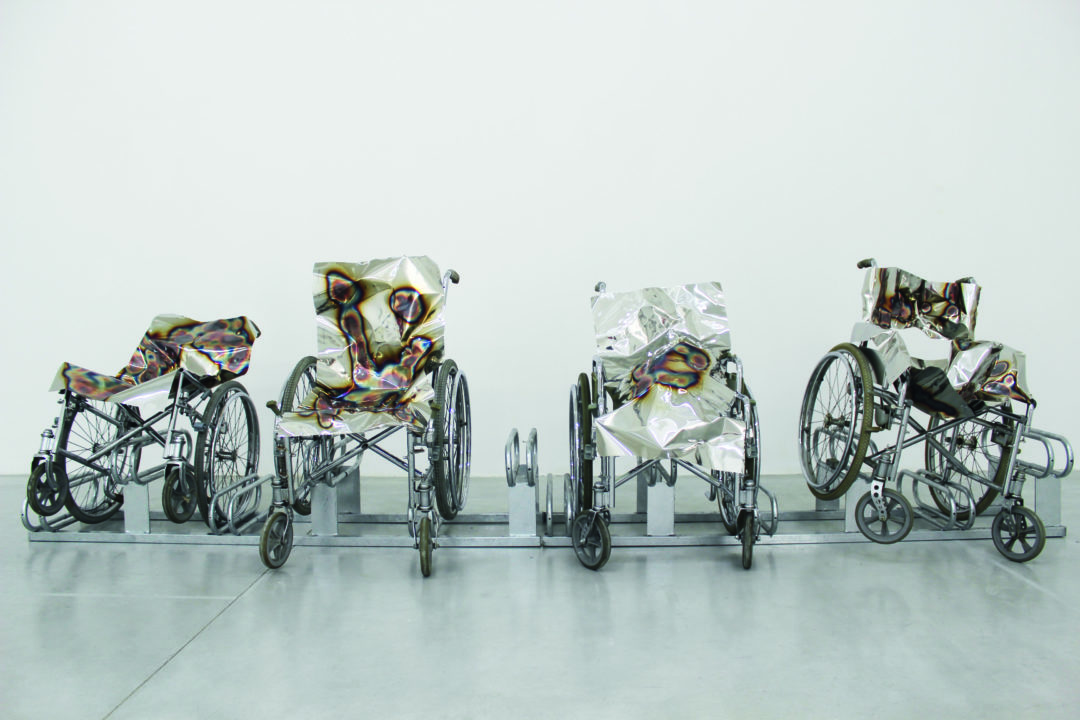 Film genres (especially horror and science fiction) are a constant source of inspiration for the artist. She has a way of taking certain themes, scenes, special effects and accessories and giving them a comedic twist. These are not, however, re-appropriations of pop culture as was so often the case in art from the 90s: there are no references, remakes or "meditations on". It is the world as it is today that the artist recognises in dystopian or post-apocalyptic films, sometimes in the smallest details. Objects and materials which have undergone a transformation, a partial calcination, as if they were vestiges from a not-so-far-off future, more or less intact after having barely survived a catastrophe. Like the recycled objects the characters in Mad Max make things to kill each other off with…the last work in the exhibition is a wallpaper depicting a blown-up detail of a sculpture (which has been rendered completely abstract and shares similarities with splatter film imagery) on which a couple of fragments of burnt polystyrene from a sculpture which was created for (neighboring museum) Palais de Tokyo in 2019, Bouche moi ce trou (Fill that hole for me)are hung, suspended from steel rebar. With this piece, Molinero positions herself as storyteller, narrating in a way that melds the different elements together: "A half-UFO made out of extruded polystyrene, burnt, carved and combined with a fur coat which has been massaged with acrylic medium. Two wild materialities (…) Both provide heat and insulation."3
The fur coat placed on a steel rebar structure, weighed down by a thick chain can be seen as an emanation of Tina Turner alias Aunty Entity, the queen of Bartertown in Mad Max: Beyond Thunderdome by George Miller. We can also imagine that these pieces of polystyrene projected onto a wall at the Musée d'Art Moderne are fragments of the ship that soared into the Palais de Tokyo, then was ripped to pieces by the cloud of space debris engendered by missiles fired onto a Russian satellite (an approximate summary of Alfonso Cuaron's Gravity). Furthermore, the inherent violence in the work of Anita Molinero is an echo of the way it governs post-apocalyptic science fiction, in film and in literature. In the work of J.G. Ballard—of which the artist is a fan—violence appears as a way of exploring limits, an opening up to instincts and taboos that society keeps in check through an excess of polish, norms, morality and good taste. The artist is also an admirer of Leslie Kaplan's cult film, La fiancée du pirate (The Pirate's Fiancée), in which the heroine—played by Bernadette Laffont, "a modern day witch," as the director referred to her—struggles against the "notables" in a village stricken by conformism and hypocrisy, weighed down by patriarchal mores.4
The title of the work Miss Pink, Miss Blue, Miss Orange is a direct reference to the particularly bloody Quentin Tarantino film, Reservoir Dogs, considering all of the protagonists end up killing each other off. And yet, it is also a reference to a campfire…the modules which are connected into a circle shape by chains are moulded concrete fragments of Bouche-moi ce trou, partially pigmented (two are pink, two orange, two blue). An exhibition catalog is placed on top of one of them, an indication to the spectator of the possibility of sitting down in the space (Molinero's suggestion that copies of Voici, Paris-match and Gala was rejected). Here as well, there is a hint of irony in the reference to a certain type of art that was in vogue during the 90s, especially in France; one that emphasised conviviality, interpersonal relationships and spectator participation in works. (I am thinking very specifically of Xavier Vielhan's Feu, which was shown for the first time at the Capc in Bordeaux in 1996, as part of the "Traffic" exhibition, curated by Nicolas Bourriaud). Molinero's benches, which are chained together, have a brutalist design to them, a little wildness, a little rudeness, and are oddly gathered around an absent fire…A post-apocalyptic conviviality?
In order to recycle Bouche-moi ce trou (too large to keep in storage), so that its fragments could be used to make new pieces, Molinero's pyromaniac assistants had to dismember the work by once again using heat-generating tools. Extrudia 3D resulted from this; a short film directed by José Eon, which can be seen with 3D glasses, and features the spectacular dislocation of the piece, producing images (including extreme close-ups) which easily measure up to some of the best special effects. As for Molinero, who appears as grand priestess offering her work up to the fire, she appears wild herself, protective gear on her head, wearing an old fur coat while carrying around a hatchet…the ultimate, superb taunt thrown in the direction of any form of sacralisation from this untamable artist.
1 Oreo, 21 juin – 28 septembre 2014, Le consortium, Dijon
2 Nina Childress, « Two Girls and Some Crusts », Extrudia, Paris museums, 2022, pp.118 – 121
3 Nathalie Seroussi, « The Power of the Miss », entretien avec Anita Molinero, Ibid., p. 105
4 See Paul Bernard on this topic, who references « the pyromaniac witch », a figure who resists the norm, « Les Provinciales », Ibid., pp. 38-47
Elisabeth Wetterwald
---
[1] Roughly: I'm rockin' out, I don't give a damn
. . .
Image en une : Anita Molinero, Sans titre (La Rose), 2003 [détail] 137 x 780 x 65 cm. Collection Frac Bourgogne Photographe Romain Moncet © ADAGP, Paris, 2022