CLEARING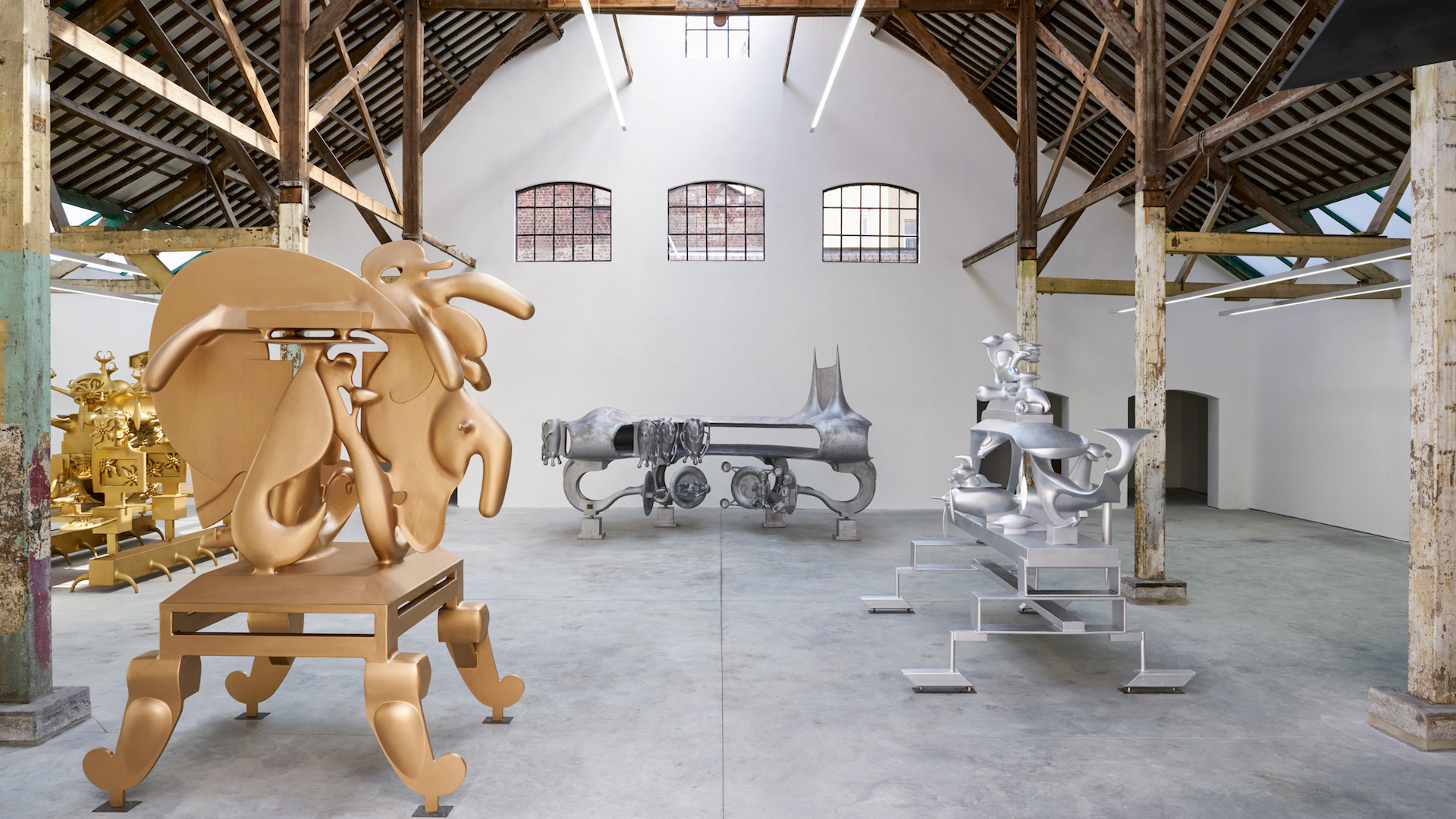 On 19 April, in Brussels, the CLEARING gallery opened a new 500 sq.m. venue on Avenue Van Volxem, not far from the Wiels Contemporary Art Centre. After five years on Belgian soil, the gallery, which initially saw the light of day in 2011 in New York, marked the occasion by presenting a set of monumental sculptures by the Austrian Bruno Gironcoli. While the latest art news had tended rather to be dominated by the closure of certain galleries—we all recall the shock wave in the wake of the decision by the legendary Andrea Rosen Gallery to give up all its physical space, while continuing to represent some of its artists—, the daring monumentality of CLEARING, which, just a few years back, occupied in Bushwick an old warehouse of a similar size, is surprising and out of place. Not because it goes against the grain of any tendency, or because it illustrates a counter-model, but much more because it illustrates a radical unusualness constructed by a string of coincidences, and stories of friendship, flair and a propensity to seize the right time. The career of the gallery, incubator of some of the most interesting artists in the past few years, from Korakrit Arunanondchai to Marguerite Humeau by way of more hallowed figures like Eduardo Paolozzi and Koenraad Dedobbeleer, has a lot to do with the story of its founder, Olivier Babin, himself initially an artist before doing an about-turn and deciding to devote himself full time to supporting others.
In 2009, you put an end to your activities as an artist, and became a gallery owner. There are artists—albeit few in number—who have stopped in mid-career, but in such cases the gesture is often symbolic, brandished like a standard in the guise of a protest against the market system: a way, in a nutshell, of reversing the power play and the promotional relation of the system. Whence this first question: what made you decide to switch sides and become a gallery owner?
Olivier Babin: I arrived in New York in January 2009 for an artist's residency, supposedly for six months, and I've now been living there for more than eight years. For almost two more years I carried on producing works and having exhibitions as an artist. Then in 2011, I completely emptied out my studio in Brooklyn, apart from a sofa which I continued to live on for a few months. That's where I showed other artists for the first time: Harold Ancart and Jacob Kassay. The gallery started out as an adventure, not a professional project. In fact I'd never in my life worked in a gallery, I didn't really have a business mind, and in addition I didn't have any money. There was no business plan, and no road map. At the outset, there was a sudden, existential change: stopping being an artist, doing things differently, and changing my life. It was a selfish choice, not a political one. I did it for myself, not against the system. And it didn't have anything to do with the market, either, which I knew nothing about at that time, and which I didn't care about. More simply, it had to do with a crisis of lucidity that was a little bit more acute and a bit longer than usual: I wasn't a great artist, I wasn't going to become a great artist, and I was going to die of despair and bitterness if I insisted on carrying on along that track for one more minute.
Who were the first artists you worked with?
The first two artists I exhibited were Jacob Kassay and Harold Ancart, who were friends. Then Esther Kläs, Loïc Raguénès, and Koenraad Dedobbeleer, who were also friends. I think it's quite classic: first you show your friends, then friends of your friends, people you know, and have access to. Things happen in a natural way, between friends, in a porous way, and through osmosis. My friendship with Harold Ancart, whom I met in New York in 2009, was what really made me decide to open the gallery: after working together, we decided that he would carry on being an artist, refining his work, while I, for my part, would put an end to my career, and help him. I told him that I was going to make him a great artist, and he replied that he would make me a great gallery owner. Today, the gallery is showing fourteen artists and two estates: Harold Ancart, Jean-Marie Appriou, Korakrit Arunanondchai, Huma Bhabha, Sebastian Black, Konraad Dedobbeleer, Ryan Foerster, Aaron Garber-Maikovska, Bruno Gironcoli, Marguerite Humeau, Zak Kitnick, Calvin Marcus, Eduardo Paolozzi, Loïc Raguénès, Lili Reynaud-Dewar.
What do you look for in an artist?
To start with, what I'm looking for in an artist is fire, extreme unusualness, as well as a supernatural energy and determination. Then come intelligence, luck, courage, absurd faith, vision and endurance, all qualities that will be vital, even if they offer no guarantee.
Do you think it's possible to talk of a CLEARING "touch" or "line", whether it's been consciously formulated, or organically asserted from one collaboration to the next?
There's definitely something akin to a line. Let's say rather that there are plural lines within the gallery. The gallery's artists form a constellation, an ensemble of very powerful singularities which all tend towards a common horizon. What connects them is the fact that they are all adventurers. They live in this world but can't stop themselves wanting to be forever pushing back the boundaries.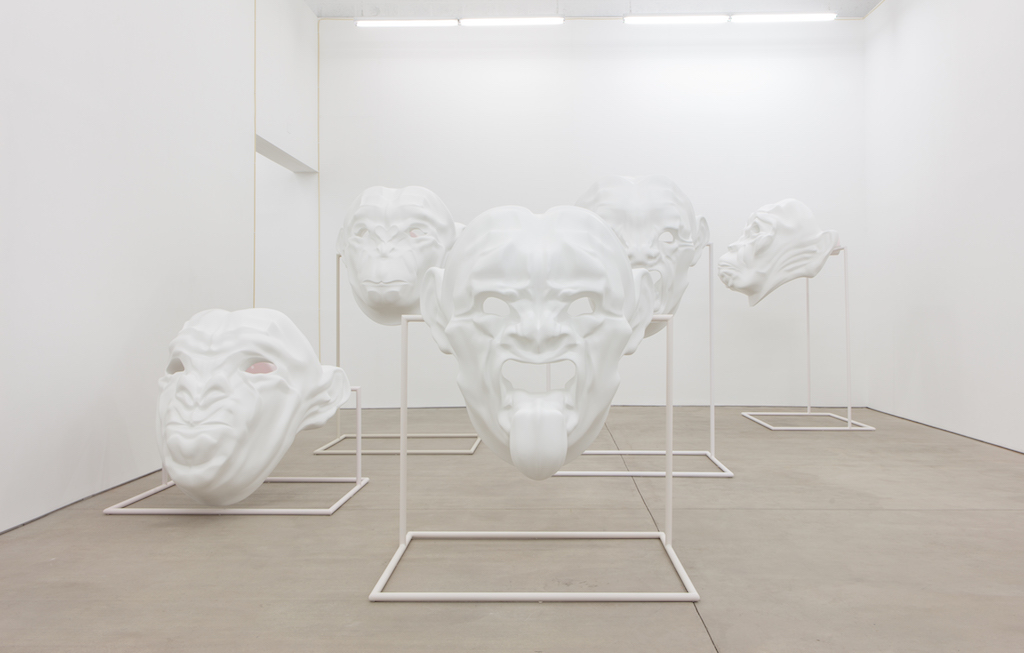 Why did you choose to settle in New York and Brussels?
New York was quite simply the place where I happened to be at a given moment, when I arrived there in 2009, and stayed on. Bushwick, more precisely, where the very first space opened in 2011, was then a neighbourhood where there weren't really any galleries, but there were plenty of artists' studios—and it's still like that. So we started to show the artists in the neighbourhood, by as it were establishing a direct link from the producer to the consumer. Everything came about in an organic way, through hands-on links and networks of acquaintanceship. CLEARING, the gallery's name, comes from that idea of space, of setting up shop in a calm place in the heart of the city's bustle. In Brussels, it's another story. First of all it had to do with a Trojan horse technique for getting into the LISTE fair in Basel, which totally flopped at the time. We found ourselves at first with a tool which greatly exceeded our resources and the real scope of the gallery. At the start, we paid for part of the rent by renting out the top floor on Airbnb. We hadn't really chosen Brussels, and we were very lucky to be able to start in Bushwick. New York is still the city where everything is possible: both becoming an artist and deciding to stop being one. The name and the logo convey that influence of American transcendentalism.
Do you plan the shows differently depending on each venue?
The very first space in Bushwick was on the first floor of an old factory and still had a sink in the middle of the space: it wasn't really what you can call a gallery. A year later, we decided to open in Brussels in a diametrically different building, an opulent-looking house with several floors in a bourgeois part of the city. Then in 2014 in New York, we moved, but stayed in the same street, changing from No. 505 to No. 396 on Johnson Avenue, in a large rather classic space, of the white cube type, similar to what was happening in Chelsea. Last of all, in the spring of 2017, we opened a new venue in Brussels in an old factory. We've always adapted to these different spaces: obviously enough, we don't offer the same thing in a two-floor space with a parquet floor and a fireplace as in a 500 sq.m. space with a concrete floor.
Do you get the impression that a geographical singularity and a scene effect still exist, and can be sensed in reactions to works and artists? Or else are we heading towards a homogenization of the art world, a consequence of global networking by way of fairs, biennials and de-materialized access to works?
I think there are still scenes. But they are less and less connected with geography. And if there is more and more homogeneity, I think there's also more and more singularity. Globality is not necessarily synonymous with homogeneity and, quite frankly, I expect art and artists to manage to defend themselves. I'm not worried.
In just a few years, the gallery has grown larger on both sides of the Atlantic, and moved into monumental spaces. Which belies the trend that would have the model of the classic gallery becoming separated from physical space, fuelled, in particular, by Andrea Rosen's decision last February to close her gallery, while continuing to represent certain artists, and to that end putting forward reasons of "mobility, flexibility, and a desire for change" in order to be able to preserve "an intrepid openness and a reactivity towards our present and the future…"
We have a somewhat classic conception: we like beautiful spaces, which is usually also what artists prefer. As far as Andrea Rosen is concerned—and she was a real powerhouse for almost twenty years—I think her decision to hang up her gloves has more to do with personal considerations than with reasons linked to the system. As a result, I don't think we should necessarily try to deduce anything from that, just as I don't think there's a general tendency to move away from the physical space. On the other hand, I rather get the impression that there are more and more spaces, which are often larger and larger. In the case of CLEARING, our shows reflect the monumental ambitions of our artists. The enlargement of the New York and Brussels galleries is directly linked to the desire for an ever larger space of freedom on the part of our artists. And our brief is to stimulate, accompany and support this kind of ambition.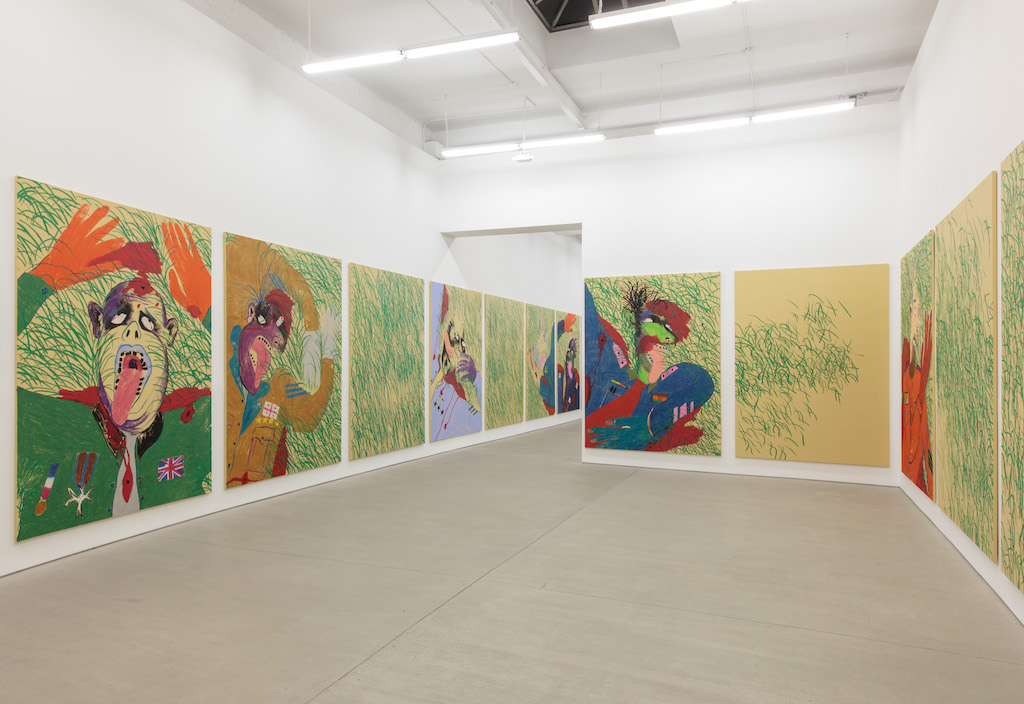 Calvin Marcus, Were Good Men, 2016. CLEARING, New York. © Stan Narten. Courtesy Calvin Marcus ; CLEARING New York, Brussels.Six years after the gallery opened, do you have the impression that the profession of gallery owner has changed? That, for your part, you've done things differently?
I've never regarded my position as a gallery owner as a profession. I've always seen this adventure as an experience. I know that the profession has changed a lot, but that was already the case when we started out. The gallery has simply evolved with encounters and opportunities, without us ever worrying about how other galleries were functioning and without trying to reproduce their codes. We've always done things in our own way. We apply the quest for singularity and demanding nature that we look for in our artists to ourselves, first and foremost.
(Image on top: Bruno Gironcoli, One Body, Two Souls, 2017. C L E A R I N G, Brussels. © Julien Hayard. Courtesy of the Estate Bruno Gironcoli ; CLEARING New York, Brussels.)