Entretien avec René-Julien Praz et Bruno Delavallade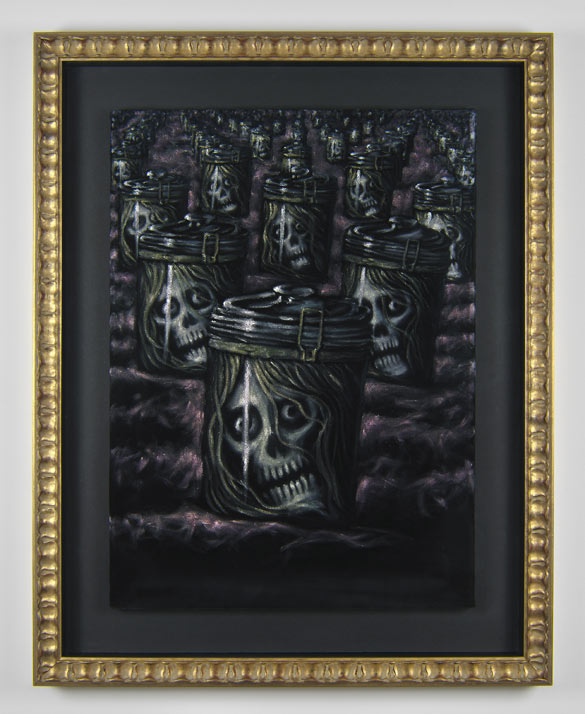 Aude Launay : Parmi les vingt-six artistes que vous représentez aujourd'hui, treize vivent à Los Angeles, vous ne me direz pas que c'est un hasard…
René-Julien Praz et Bruno Delavallade* : À l'origine, il y a l'histoire familiale de Bruno sans laquelle nous ne nous serions pas forcément tournés vers cette ville. Nous y séjournons régulièrement depuis plus de trente ans. Là-bas, c'est avant tout Rosamund Felsen, par la scène qu'elle présentait (Richard Jackson, Chris Burden, Mike Kelley, Paul McCarthy, etc.), qui a formé notre goût. Cette scène s'est créée grâce à CalArts, USC, UCLA, qui sont de vraies Facultés offrant un enseignement extrêmement riche mais différent de celui de nos écoles des beaux-arts nationales. Elles ont attiré des artistes issus de l'Amérique profonde comme Jim Shaw, Mike Kelley ou Tony Oursler.
Dès 1997, vous exposez ces Angelenos dans votre espace de la rue Saint-Sabin et inaugurez la galerie rue Louise Weiss par un solo show de Jim Shaw. Quel a été l'accueil des Français ?
R-J.P & B.D : Je me rappelle que nous avons réussi à vendre un dessin de Mike Kelley pour dix mille francs. Les Français ont peut-être mis quatre ans à apprécier Jim Shaw, ils ont en tout cas été plus rapides que les New-Yorkais. Los Angeles produit des artistes différents ; avec l'influence d'Hollywood, les artistes y sont plus enclins à utiliser la low culture pour en faire de la high culture. Ils possèdent une très bonne culture européenne qu'ils utilisent sans que le poids en pèse sur eux, le sens du ridicule n'existe pas vraiment outre-Atlantique. Il n'y a plus aujourd'hui de ségrégation entre NY et LA, plus ce regard méprisant de l'Est sur l'Ouest quand le propos des Californiens était davantage saisi par les collectionneurs européens. Il faut dire que ces artistes dénonçaient les excès de la culture américaine, ce qui devait déplaire à certaines élites conservatrices.
Quel regard portez-vous sur vos homologues angelenos ?
R-J.P & B.D : Les galeries se sont incroyablement développées depuis quinze ans, à LA. Il y a un potentiel formidable de collectionneurs là-bas, dopé notamment par différentes vagues d'immigration fortunée des années soixante-dix. Et puis l'Américain n'a pas d'a priori, il est moins conservateur que nous, si une œuvre lui plaît, il l'achète, sans forcément se soucier d'établir une ligne de collection. Il y a en tout cas énormément d'argent mais encore une assez petite offre de galeries par rapport à la ville, même si depuis dix ans tout a changé : chaque saison nous découvrons de nouvelles galeries, et des New-Yorkais, comme Matthew Marks, y ouvrent des succursales. Culver City grouille de galeries et un nouveau pôle se dessine vers Hollywood avec des espaces gigantesques comme celui de Regen Projects. Il y aussi une nouvelle génération qui émerge depuis cinq ou six ans (Night gallery…). Il y a un marché tout à fait pertinent là-bas pour Paris Photo. D'une cité repliée sur elle-même, Los Angeles est devenue l'une des grandes villes de l'art.
*Galerie Praz-Delavallade, 5 rue des Haudriettes, 75003 Paris.
Interview with René-Julien Praz and Bruno Delavallade
Aude Launay : Among the 26 artists you represent today, 13 live in Los Angeles. Now don't tell me this is pure chance…
René-Julien Praz et Bruno Delavallade* : At the outset, there's Bruno's family history, without which we would not necessarily have turned to this city. We've been staying here regularly for more than 30 years. Over there, it's above all Rosamund Felsen who created our likes and dislikes, through the scene which she was presenting (Richard Jackson, Chris Burden, Mike Kelley, Paul McCarthy, etc.). That scene came into being thanks to CalArts, USC, and UCLA, which are actual Faculties offering an extremely rich curriculum which differs from the curricula of our national schools of fine arts in France. They have attracted artists hailing from provincial America such as Jim Shaw, Mike Kelly, and Tony Oursler.
In 1997, you exhibited these Angelenos in your venue on rue Saint-Sabin, and you inaugurated the gallery on rue Louise Weiss with a solo show of Jim Shaw's work. How did that go down with the French?
R-J.P & B.D : I remember that we managed to sell a Mike Kelly drawing for 10,000 francs. The French took perhaps four years to appreciate Jim Shaw but, in any event, they were quicker on the uptake than New Yorkers. Los Angeles produces different artists. With the influence of Hollywood, L.A. artists are more inclined to use low-brow culture and make high-brow culture out of it. They have a very sound European culture which they use without its weight affecting them; the sense of the ridiculous doesn't really exist on the other side of the Atlantic. These days, there is no longer any segregation between N.Y. and L.A. We no longer find the East looking down on the West, once the ideas of Californians were taken up more readily by European collectors. It should be said that those west coast artists spoke out against the excesses of American culture, which must have displeased certain conservative élites.
How do you view your L.A. counterparts?
R-J.P & B.D : Galleries in L.A. have developed unbelievably in the past 15 years. Over there, there's a tremendous potential for collectors, boosted in particular by the arrival of well-off immigrants in the 1970s. And then the American doesn't have any foregone assumptions, he is less conservative than we are. If he likes a work, he buys it, without necessarily being concerned about having a consistent thread in his collection. In any event, there is a huge amount of money, but still quite a small supply from galleries in relation to the size of the city, even if everything has changed in the last ten years. Every season we discover new galleries, and New Yorkers like Matthew Marks are opening branches on the coast. Culver City is seething with galleries and a new hub is coming into being towards Hollywood with gigantic venues like the Regen Projects gallery. There is also a new generation which has been coming to the fore in the past five or six years (Night gallery…). Over there, there's a thoroughly relevant market for an art fair like Paris Photo. Los Angeles was once a city turned inward on itself, but nowadays it has become one of the world's great cities of art.
*Galerie Praz-Delavallade, 5 rue des Haudriettes, 75003 Paris.