Mika Tajima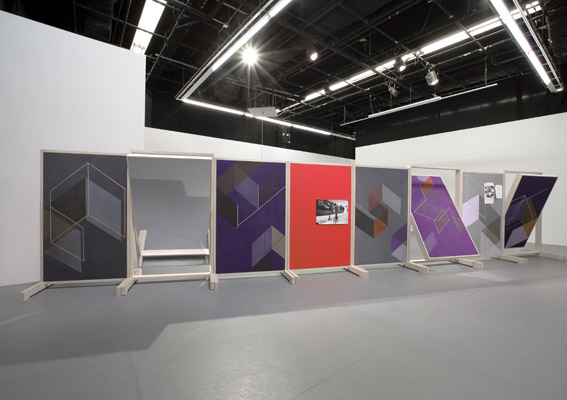 L'envers des choses n'existe pas si nous regardons derrière
Nous sommes dans un espace en perpétuelle reconfiguration. Un espace fractionné, partitionné par les surfaces modulaires des sérigraphies montées sur roulettes et réfléchissantes des miroirs épars. Des sculptures, de prime abord, se dressent face à nous, déployant leur panneaux encastrés les uns dans les autres par des jointures dentées – références aux motifs des textiles Bauhaus- formant tant une frontière que de petits paravents, ou encore l'ébauche d'un château de cartes.
Pour ses expositions The Double, successivement présentées chez The Kitchen, New York puis chez COMA, Berlin, au printemps dernier, Mika Tajima avait littéralement scindé en deux les espaces d'exposition par un alignement de panneaux indépendants réversibles comme des miroirs double-face. Dans les cadres pivotant, des sérigraphies sur toile, agrémentées de détails repeints, ornées de feuilles d'or ou plus simplement d'images photocopiées et punaisées. Des motifs schématiques reprennent les différentes manières d'assembler les structures controversées d'Herman Miller (Action Office) destinées à « l'enfermement » des employés de bureau. Si la séquestration des cerveaux dans des boxes , la séparation des êtres par des murs (Berlin, Mexique, Iraq, Palestine…) évoquent tout à la fois les échecs d'une certaine modernité au fonctionnalisme exacerbé et les problèmes logiques d'inclusion-exclusion résumés par les diagrammes de Venn, l'espace de négociation idéal n'existe peut-être que dans la versatilité. D'un côté comme de l'autre, deux identités restent face-à-face, ou dos-à-dos.
L'un des segments du « mur », intitulé Adaptation of an Imitation of Antoher Model, résumerait presque à lui seul la démarche intellectuelle de Mika Tajima, tant formellement par son camouflage sous des dehors lisses – la sérigraphie impeccable sur une face- et opaques – l'aluminium miroir sur l'autre face – de symboles forts de l'aliénation, que par sa qualité de « peinture double-face », comme elle aime à les nommer.
Un design désillusionné
Plus précisément, les motifs sérigraphiés sur les toiles, le formica ou le contre-plaqué, outre leur rappel d'un anti-design à la Superstudio, sont tout à la fois incroyablement simples et graphiquement très efficaces, et la citation de grands gestes architecturaux désormais désuets dans leur inefficacité avérée ou la reprise du système des diagrammes d'Euler et Venn. Ces derniers proposent en effet, par-delà leur simple description et classifiation de l'ordre des choses, une extension à un champ de possiblités non-binaires, notamment lorsque deux éléments se recouvrent partiellement pour créer une zone de points communs, découvrant ainsi une troisième entité qui n'est pas forcément la simple somme des deux autres. Ainsi dans la série des Philosophers and Idlers, dans Half Truths ou Five or more sets problems, des cercles s'entrecroisent, se chevauchent, sont par endroits striés ou en partie dissimulés par des caches de plexiglas percé de ronds. De même Mika Tajima intègre-t-elle de nombeuses disciplines à son art, nous parlant d'architecture et de relations de domination/subordination urbanistiques ou politiques utilisant des concepts mathématiques incarnés en des images colorées. L'architecture, le design prennent leur place au cœur de la sculpture de Tajima pour décrire des relations symboliques tout en filant la métaphore démontrée par Venn.
Des sculptures sans statut (fixe)
Si les sculptures de Mika Tajima s'organisent presque toujours en installations plus globales, complétées par des dispositifs d'objets usuels – pyramide de canettes de bière, dalles de miroir – et relevant parfois du design – comme cette pile de chaises Eames, ou cette lampe qui se balançait dans The Double – elles deviennent aussi le théâtre de performances du collectif New Humans (1), co-fondé par Mika Tajima et Howie Chen à New York en 2003. Ces « New Humans », ainsi que sont désignés les jeunes japonais irrévérencieux par leurs aînés, ouvrent leurs collaborations musicales à des artistes (Vito Acconci, Philippe Decrauzat, etc.), musiciens (C. Spencer Yeh…), designers, stylistes (United Bamboo…) pour un mélange de noise expérimental et de destructions orchestrées. Reprenant à son compte le credo radical du modernisme finissant à savoir que la meilleure manière de créer des choses est de les détruire, la jeune new-yorkaise réduit régulièrement du verre en miettes lors de ses performances, qu'il s'agisse d'une tour de coupes à champagne dans laquelle elle traîna une pile de chaises Eames (Disassociate à la galerie Elizabeth Dee, New York) ou bien de miroirs qu'elle fracassa à coups de masse à Turin (Artissima) , Honolulu (Academy of Arts) ou ailleurs. Et s'il s'agit de retrouver la matérialité du son chère à Dan Graham, lorsque Mika et ses comparses délaissent le marteau pour la guitare, c'est pour élaborer un final aussi douloureux et jouissif qu'un bruit quasi insupportable. « Quand un bruit vous ennuie, écoutez-le », disait bien Cage. Lors de l'un de leurs récents sets hypnotiques, performé au Fiat Lingotto de Turin – icône futuriste s'il en est- à l'endroit même où démarrait la chaîne de production des voitures, les New Humans, après avoir émietté des dalles de miroir au rythme de lourdes basses exsudant d'une guitare et d'une batterie, se sont méthodiquement attaqués au démontage d'une vieille Fiat ainsi qu'à sa destruction partielle. Chaque outil, chaque objet était relié à un micro, ainsi chaque son pouvait être samplé et amplifié en direct pour que la déconstruction soit totale, jusque dans celle du son. Les sculptures double-face de Tajima partitionnaient l'espace du show, leurs surfaces miroir réfléchissant certains détails autrement invisibles pour le public, et diffractant tout alentour. L'agencement des éléments pour une transparence de production (musicale, poétique, …)
s'opposait en cela à la mise en scène que l'on pourrait voir émerger dans un cas d'utilisation de sculptures comme cadre d'une performance (on pense à Lili Reynaud Dewar, notamment). Bien au-delà de la simple question du décor, les sculptures de Tajima procèdent à l'avènement de la performance dans son ensemble, à l'image de la tridimensionnalité émergeant de l'assemblage des différents plans double-face pour former ces sculptures au carré que peuvent être ses pièces.
1 : À ne pas confondre avec The New Humans, groupe d'electronica de Sacramento fondé en 2007, ni avec les autres The New Humans, groupe pop-rock britannique fondé en 2006 à Newcastle.
Mika Tajima, installation et performance avec les New Humans, X, New York (site de l'ancienne Dia Art Foundation) à partir du 7 mars 2009.
Mika Tajima, Deal or no deal, galerie Kevin Bruk, Miami, du 2 décembre 2008 au 11 février 2009.
www.newhumansnyc.com
The other side of things does not exist if we look behind
We are inside a space of perpetual reconfiguration. A fractured space, divided by the modular surfaces of silk screens mounted on wheels, reflected in a scattering of mirrors. We encounter, at first glance, what appears to be sculptures, their panels fitted into one another with serrated joints—references to the textile motifs of the Bauhaus—forming what could alternately be construed as a frontier, a series of folding screens, the outline of a tower of cards.
For The Double, two consecutive shows presented last spring at the Kitchen, New York, and at COMA, Berlin, Mika Tajima splits the exhibition spaces in two with a line of independent panels—each reversible, like a double-sided mirror. Screen prints on canvas, ornamented with painted details, gold leaf, or simply photocopied images, fastened with pushpins. Schematic motifs recall the division of space in Herman Miller's controversial Action Office, designed to "confine" office workers within individual compartments. If the sequestration of brains in boxes, the separation of beings by walls (Berlin, Mexico, Iraq, Palestine), evokes everything from the failures of a modernity of exaggerated functionalism to the logical problems of inclusion/exclusion incarnated in a Venn diagram, the ideal space for negotiation just might lie in the quality of versatility. On the one hand, like on the other, two identities stand face-to-face, or back-to-back.
One of the segments of the "wall", entitled Adaptation of an Imitation of Another Model, could be said to capture the entirety of Mika Tajima's intellectual process: at once formally, through the glossy exterior it employs as camouflage—the smoothness and opacity of the screen prints on one side, the aluminum mirrors on the other, both strong symbols of alienation—and via its function as a "double-sided painting," as the artist herself likes to call her creations.
Disillusioned design
Beyond their nod to an anti-design à la Superstudio, Tajima's serigraphic motifs on canvas, Formica, or plywood are at once extremely simple and graphically riveting, citing grand architectural experiments long ago fallen into disrepair and the diagram systems of Euler and Venn. The latter propose, in addition to a description and classification of the order of things, a field of non-binary possibilities, notably in the areas of overlap between two fields. This overlap uncovers a third entity, one that is not necessarily equal to the sum of its parts. In the series Philosophers and Idlers, but also in Half Truths and Five or more sets of problems, circles cross and intertwine, occasionally striated or partially hidden by a sheet of Plexiglas perforated with rings. Mika Tajima's art, likewise, cross-breeds multiple disciplines, reflecting upon architecture and politico-urban domination/subordination through mathematical concepts incarnated in colored images. Architecture and design reside at the heart of Tajima's sculpture, describing symbolic relations through Venn's namesake metaphor.
Sculptures without (fixed) status
If we almost always encounter Tajima's sculptures as components of a larger installation, accompanied by arrangements of everyday objects—a pyramid of beer cans, sheets of mirror glass (sometimes triumphs of design in themselves), a stack of Eames chairs, a lamp, the swinging lamp from a performance at The Double), they also provide a theater for the New Humans Collective1, a performance group co-founded by Mika Tajima and Howie Chen in New York in 2003.  These "New Humans," who derive their name from a tag used by Japanese elders to describe irreverent youth, open their musical collaborations to artists (Vito Acconci, Philippe Decrauzat), musicians (C. Spencer Yeh), fashion stylists (United Bamboo), and designers for amalgam of experimental noise and orchestrated destruction. Ascribing to the radical credo of terminal modernism maintaining that the best way to create things is to destroy them, the young New Yorker regularly reduces glass to shards during her performances, be it by dragging a pile of Eames chairs over a round of glasses of champagne  (Disassociate, at Elizabeth Dee Gallery, New York) or smashing mirrors with a sledgehammer in Turin (Artissima) and Honolulu (Academic of Arts). And if they decide to try  their hand at exploring the materiality of sound so dear to Dan Graham, setting down hammer and picking up guitar, Tajima and her comrades are sure to stage a finale as painful and ecstatic as a soundwave can possibly be. "When a noise bothers you, listen to it," Cage once said.
During one of their recent hypnotic sets, performed at Turin's Fiat Lingotto—futurist icon if there ever was one—at the very spot where the Fiat company produced its first cars, the New Humans, after shattering mirrors to the rhythm of a guitar and drum set, set about methodically dismantling and destroying an old Fiat. Each tool, each object, was linked to a microphone, allowing each sound to be sampled and amplified in real time. The destruction was total, even down to its sound. Tajima's two-sided sculptures divided the site of the concert, their mirrored surfaces reflecting details that would otherwise be invisible to the public, also diffracting everything around. An arrangement of elements designed to render production transparent (that of music, of poetry) deliberately opposes the type of mise-en-scène one encounters in attempts to use sculpture a performance site (we recall Lili Reynaud Dewar, notably). Above and beyond the simple question of décor, Tajima's sculptures set the stage for the advent of performance as an ensemble, a reflection of three-dimensionality emerging from an ensemble of double-sided planes, sculptures to the second power.
1 Not to be confused with The New Humans, the Sacromento electronica group founded in 2007, or with the British pop-rock group by the same name, founded in 2006 in Newcastle.
Mike Tajima, installation and performance with the New Humans, X, New York (former site of the Dia Art Foundation), from March 7th 2009.
Mika Tajima, Deal or no deal, Kevin Bruk Gallery, Miami, from December 2nd, 2008 to February 11th, 2009.
www.newhumansnyc.com
articles liés
par Sarah Matia Pasqualetti