Kristina Solomoukha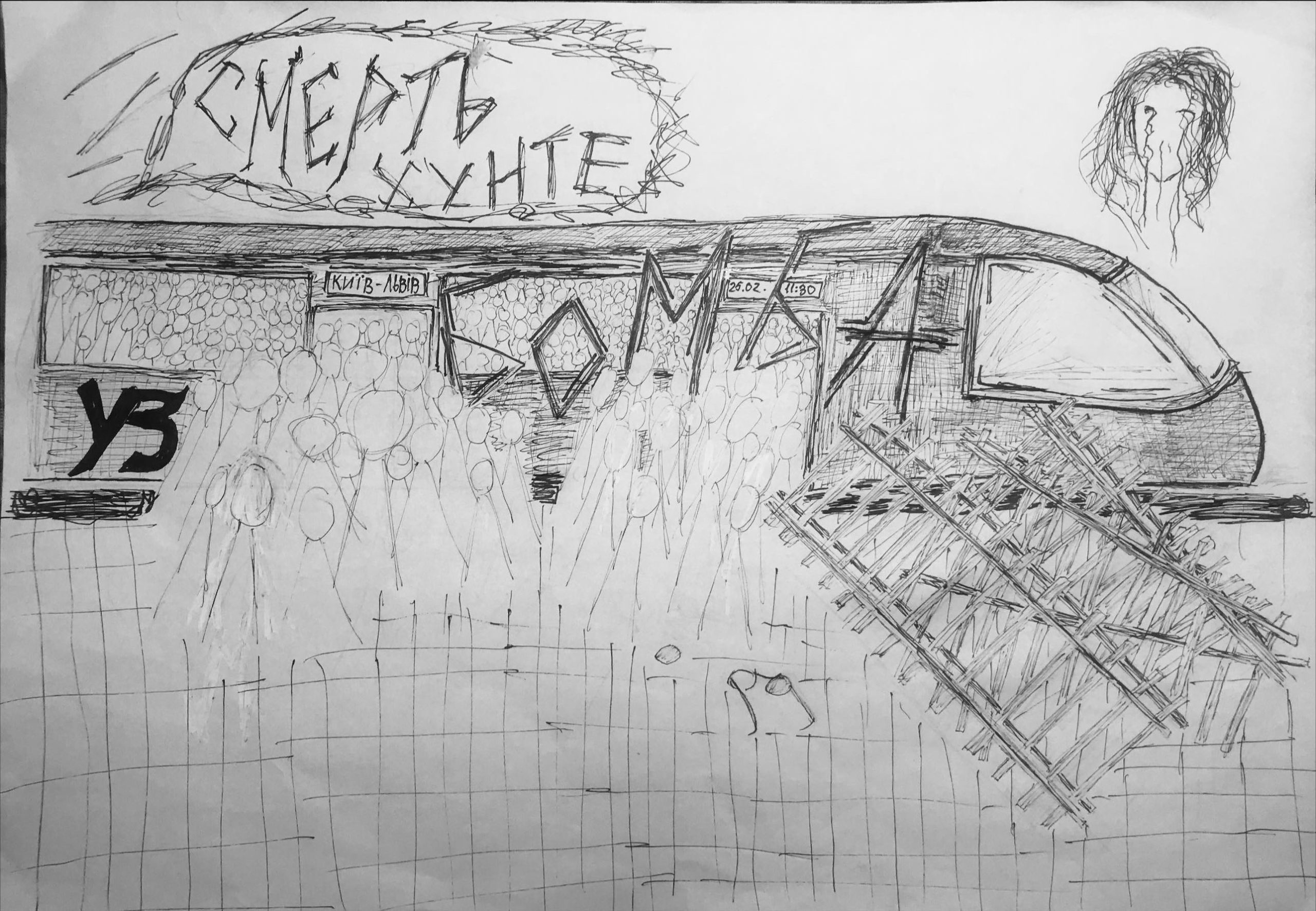 Kristina Solomoukha arrived in France in 1989 at the age of 17. She lived under both regimes of the U.S.S.R., different to say the least : the Brezhnev era and perestroika. For Solomoukha, the memory of a blessed epoch has lived on, because at that time anything became possible, everything was liberated: speech, movement, artistic practice…Since 2003, she has led a teaching career at the École Européenne Supérieure d'Art de Bretagne (EESAB) in Rennes, as well as at numerous other institutions such as the École nationale supérieure des Arts Décoratifs (EnsAD), in Paris, and at the HEAD in Geneva. While she does not consider herself a "Ukranian artist"—she left her hometown behind at the end of secondary school in order to enrol at the Beaux-Arts de Paris—she nonetheless remains fundamentally attached to her native country. She has done her utmost to introduce the Ukraine to her students though different means other than the lens of Western media—too general and far too Manichean, in her view—suggesting that they investigate the reality of this ex-property of the Empire on their own terms; a reality which involves the ferocious wish to free itself from the grip of its once-guardian. Given the violent incursion of the Russian army on Ukranian territory, this attachment has taken on a different form, characterised most notably by an engagement to help find solutions for artists who are trying to leave a country ridden with the violence of the Russian bombing campaigns or for those who are unable or unwilling to leave.
You have decided to dedicate yourself entirely to the support of Ukrainian artists who remained in the country, what has this aid consisted of?
As an artist, I'm in contact with many cultural organisations and professionals in the art milieu. I teach at the EnsAD in Paris, and at the EESAB in Rennes. I have also regularly organised workshops for the students in Rennes and from the SVC—The School of Visual Communication in Kiev—since 2014. This has had a positive effect in that solid relationships are formed between the instructors and the young artists associated with these institutions. At the very beginning of the war in Ukraine, I began contacting the Ukrainian institutions to find out what the hopes and needs were of the individuals at those institutions as well as the institutions themselves. Step by step, we came up with a concrete plan of action that could be put in place, mainly by setting up direct lines of communication between the Ukrainian and French institutions in order to coordinate and provide support for the students and emerging artists coming to France.
On another level, I suggested that the French students create pages via social media, in order to contact and communicate with their Ukrainian peers. This is a good way to understand the impact of the war on their personal situations and to provide support for them. This form of communication, on a one-to-one level, is a way to better understand the drama that is unfolding while being able to connect faces and real stories to events.
In parallel to this, I have continued initiating artistic projects. In April, the Maison Européenne de la Photographie, the Centre National des Arts Plastiques and the city of Paris are hosting a meeting between photographers and artists from Ukraine for Odesa Photo Days. Kateryna Radchenko, who is directing the festival, will be present at the event. The objective will be to give the Ukrainian scene a platform—with a focus on the photographers who were transformed into war photographers by default—as well as to highlight the Ukrainian artists who are already represented in public collections in France.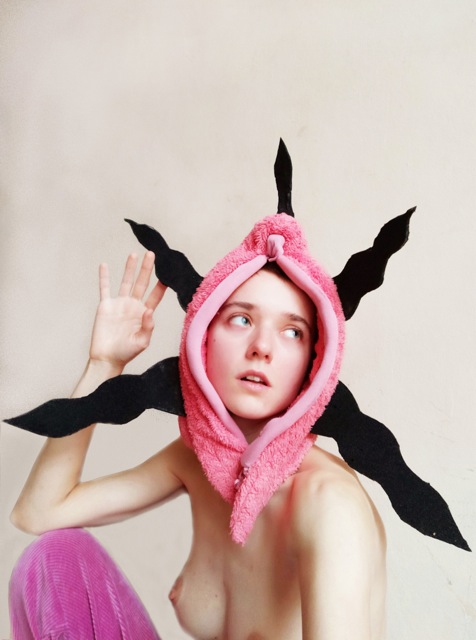 We are also working on an exhibition in conjunction with young artists from the queer Ukrainian scene, which will take place at La maison de l'ours.[1] Notions such as the politics of the body and forms of resistance are explored in the exhibition, with an added celebratory dimension, a contemptuousness and cheerfulness in the face of death.
Could you tell us about the situation of Ukrainian artists before Putin's war(s)? Has the proximity with Russia and the threat of an invasion—which has been present for some time now for the region's populations, and which became a concrete fact starting in 2014—influenced Ukrainian artistic production?
I think we need to stop talking about "Putin's wars." In Ukraine, beginning in 2014, Russia has led a war which has been widely supported by the Russian population. This is a war which makes evident two opposing world visions—one of a country which is trying, with difficulty, to construct a democracy, faced with the imperialist and colonial vision of another country.
I grew up in the USSR and I had the feeling that politics were present in everyday life, even in one's day-to-day private life. I think that the excessive politicisation via the propaganda of that era ended up producing reactions. Life in a politicised milieu constructs a closeness, a natural and familiar relationship to political questions. This is what confers them with a "naturalness" in all areas of life, including art—which oftentimes took on of these questions, sometimes in a very derisive way. Although the situation has changed a lot since the country's independence, I think that art has continued to be a site, a tool for expression and for struggle.
Your position seems to me to be in total disagreement with a number of commentators from the press and from the media, who see the Russian citizens as victims of a system which is practically totalitarian,[2] which at best (or worst) would indicate an oppressed population, and it is rarely seen as complicit of Putin's exactions—at least not completely. Can you be more specific as to what your position is with regard to this issue?
In 2014 at a time when access to information in Russia wasn't a problem, the majority of the country supported and continued to support the annexation of Crimea and the beginning of the war in the East of Ukraine. Some of the members of my family, born in Ukraine, who have lived in Russia for some years now, want nothing to do with what's occurring. It has nothing to do with a lack of information: what we are dealing with here is a form of denial and/or deliberate choice.
Russian soldiers are bombing cities, they are pillaging and killing the local citizenry, raping women on Ukrainian soil. What sort of oppression of the Russian population are we talking about here? I think we need to be very clear about who the victims are. Of course there are people who disagree with what the Russian government is doing, thankfully. But if we say "Putin's war" then we are attempting to erase the complicity, not only of the majority of the Russian population, but also that of governments, businesses and people in Europe who allowed what is now happening to occur.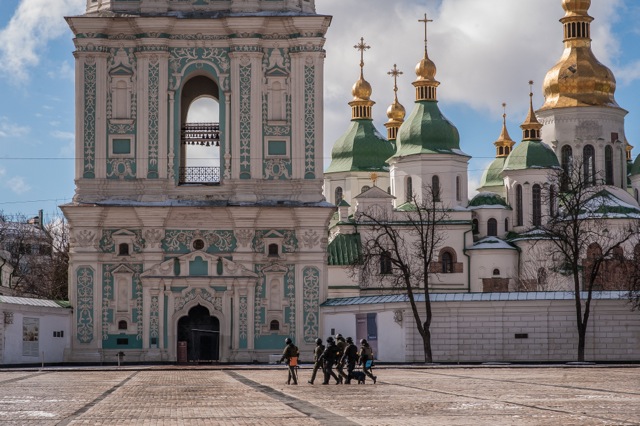 Is there a feeling of cultural colonialism on the part of the ex-Soviet regime, a form of domination by Russian culture against which Ukrainian artists might have had to struggle since Maidan?
In Soviet propaganda, Russia was always depicted as being the big brother with regard to other populations in the Soviet Union, like the wise initiator of this fraternal union. The Russian language was considered the civilised language, literature and Russian cultures were widely promoted, to the detriment of all of the other languages and cultures that made up the USSR.
After Maidan, I noticed a marked cultural distancing that occurred most notably around a re-evaluation of language—many Russian-speaking Ukrainians began speaking Ukrainian—this happened on all societal levels of the population, from the working classes to the most highly "cultivated" and in all age groups.
Until quite recently you were working on the production of a documentary about an artist from the queer Ukrainian community. How do you plan on carrying out this project in the current climate of tension?
In parallel with the exhibition which will take place at La maison de l'ours, and will examine the politics of the body—issues which were raised in particular by the war—I am collaborating with the videographer Julien Loustau on a documentary film project. It is a filmed portrait of Jan Bačynsjkyj, a young Ukrainian artist whose work investigates precisely these issues. Jan is not in Ukraine at the moment and should soon be in Paris for a few months. The difficulty at the moment is to find a way to construct a narrative for this documentary in the face of total uncertainty. For example, we do not know at this point if we will be able to film in Ukraine.
We have to work with this uncertainty and the documentary will most certainly reflect this period, this narrative under construction. We are currently trying to develop a cinematographic system which will enable us to capture the doubtfulness of the period, the confusion of perspectives once the war is over. We are trying to develop a way to transmit the way actions of resistance, here and over there, are carried out, pieced together and constructed in the very midst of the instability of history. Also, the way that the queer community—which is already carrying out resistances on a number of fronts—bravely continues to project, create and defend the future of Ukraine.
Generally speaking, what in your opinion would be the best way to help Ukrainian artists—the ones that stay in Ukraine as well as those who come to the West, for instance, to France? How do you think this field should be expanded? What recommendations do you have? Do you already have some suggestions in mind?
It's hard to imagine effective measures when people are losing their lives under bombs. What we can do is give artists the opportunity to speak out, whether they were able to leave or have stayed. There is no guarantee that any of them are able to make art at the moment, however we can cultivate ties.
Another important thing we can do is introduce some complexity to our understanding of the shared history of Ukraine and Russia. If we are able to look closely at this complexity, we should then be able to distinguish and disentangle the different statuses of victim and aggressor and then understand which actions need to be prioritised in order to ease the suffering of the victims. This is an important step we need to allow ourselves to take, because if not, we're going to be sidestepping the issue.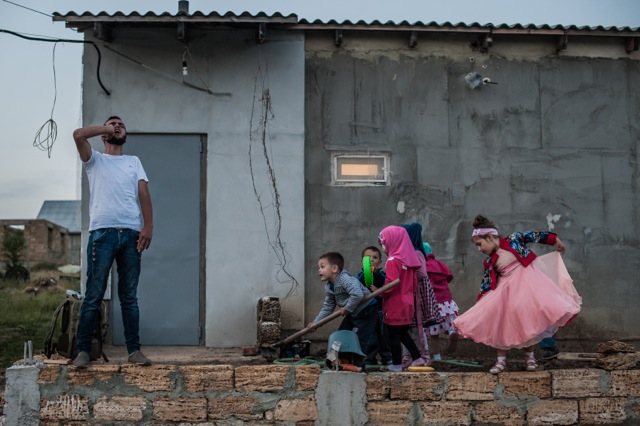 In a video shown during the event dedicated to Ukraine at the Centre Georges Pompidou on March 9th, 2022, Alevtina Kakhidze responded to the following question, "What do you want to make visible at this moment?" by asking the public and institutions for the decolonisation of art collections. Amongst other things, the artist is referring to the amalgamation of the art which is termed "Soviet art", which in the Western world is often referred to as "Russian art" for the sake of convenience. Indeed, this art "became", after the fall of the USSR, Russian, regardless of whether it was made by Lithuanians, Georgians, Belarusians or Ukrainians, etc. I believe that in order to understand the ongoing war in Ukraine since 2014 or that which was carried out by Russia in Georgia in 2008, we must examine the history of the Soviet empire, because the same mechanisms at work here are rooted in the collective consciousness of a nation who sees itself as dominant.
And so we need to decolonise our perspective to understand how, for hundreds of years, a history has been built upon the domination of one nation over others, and the same can be said for other conflicts in addition to the one between Russia and Ukraine.
Editor's note: This interview took place during the week of the 21st-25th of March, right as war in Ukraine was erupting; a war that Putin continues to refer to as a "special operation". Unable to foresee the outcome of the current situation, and in part due to the rapid rate at which the conflict has evolved, we will not be able to update this article in time for publication, which will take place on or around April 10th, although this week it appears as if Russian forces have been giving signs of resignation.
---
[1] La maison de l'ours is an independently-run contemporary arts exhibition and events space. It is located at Montmartre au 1, rue d'Orchampt in the 18ème arrondissement of Paris.
[2] Françoise Daucé : « How the "Grey Zone" Spread Across Russia », AOC, march 24th, 2022
. . .
Head Image : Alexander Halishchuk, 2022, Since February 24th, Pigment liner on paper, 21 x 29,7 cm