Pierre Joseph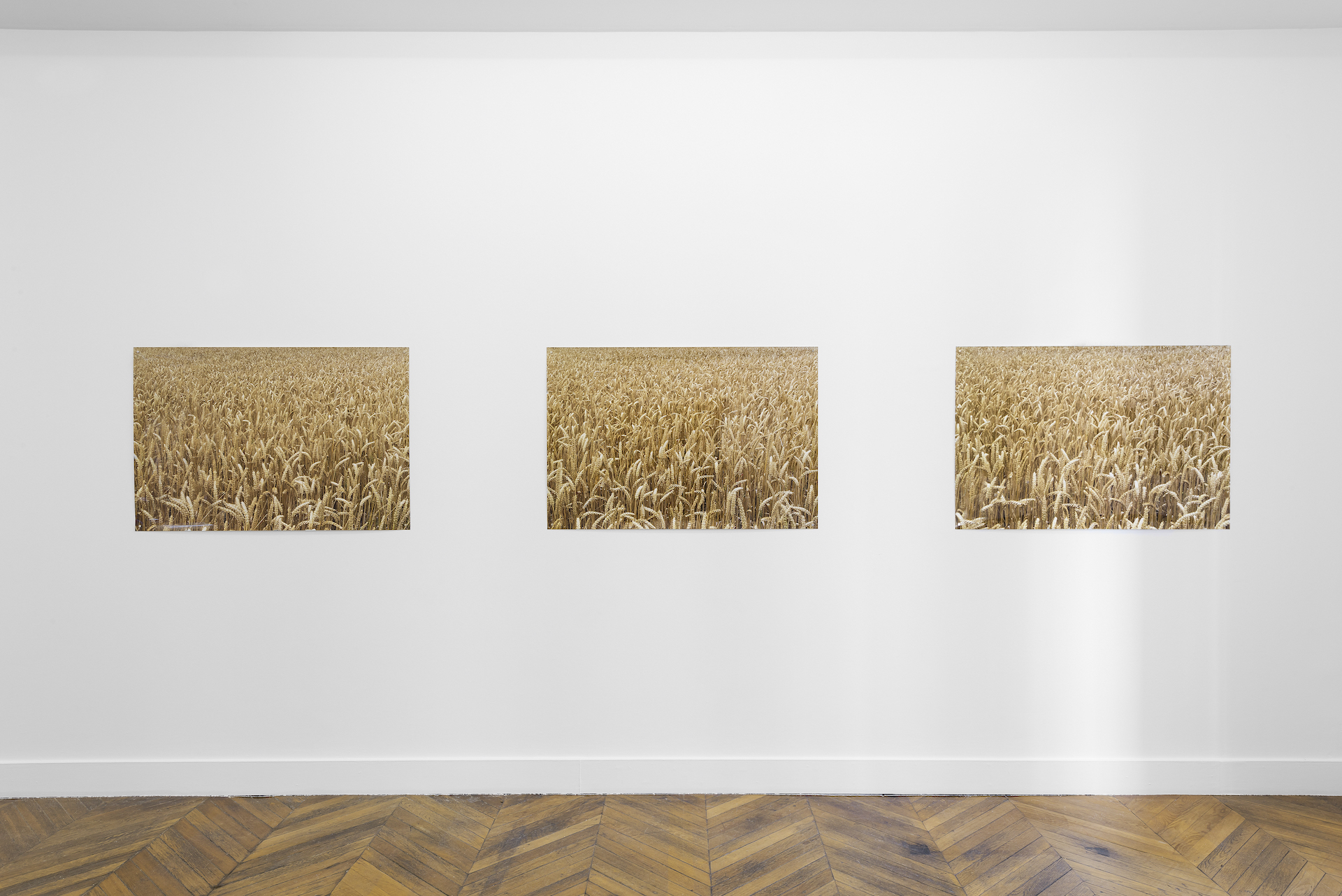 Six years ago, a laughing female macaque hit the headlines in much of the international press. With its close-up framing, and looking more like a portrait than the animal pictures we are used to, the photo was exceptional because it was not a portrait but a self-portrait. In addition to its undeniable visual quality—smiling model, framed at a slant, and focus on the subject's face—this "monkey selfie", as it was swiftly and unanimously described, was interesting because it ushered in a controversy about the prickly issue of animal royalties, a matter that was settled at the end of January1 by the American courts who refuse to regard animals as authors.
Some will probably argue that you cannot be the author of a work when you do not know what a "work" is, thus re-introducing ancestral debates involving, inter alia, indigenous arts, prehistoric art and even religious art, in short to do with works produced outside a context of "artistic consideration". What the human photographer in this story—the owner, it just so happens, of a camera which fell into the animal's hands—claims is that he should have the copyright on these images because it is he himself, through his actions, who made them possible. For now, they are still in the public domain because, according to the US Copyright Office, "works produced by nature, animals or plants" may not be granted a copyright.2
Plants are involved in Pierre Joseph's recent show at La Galerie in Noisy-le-Sec, but these plants are definitely in the place earmarked for them in the photography, and well removed from claiming any authorship in the matter. Serial images, rather than a series of images, is what springs to mind for those venturing to "Hypernormandie", as the artist has called these linear arrangements of photographs simply affixed to the walls, with a levity which emphasizes their temporary, if not derisory nature. Two different wheat fields are the object of painstaking volleys of continuous shots. At the heart of this abundance in terms of the motif, an infinitesimal detail sometimes stands out, one which contradicts the eye which wanted to see just repetition: the flamboyance of a poppy, a few browner ears of wheat, perhaps already dry, the greenness of scattered stalks. The variety of wheat creates the variation, and marks the shift from wheat field 1 to wheat field 2. But the most lasting impression remains that of a scroll in space, of an exhibition responsive to the display area, and of a library of screensavers. Definitely not very far removed from what was sought by the person who, fifteen years ago, took part in bringing Ann Lee3 to life, and, ten years before that, came up with "living reactivatable characters".4
Looking at this "open object", as he describes this new series of Endless Photographs, I talked with Pierre Joseph about the intensive use of the automatic mode, impossible self-mechanization, the failure of an art totally given over to technology, a series of images which does not really mean anything, an exhibition which, though made up of images which usually fill our hard drives, could not have happened solely on Instagram, and the fact that there is nothing heroic about pushing the shutter release in burst mode.
"Hypernormandie" is made up of two pieces (champ de blé 1 and champ de blé 2/wheat field 1, wheat field 2) which are part of one and the same series called Photographies sans fin/Endless photographs. What do you mean by this title?
What I'm showing in this exhibition is always more or less the same image, except that it's never the same: it's a viewpoint of the field that is different each time. The idea here is to remove meaning from the photograph, and get away from the issue of ideal framing and a beautiful image, so that by dint of grasping the motif, it becomes increasingly abstract. It's also an attempt to remove myself as author, and partly do away with certain aesthetic questions: these images are produced in a relatively automatic way. Lastly, it's an attempt to get close to something automatic, in the sense that I'm not going to use all the possible ways of making a standard landscape image where everything is framed and measured… I'm trying to mechanize myself (in my shot). I'm looking for a form of dispossession.
So these images were all taken at the same time on the same day? It's not a Monet-like procedure?
They're taken in the same time lapse, in about ten minutes. Monet used time to re-create the instant, with the idea of capturing the split second, and synthesizing it in his studio. Here, in fact, there's almost no instant any more, because the instant is repeated, and it lasts. Over ten minutes, there will always be more or less the same thing, the same light, an instant just like another just like another just like another…
But both series were each made on a different day, with a different field and a different variety of wheat.
So the series could be much bigger… here it complies with the space?
That's right. It adapts to it. In wheat field 1, there are nine images, but I think I've got about twenty which could complete it. That's why I say "more or less" in the number of images (the label specifies: Endless Photographs: wheat field 1 and 2, 2016. More or less 9 and 12 photographs). There's this indecisiveness, the series is not fixed, it includes a sort of play and latitude.
In my latest show at the Air de Paris gallery,5 I showed a series of photos of a forest, to try and see to what degree there could be no one in the image, and no one deciding how to photograph it.
What about the format of the prints (80 x 120 cm)? Did you choose it because it's a standard size, or is there some more specific reference?
The format is a way of adapting to space and technology. It results from the technical characteristics of the image and its enlargement possibilities. It's a matter of not going too far beyond the capacity of the camera's sensor to render details (I use a 24×36 format reflex camera with good definition, a Nikon D800). So, to be honest, it's not a choice. The choice resides more in the number of images and their relation to space…
Nor did I want to get too far away from the function of the contact sheet, which is a print made for choosing one image from among all its variants and, because there isn't really any choice here, the hanging refers a bit to this type of surface and layout. A space was left, at the start, between where the wall begins and the first image which is always identical, which means that it happens the way it happens afterward. This conjures up the margins which you find with an office printer, there's always a margin which recurs, and whatever the images may be, the margin is the same. This is the standardized thing you find in Google Images and other such systems. I wasn't going to frame a series on each wall so that things would be centered and balanced; I prefer things to refer to a visual display of the image connected to different kinds of editing software packages.
Pierre Joseph Photographies sans fin : champ de blé 1, 2016. Lamba prints, more or less 9 pictures, 80 × 120 cm.   Courtesy galerie Air de Paris Produced by La Galerie, centre d'art contemporain, Noisy-le-Sec. Photo : Pierre Antoine.
And what about the choice of fields? Are they organic? Or GMOs? Is this important?
Not really, even if one can obviously raise the issue of topicality. On the other hand, the fact of having the ear of wheat which is repeated, the fact of repeating the image, and the fact that one knows that that nature is mechanized, all that makes it possible to make the analogy with farming: it's a harvest of the image. The field functions more like a background noise while at the same time making it possible to refer both to these contemporary questions and anxieties about nature organized by human beings, and made systematic, and to art history.
Why Normandy and not the Beauce region, for example?
It could be the Beauce region, or Russia, it could be anywhere, and everywhere. In this particular sense, the location doesn't mean anything.
But it was important for it to be in the title…
Yes. Because referring to something local, which is now global, is important. If, from the outset, we were dealing with something general, that would interest me less. At the same time, we were talking about Monet just now, Normandy is also Duchamp. That indecisiveness or undecidability that I was also mentioning is possibly related to the changing skies in those parts… In the title of my monograph, Oui, non, peut-être/Yes, no, maybe, there's also something very Norman, in that sort of thwarted binariness, it's not yes, it's not no, it's not zero, it's not one: there's a third term, a variable that you find in Duchamp and in Monet.
What there is is the fact that in the imagination, or in mine at least, Normandy tends more to conjure up pretty tourist landscapes, damp grass, fields and hedges… let's say that if the title were "Hyperbeauce", it would have been more obvious.
I started out from my personal experience: I was born in Caen (in Normandy) and, as a boy, I would look at the plains and, in that same period, I saw the first big supermarkets being introduced into that type of landscape, into those great big fields. In fact, though, that's not really specific to Normandy. I simply wanted to stay close to experience, to something more autobiographical; I didn't go looking for the Beauce region, even if I know that, with it, you might have exactly the same image.
I'm thinking a bit of Michel Houellebecq in that relation between title and image. More precisely of his exhibition of photos which was held in Paris6 and which dealt in particular with the decline of the stereotype—the image d'Epinal— of France, with, I remember, a view of a somewhat dreary supermarket at the foot of a cliff, wedged between a decrepit village and the vastness of the fields…
I prefer the idea of ridding the image of its meaning. Here the supermarket is not in the image.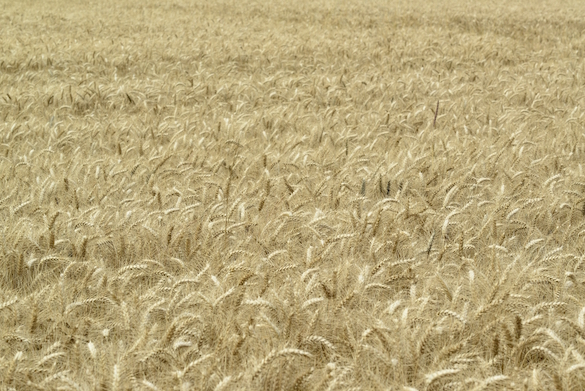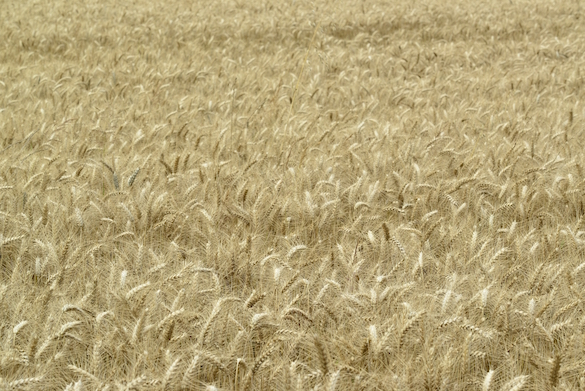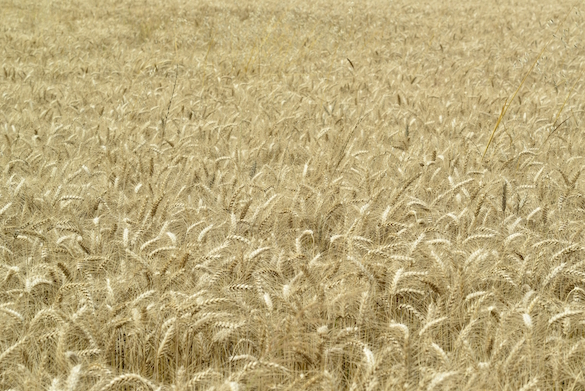 Pierre Joseph Photographies sans fin : champ de blé 2, 2016. Lamba prints, more or less 9 pictures, 80 × 120 cm.  Courtesy galerie Air de Paris Production La Galerie, centre d'art contemporain, Noisy-le-Sec. Photo : Pierre Antoine.
Even if one automatically thinks of it, one thinks of kilos of flour, and bread produced in astronomical quantities… Which actually brings us to the astronomical quantity of digital photos produced day in day out, and we come back to the dimension of the contact sheet, and prints with a transitory value…
Yes, that's how it's done. I give myself adjustments once and for all, the shot is automatic, then it's printed using Picto Online and, on the face of it, there's no eye being exercised printing each image, it's the machine which handles that, and it comes out the way it comes out.
The presentation form, using simple prints on paper, affixed to the wall with magnets, heightens that impression…
My idea included trying to see what that abundance of images might lead to, apart from filling up hard drives. What the power of this type of image is. Precisely where one would make a single image and where one would choose one, to see what would happen if one put all of them. To see what that technology permits. It's easier and easier to produce a good image based on the canons of photography, you can increase the number of shots, touch things up… With the silver method, there is all the same a prowess in the production of the good image, it's not obvious to press the button just once and capture the good image. With six images per second, with post-production tools, the issue of this "good" image is raised much less. The forest series which multiplied the viewpoints was also a way of getting lost in the image, in that possibility of making more. If you have x times the same image, or almost the same image, is that more interesting?
So why isn't it always the same image?
Because in this case it would be "one" image, as if it had been chosen, and simply multiplied. The choice I make is to make wheat fields fifteen times and see that this series doesn't work, any more than that one…
Thus what's involved is a classic visual choice of colour and light…
You talk about "mechanizing yourself" but, in the end, with the question of series which have worked or not, and thus of the choice that you have to make at that particular moment between the different series of images you've produced, isn't this tantamount to admitting that a total mechanization is impossible?
In this sense, aren't these endless photographs the admission of the failure of an art totally given over to technology?
Yes, that's for sure. I also know that graphic works which have been solely created by computers give disappointing results. It's when you veer towards this model, here the machine, but when you don't totally reach it, that something happens. If an Impressionist painting tries to capture light and break it down, the way the photo does by its very nature, this is not a photographic result—even if Monet wanted to capture the split-second—it's an attempt.
So I'm wondering what digital novelty can produce by way of sensation or impression: what does it give us that's different from the silver image, apart from doing (too) well what the silver method has already done? For example, the silver image wanted to capture the good moment, the perfect instant, which calls for a good eye: the digital method serves it up on a tray thanks to endless shots and the number of images per second. The image becomes as silly as a drawing of a cube made by computer. It all becomes too easy. What's missing is a "maybe" that is not in the machine, which works on the basis of yes or no, 0 or 1.
1 To date, PETA [People for the Ethical Treatment of Animals] still has the possibility of submitting a new amended complaint.
3 In 1999, Philippe Parreno and Pierre Huyghe bought the character of Ann Lee (a two-dimensional manga character) from a Japanese company that provides manga industry publishers with the drawings of characters as well as their psychological profile, ranging from the hero to the simple extra doomed to disappear after a few pages. Chosen by catalogue like a commodity, the woman-child Ann Lee is bought back, freed from the culture industry and re-used in the artistic arena.
Source : http://www.frac-poitou-charentes.org/pages/collection_artistes-parreno_FRAC.html
She incidentally re-emerges in the exhibition "Images" at the Fridericianum in Kassel reported on page 73.
4 Based on the definition provided by Pierre Joseph in 1991: "A living reactivatable character is performed in two stages: he is first presented in flesh and blood during the opening of the exhibition for which he has been imagined. He is an actor playing a minimal part. He does not speak.
Next day, a photograph replaces him, and he thus becomes a 'reactivatable' character.
The person acquiring this photograph (and thus this character) can then renew this performance as he sees fit, while obeying a few rules".
5 Pierre Joseph, "Maintenant", Air de Paris gallery, Paris, from January 24 to March 8 2014.
6 Michel Houellebecq, "Before Landing", pavillon Carré de Baudoin, Paris, from November 12 2014 to January 31 2015.
Pierre Joseph, Hypernormandie, 23 January – 26 March 2016, La Galerie, Noisy-le-Sec (F)