Katinka Bock
This autumn 2019, the German artist Katinka Bock is showing her work simultaneously in two venues in Paris, where she has now been living for twenty years. The Marcel Duchamp Prize exhibition at the Centre Pompidou and "Tumulte à Higienópolis" at Lafayette Anticipations give us a chance to both rediscover the main themes of her research and explore the developments of her important work in the international art scene.
Katinka Bock pays special attention to the places she uses while at the same time often conjuring up an analogical "elsewhere". So the monumental work Rauschen1, on view at Lafayette Anticipations, is covered with sheets of copper from the old roof of the Anzeiger-Hochhaus, a veritable publishing hub in Hanover, Germany. Since the mid-2000s, the artist's desire to tackle a specific architectural phenomenon while trying to escape from the place, by opening it up and playing with its boundaries, reveals her fondness for a form of "overflow": the edge making it possible to be, from the inside, as close as possible to the outside.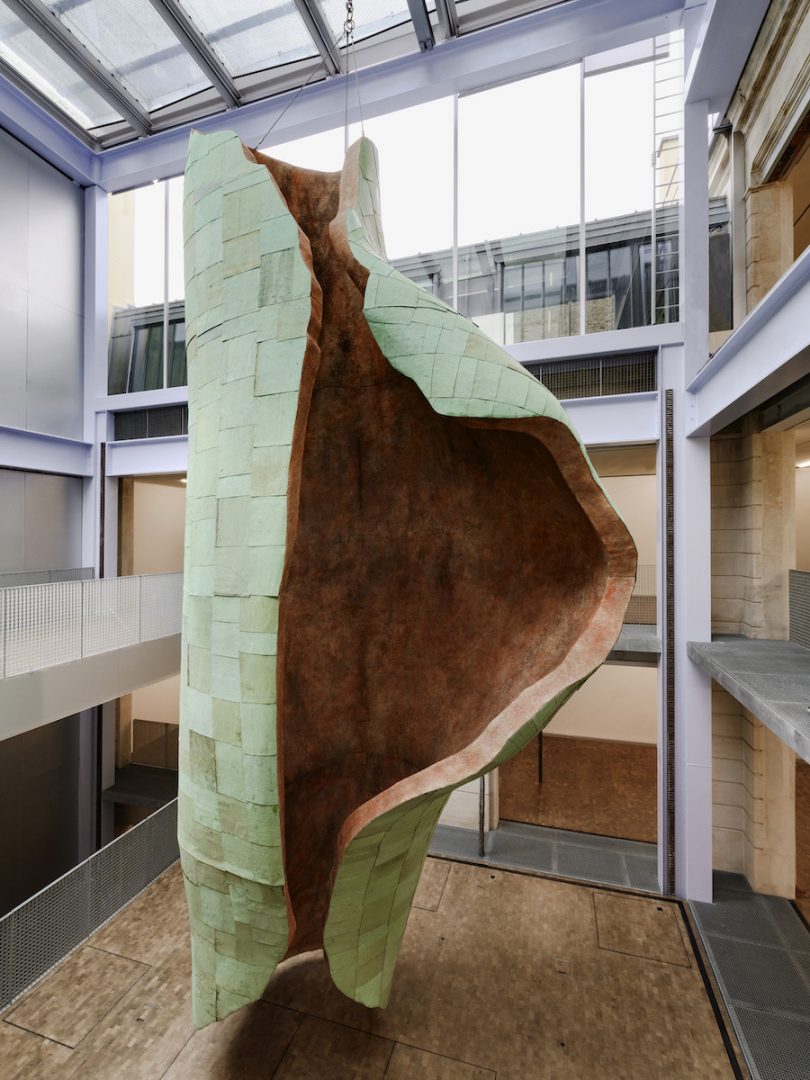 So for the Printemps de Septembre in Toulouse in 2007 she was already creating, as is often the case with her sculptures, a pendulum motion between a tree tossed into the current and a block of wood shown inside, held in place by a cable (Hysteros, 2007). At the Fondazione Pastifico Cerere in Rome, in 2009, (Geschwister, 2009) and at the IAC in Villeurbanne in 2018 (Personne, 2012, and April Personne, 2013), she linked works in pairs, one exposed to inclement weather outside, the other gradually drying out inside. Each one is incorporated in a given landscape, nature and city for one, the exhibition for the other, evoking Chinese philosophy and its aim to bring other elements regarded as contrasting in Europe: light and shadow, yin and yang, female and male, inside and outside, and thus shedding light on the circulation of forms of energy in all beings and all things.
For other shows, this link between "without" and "within" is more the outcome of a study of the socio-cultural context than of the architectural context of the places playing host to it. In "Zarba Lonsa" at the Laboratoires in Aubervilliers in 2015, "o_o__o" at the Mercer Union in Toronto in 2016, and "Tomorrow's Sculpture, Radio", at the IAC in Villeurbanne in 2018, objects were bartered for sculptures on view in city shops and citizen's homes. The works thus found their way into a butcher's shop, a general store, a hairdressing salon and an apartment. Rumours were abroad, with the "here" often referring to an "elsewhere".
In "Tumulte à Higienópolis",the sculpture Rauschen conjures up another space and bears on its surface the stigmata of a previous life—the bombing raids of the Second World War in particular. The passage of time is a pivotal subject in Katinka Bock's praxis. Each and every work is loaded with a history that is peculiar to it, of a past often leaving traces. Before being exhibited in "Radio Piombino", at The Common Guild Festival in Glasgow in 2018, works were placed in different public and private spots in the city, for a while recording the data of their environment. Once brought together, each one recalling its previous address, they formed an invisible, incomplete and subjective map of the city of Glasgow. In Luxembourg, a first bronze column (Population (high culture), 2018) was shown over a lengthy period of time in bad weather on the roof of the Mudam, while the second (Population (low culture), 2018) was plunged into the river Alzette flowing below it through the city. These twin sculptures, like two witnesses of time passing, were akin to nothing less than negative portraits of Luxembourg. This year, Toxic Fountain, a monumental copper spoon, became oxidized by collecting rain water in front of Lafayette Anticipations, and wide lengths of blue fabric were installed in a street in the Marais neighbourhood several months before the beginning of the Marcel Duchamp Prize exhibition, and became quite literally steeped in their surroundings. So every work produced by Katinka Bock is invariably in a transitory state, a state of metamorphosis: with the liquid becoming solid, the heavy becoming light, the wet becoming dry. Sometimes the entire landscape is reversed, with the horizontal suddenly becoming vertical.
These ostensible metamorphoses illustrate the overlay of the exhibition time-frame and the production time-frame, turning the display area into an open studio. It is the materials and processes applied to them which give glimpses of the way a line of thought functions as much as a work methodology. In 2011, the artist installed in the heart of the Skulpturenpark in Cologne some unfired clay sheets which would, here again, record time passing before their firing put a stop to that transformation. At the IAC, in the installation Autumn (2018), these same sheets formed a floor, trodden on by visitors during the show's opening night, and then removed to be fired before rejoining the exhibition a few weeks later: so for the duration of the exhibition and before visitors' eyes, the works created themselves in the absence of their creator. Katinka Bock places herself at some remove and it is the exhibition itself which underscores the many different time-frames forming it. If the artist talks about physically leaving the exhibition,2 she also gives the works a breath of life enabling them to enjoy an autonomous development. Water evaporates, plants grow, the outside air rushes through a window left open. In these changing environments, it is thus important to take care of works that are precarious, out-of-balance, fragile and unstable, "that need to be adjusted like a clock that is always late".3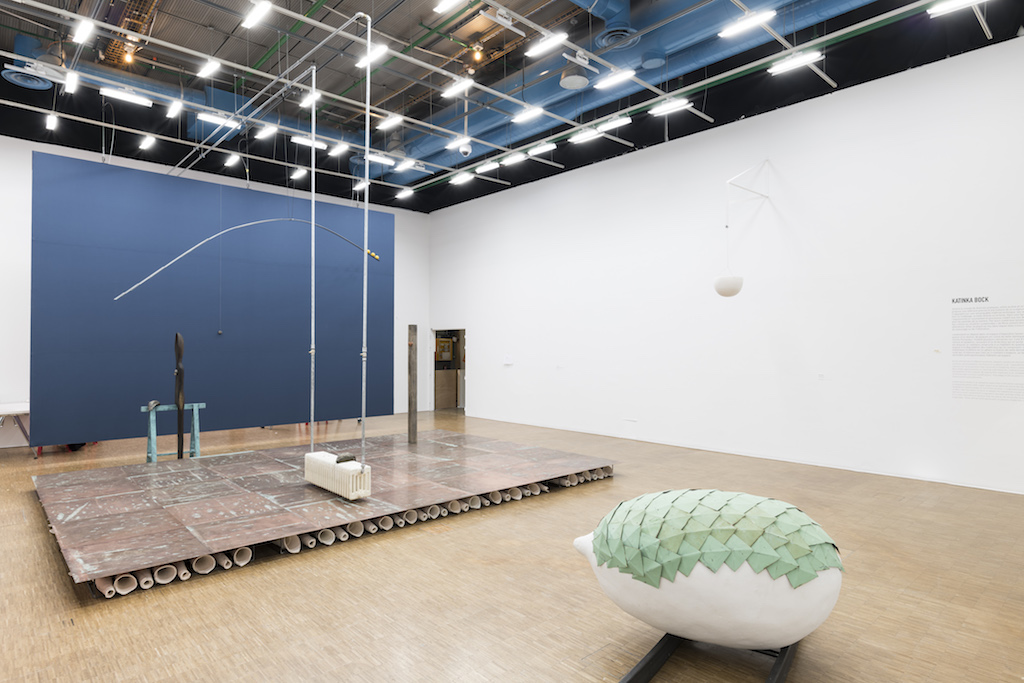 Katinka Bock readily adapts to the random nature of the processes she sets up, "often having the impression of making a tango step between what is random and what is managed".4 She develops a series of gestures which are imprinted in materials loaded with a telluric energy. She pours molten metal straight onto objects rather than making casts with it, for instance imprisoning cacti in the representation (Smog, 2017). She folds and unfolds, throws and crushes sheets of clay, like so many blank pages whose intrinsic quality is the absence of primitive form. Like news print, they are used to wrap found5 and collected6 things before firing them. By disappearing during their combustion7, while at the same time transferring their essence to their envelope, so-called "objects of desire" become ghostlike forms. Just like the artist's gestures and the almost performance-like character which they involve, the absence of these objects is the piece's main subject.
In a duel with matter, Katinka Bock underpins, displays and shifts. This ongoing physical movement brings out a keen interest in measurement, throughout her praxis. So Umland8 (2007-2011), literally translated as "surroundings", is a sculpture where the purpose of its "gestures" is to circumscribe the place accommodating it, define the outlines, and signify them by placing marks on them. In addition to spaces, Katinka Bock also measures bodies in Horizontal alphabet (red) (2014), where, on the ground, she forms an arrangement of clay bricks, each one the exact size of a foot or hand of an inhabitant of Marrakech.
The bricks, which are usually standardized, are all different here, once again referring to a varied host of people. With each new show, the works are moved about, put together again, or isolated. They exchange and dialogue in hangings which Katinka Bock describes as "situations"9, in which what is involved is finding the right place for each piece. So they are akin to so many living beings which live together in a given space: they form a social corpus.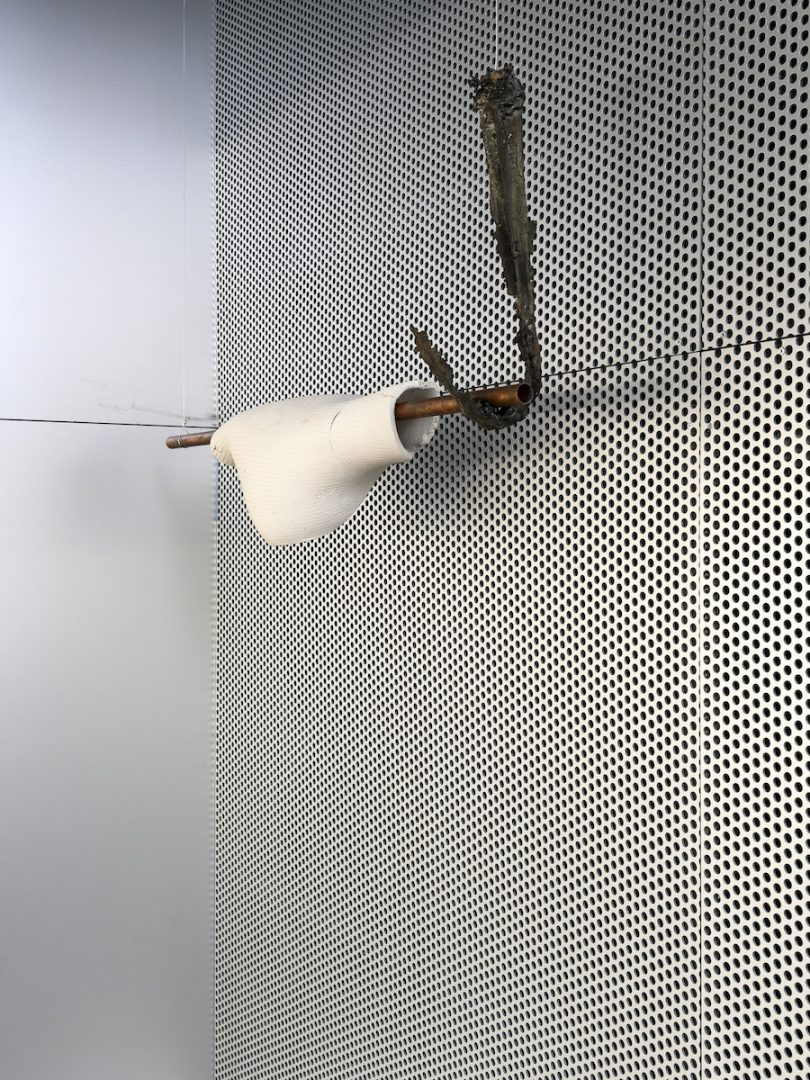 At Lafayette Anticipations, Rauschen frees itself from restrictions associated with the artist's body. In it we can see a switch of scale. This work, in all its excess underscored by the place's architecture, talks about history rather than atmospheric time. It no longer describes a solitary gesture, but addresses visitors by imposing on them, with an almost religious authority, an awareness of their own bodies. The archaeological aspect of this enigmatic form which, one by one, we are permitted to enter, gives rise to nothing less than a contemplative physical experience. If the artist transforms this "historical" raw material and turns it into a sculpture, she also transforms the space playing host to it. The work could be an antrum, a crypt or a futuristic tholos, it might conjure up a geological phenomenon surrounded by mysticism, ancient Egypt and its sacred places, science-fiction, and its post-apocalyptic shelters…
Being open, Katinka Bock's work becomes a metaphrasis of both physical phenomena and philosophical concepts of East and West. Its silence seems to assert, with ever greater self-assurance, that the essence is here, in the simple pendulum motion between a bowl and a fish.
1 Enlargement of the sculpture Wunschkonzert, 2019.
2 "An opening signals the start of the time of the exhibition but for me it is also an end. I leave the exhibition physically". Christophe Gallois, "Where does the sea end? Interview with Katinka Bock", Tomorrow's Sculpture: Sonar, Smog, Radio, catalogue, Roma Publications ; Kunst Museum Winterthur ; Mudam Luxembourg ; Institut d'art contemporain, 2019, p. 47.
3 The artist's words in an interview for the Marcel Duchamp Prize, Centre Pompidou, Paris, https://www.youtube.com/watch?v=4MSF5Vf-tx8 (our translation).
4 The artist in conversation with Béatrice Gross, The Art Newspaper n°13, November 2019.
5 Palomar II, 2019.
6 During the exhibition "Zarba Lonsa" at the Laboratoires d'Aubervilliers in 2015.
7 Calling to mind the lost-wax process.
8 A "body" made of metal carrying an object at the end of each one of its limbs.
9 Words of the artist in the video presentation of her exhibition "Tomorrow's Sculpture / Radio" at the IAC Villeurbanne.
Image on top: Katinka Bock, Rauschen, 2019. Copper, fibreglass. Courtesy Katinka Bock ; Jocelyn Wolff , Paris ; Meyer Riegger, Karlsruhe/Berlin ; Greta Meert, Bruxelles. Production Lafayette Anticipations. Exhibition view Lafayette Anticipations. © Photo: Pierre Antoine / Lafayette Anticipations, Paris
Related articles
by Sarah Matia Pasqualetti