The Host and the Cloud, Pierre Huygue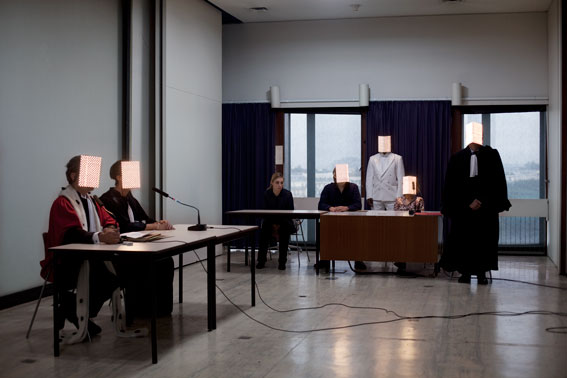 Une créature fictive saisie en plein discours indirect libre, une révolution du mode romanesque du courant de conscience… Voilà ce que propose le dernier film de Pierre Huyghe, The Host and the Cloud, qui mérite amplement le qualificatif de chef-d'œuvre.
Sorti tout droit du chapeau d'un magicien ou des délires d'Alice de Lewis Carroll, une figure hante ce film présenté en octobre dernier à la galerie Marian Goodman : un lapin, silhouette numérique effilée. Il est la clef de voûte du récit et n'apparaît pourtant qu'en de rares instants, articulation du film qui file en un long et époustouflant questionnement d'une heure et trente minutes : comment l'exposition à la culture peut-elle changer nos comportements ? Comment l'Histoire s'infiltre-t-elle dans nos vies, comment les récits des médias façonnent-ils notre imaginaire, comment la geste des magazines influence-t-elle notre inconscient ? Faut-il tenter de s'en sortir, ou se réapproprier plutôt les mondes qui nous envahissent ? Le plasticien français, représentant de la France à la biennale de Venise en 2001, y répond par un récit constitué d'une succession de scènes des plus hétéroclites. Ambition ? Échapper à « ces effrayants ready-made d'imaginaire dans lesquels on se love, comme la religion, ou la culture ».
Sont ici mis en scène les êtres et les actions imaginaires qui flottent dans le cerveau de l'animal virtuel. Émanations incarnées d'une psyché toute fictionnelle : comme dans le projet Ann Lee, tout se retourne comme une peau. C'est la fiction qui s'invente une réalité. Ainsi se compose « le portrait de l'état mental d'un personnage de fiction, voyage au sein de l'esprit d'un sujet absent ».
Ce film a été tourné au cours de trois séances mémorables, nourri par des dizaines d'heures de lecture de manuels de neuroscience évoquant les états de conscience modifiés, jusqu'à la Psychanalyse des contes de fée de Bettelheim. Trois dates ont été retenues : Halloween, la saint-Valentin et le 1er mai, ces « fêtes populaires qui ont colonisé le temps ». Huyghe a choisi comme cadre le musée désormais fantôme des Arts et traditions populaires (ATP), au cœur du jardin d'Acclimatation. Idéal pour celui dont les livres sur l'histoire des expositions universelles et parcs d'attraction envahissent la bibliothèque. Voilà plus de six ans que ce symbole de la muséologie d'après-guerre est fermé. Il se réveille au gré du film, pendant trois soirées de tournage en live. Au milieu des vitrines figées dans leur passé, l'artiste a placé une quinzaine d'acteurs. Libre de ses mouvements, un public d'initiés (écrivains, gens de l'art, famille, danseurs) était invité pendant trois heures à se faire le témoin de leurs gestes. « C'était comme une collection de situations performées, avec magicien, hypnotiseur, psychothérapeute, couple faisant l'amour ». À quoi s'ajoutent des interprètes qui rejouent des archives de l'histoire : le procès d'Action directe, le couronnement de Bokassa ou encore l'épisode de ce viol sur Second Life qui brisa plusieurs vies réelles. Juges, auditoire, badauds… Certains des acteurs portent des masques en forme de livres ouverts constellés de diodes : manière de faire comprendre qu'ils sont les figurants abstraits de l'Histoire en cours, plus que des personnages réels. Abstractisés, ils forcent l'attention du spectateur, qui se concentre sur leurs voix. On ne sort ainsi pas intact de la diatribe d'une des protagonistes du groupe Action Directe, qui évoque dans une violence superbe l'état de conditionnement auquel nous réduit la société.
Grâce à cinq caméras, tout fut filmé en intégralité, jusqu'à obtenir 60 heures de rush. « Dans cette expérience collective très forte, parfois les choses étaient complètement jouées, parfois elles étaient totalement hors contrôle, pour les acteurs comme pour moi, raconte l'artiste. Avec une séance d'hypnose, on ne peut prévoir ce qui va se passer. Idem quand un employé du musée prend un somnifère, ou qu'on lui met un encéphalogramme pour voir ce dont il rêve. Ce qui m'intéresse, c'est ce qui apparaît. Il s'agit avant tout de quelque chose qui se déroule dans le réel. On m'associe surtout à un artiste qui fait des films. Mais ce qui m'intéresse, ce sont les situations qui se produisent vraiment. Comment on se joue des rôles : c'est ça l'authenticité. Fondamentalement, c'est une histoire de migration d'un état vers l'autre. La condition du migrant est une des conditions du conte de notre présent », conclut-il.
Interrogée sous hypnose, une jeune femme offre une des clefs de ce labyrinthe psychique : « Quand j'étais petite, dit-elle, je voulais être dans l'histoire. Je voulais que ce soit vrai quand on disait "on aurait dit que" ». C'est cet « on aurait dit » que Huyghe cristallise à travers son voyage. Ce fascinant retournement de situation se déroule en saynètes entremêlées qui échappent à toute tentative de description. Des squelettes font le ménage, des danseurs se déchaînent sur le Thriller de Mickael Jackson, des marionnettes rejouent des psychodrames, un homme caresse la lumière pour faire naître des ombres chinoises: la fiction sous toutes ses formes se voit interrogée par ces silhouettes furtives. Certaines scènes se dessinent dans la sensualité la plus douce : étreintes collectives que le réalisateur arrache à l'ombre, tendre fête noyée dans la mélodie de la chanteuse Kate Bush qui irradie ce brusque retour à l'adolescence. Sa voix acide susurrant The Wuthering Heigths porte à l'incandescence les images mélancolique de cette party où le visage de jeunes filles joue avec le feu des lumières rouges. Il faudrait que jamais cela ne cesse. D'autres moments font de violents échos à la réalité la plus contemporaine : récits d'immigration ou envolées terroristes qui composent la poésie éminemment politique du film.
Au final, The Host and the Cloud se déroule comme une longue rêverie criblée des feux de l'actualité, une valse de fantasmes et de références. On ne saurait s'étonner de ce que l'artiste a notamment choisi comme bande-son la musique de Mulholland Drive en plus de celle de Pierre et le Loup : il sait, comme David Lynch, faire exploser la frontière entre la réalité et sa fiction, créer un entre-deux narratif épais comme un brouillard. Peu à peu, le vieillot musée d'ethnologie française se transforme en une île mentale. Quasiment toutes les scènes y sont dédoublées, rejouées : l'auteur du Remake du Fenêtre sur cour d'Hitchcock sait combien les récits en seconde main offrent de potentiel narratif. Chaque réalité a ses avatars et la force de fascination du film provient en partie de ces jeux de reflet. « In girum imus nocte et consumimur igni », dit le palindrome. Nous tournons en rond dans la nuit et nous sommes dévorés par le feu.
Si Huyghe parvient si parfaitement à incarner ses interrogations, c'est en composant aussi le portrait d'une génération, celle des quadragénaires. Les souvenirs d'enfance se disputent l'écran, quand se succèdent des reconstitutions du procès d'Action directe, du couronnement de Bokassa, quand apparaît E.T. en train de manger des céréales. Documentaire de fiction qui fera date dans l'art des années 2010, The Host and the Cloud dessine une passionnante tentative de comprendre comment les images nous composent : ainsi de ce mannequin qui endosse à tour de rôle tous les styles qu'elle a successivement incarnés au cours de ses défilés, redonnant corps à ces clichés de magazine, pour créer un mille-feuille du temps qui passe. Quand, dans la dernière scène, le lapin virtuel retourne dans son « terrier », en fait une vraie maquette de village appartenant à la collection des ATP, la boucle est bouclée, et le vertige total.
The Host and the Cloud
Pierre Huygue
By Emmanuelle Lequeux
A fictitious creature caught in the middle of a free indirect speech, a revolution in the novelistic stream-of-consciousness mode… This is what is offered by Pierre Huyghe's latest film, The Host and the Cloud, which fully merits being described as a masterpiece. Coming straight out of a magician's hat, or Lewis Carroll's hallucinating Alice, a figure haunts this film, which was screened last October in the Marian Goodman gallery: it is a rabbit, a slender, digital silhouette. It is the keystone of the narrative, yet it makes only rare appearances, albeit lending articulation to the film which proceeds like one long and mind-boggling question lasting for an hour and a half: how can being exposed to culture alter our behaviour? How does History find its way into our lives? How do media narratives shape our imagination? How do the gestures of magazines influence our unconscious? Should we try to get away from all this? Or should we rather re-appropriate the worlds that are invading us? This French artist, who represented France at the 2001 Venice Biennale, answers these questions by way of a narrative made up of a succession of extremely eclectic scenes. His aim? To get away from "those scary imaginary readymades in which we huddle, like religion, or culture". Presented here are the imaginary beings and actions which float in the virtual animal's brain. Embodied emanations of a thoroughly fictional psyche: just like the Ann Lee project, everything turns inside out, like a skin. It is fiction inventing a reality for itself. This is how we get "the portrait of the mental state of a fictional character, a journey into the mind of an absent subject".
This project was filmed in three sessions, in a memorable shoot, fuelled by hours and hours of reading, from neuroscience handbooks describing altered states of consciousness to Bettelheim's psychoanalysis of fairy tales. Three dates were used: Halloween, St. Valentine's Day, and the 1st of May, those "popular holidays that have colonized time". As his setting, Huyghe chose the now phantom Museum of Arts and Crafts (Musée des Arts et traditions populaires, ATP), set in the heart of Paris's Botanical Gardens (Jardin d'Acclimatation). Ideal for someone whose books on the history of world fairs and theme parks invade his library. It is now more than six years since this symbol of postwar museology closed its doors. It is reawakened by the film, for three live evening shoots. In the midst of the showcases frozen in their past, the artist has put some fifteen actors. Free to move about as they wished, an audience made up of the initiated (writers, people involved with art, family, dancers) was invited for three hours to become witnesses of their gestures. "It was like a collection of performed situations, with a magician, a hypnotist, a psychotherapist, and a couple making love". Plus performers re-enacting historical archives: the "Action Directe" trial [an armed revolutionary group of the 1970s and 1980s]; Bokassa's coronation; and that rape episode on "Second Life", which shattered several real lives. Judges, audience, curious onlookers… Some of the actors wear masks shaped like open books studded with diodes: a way of getting across that they are the abstract extras of the History under way, more than real characters. Thus abstracted, they command the spectators' attention, and the spectators focus on their voices. As a result, you do not emerge unscathed from the diatribe of one of the "Action Directe" members who, with superb violence, describes the conditioned state we are reduced to by society.
Using five cameras, everything was filmed in toto, which produced 60 hours of rushes. "In this very powerful collective experience, things were at times completely acted, at others they were totally out of control, for the actors and for me alike", the artist recounts. "With a hypnosis session, you can't foresee what's going to happen. Ditto when a museum employee takes a sleeping pill, or when you subject him to an encephalogram to see what he's dreaming about. What interests me is what appears. What's involved, above all, is something happening in reality. I'm mostly thought of as an artist who makes films. But what interests me is situations which really come about. The way we play parts: that's what's authentic. Essentially it's a story of migration, from one state to another. The migrant's condition is one of our present-day story-like conditions", he concludes.
Questioned under hypnosis, a young woman offers one of the keys to this psychic maze: "When I was small," she says, "I wanted to be in the story. I wanted it to be true when someone said" "You'd have thought that…" It is this "you'd have thought" that Huyghe crystallizes through his journey. This fascinating reversal of situations unfolds in dovetailed cameos, which elude any attempt to describe them. Skeletons are cleaners, dancers go wild to Michael Jackson's Thriller, puppets re-enact psychodramas, a man strokes the light to create a shadow theatre: fiction in all its forms is challenged by these furtive silhouettes. Some scenes take place in the gentlest sensuality: collective embraces which the director wrenches from the shadow, a nice party awash in the melodious music of the singer Kate Bush, who lends a glow to this abrupt return to adolescence. Her sharp voice murmuring Wuthering Heights stokes the melancholy images of that party, where the faces of young girls play with the glow of red lights. It should go on and on. Other moments violently echo the most contemporary reality, tales of immigration and terrorist flights of fancy, which form the film's distinctly political poetry.
In the end, The Host and the Cloud is like a long daydream peppered with the spotlights of current events, a waltz of fantasies and references. It should not come as a surprise that the artist has chosen in particular as the sound track the music of Mulholland Drive, in addition to the score of Peter and the Wolf. Like David Lynch, he manages to explode the boundary between reality and his fiction, and create a narrative interstice that is as thick as fog. Little by little, the fusty old museum of French ethnology is turned into a mental island. Almost all the scenes in it are duplicated, and redone: the author of the Remake of Hitchcock's Rear Window knows the degree to which secondhand narratives offer narrative potential. Every reality has its variants, and the powerful fascination of the film comes partly from these reflective interplays. "In girum imus nocte et consumimur igni", reads the palindrome. We go round and round in the night and we are consumed by fire.
If Huyghe manages so perfectly to incarnate his questions, it is also by painting the portrait of a generation, the forty-somethings. Childhood memories vie for the screen, when there is a series of reconstructions of the "Action Directe" trial, and the Bokassa coronation, and when ET appears eating cereal. As a docu-fiction that will go down in the art of the 2010s, The Host and the Cloud traces an exciting attempt to understand how images make us: so it is with this famous model who, turn by turn, wears all the styles which she has successively embodied in her fashion shows, lending some substance to those magazine snapshots, to create a multi-layered impression of time passing. When, in the final scene, the virtual rabbit goes back to its "burrow"—in fact a real model of a village belonging to the ATP collection–, the thing has come full circle, and our dizziness is total.
articles liés
par Sarah Matia Pasqualetti