Marie Voignier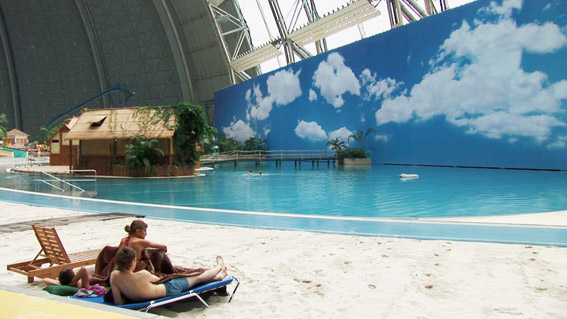 Laisser la parole respirer ; la confondre doucement, dans ses énormités posées comme de douces évidences ; la composer en faisceau, pour mettre en scène l'histoire complexe d'un lieu. Bref interroger, dialoguer, interviewer sans relâche : comme le font les journalistes ? Au contraire. Si la vidéaste Marie Voignier met les mots des autres au centre de ses films, sa méthode n'a rien de celle d'un reporter. Pas pressée, apparemment innocente, l'artiste fait parler autrui sans le harceler de questions. Elle laisse plutôt
sa rhétorique s'exprimer jusqu'à ses tréfonds, ses paradoxes ; elle la laisse se démonter d'elle-même. Qu'elle filme un DRH, un directeur du marketing ou un attaché de presse, c'est l'idéologique qu'elle traque, comme un chasseur camouflé, qui simule de la tendresse pour sa proie. Convaincus d'avoir affaire à un interlocuteur rendu à leurs propres conclusions, séduit par le verbiage officiel de la grande pensée libérale, les malheureux se livrent. C'est alors, seulement, que l'artiste intervient. Par le biais simple du montage, elle pointe la violence des réalités en jeu : un bureau factice destiné à former aux techniques de vente une armée de stagiaires (Les Fantômes); un parc d'attraction réinventant le monde du Western dans un désert d'ex-RDA (Western DDR) ; une reconstitution sous globe d'un paradis tropical, toujours en Allemagne de l'Est (Hinterland, 2009). Qu'ils soient lieux de l'entertainment ou du labeur, ces décors marginaux sont pour elle l'occasion de révéler la marche du monde. Lassée qu'on lui demande à chaque tournage : « ça passera quand à la télé, c'est pour quelle chaine », elle est allée en 2009 suivre ses pseudo-congénères les journalistes dans une de leurs vastes arènes : en Autriche, pendant de longues semaines, elle les a regardé travailler pendant le procès de Josef Frizl, ce père qui séquestré et violé sa fille pendant 24 ans. Se concentrant uniquement sur les envoyés spéciaux, et non sur le procès, elle les a vu s'affoler, se maquiller, résumer en quelques mots une journée, courir avec une caméra, et elle livre ce combat pour la vérité en un film qui ne dit rien de ce qui s'est passé, comme la télé ne dit rien sans doute. Ce dernier opus est projeté lors de la biennale de Berlin, cet été à partir du 10 juin.
Mais pour revenir au cœur de son projet, prélassons nous quelques instants avec elle sur la plage de Tropical Islands, qui fait l'objet d'Hinterland. De l'extérieur, ce microcosme miraculeux a l'air d'un énorme presse-citron allongé : un ancien hangar conçu pour une base aérienne qui abritait des milliers de
soldats russes au temps de l'empire soviétique. Déserté par l'Histoire, il séduisit un spécialiste des croisières qui voulut le transformer en havre de paix. Il abrite donc désormais une mer (l'équivalent de quatre piscines olympiques), un ciel bleu immaculé haut de quelques mètres, un jardin tropical idyllique (« sans serpent ni bête dangereuse », en confirme un des acteurs). C'est de ce lieu apparemment parfait que Marie Voignier soulève toutes les contradictions. En interrogeant longuement son directeur marketing et son attaché de presse, elle en souligne l'atrocité cachée : comment ce monde est selon eux un paroxysme d'authenticité (la preuve, des ouvriers sont venus de Bali pour construire les huttes de chaume) ; comment ses managers l'érigent au rang de monument au « pacifisme », qui favorise l'entente entre les peuples (la preuve, il s'agit d'un ancien aéroport, certes militaire, mais les aéroports ne sont-ils pas les lieux même de la grande entente mondiale, sussure avec fierté le directeur marketing) ; comment ses derniers, enfin, tentent de combattre les néonazis qui ne craignent pas d'entonner leurs chants guerriers dans les villages alentours. Pour le bienfait de l'humanité ? Non, bien sûr. Mais pour que ces relents fascistes ne dégoutent par trop les touristes de venir plonger dans ces eaux azur. « Tropical Islands est le produit spectaculaire de cette histoire, l'endroit d'un basculement d'un moment à un autre, d'un État (socialiste) à un autre (capitaliste), d'une conception du monde à une autre, analyse l'artiste. Ce village d'Allemagne a traversé tous les contrastes historiques et les contradictions politiques des soixante dernières années. Un nœud qui fait sens à une époque où l'aspiration à la mobilité et à la pluralisation des activités de loisirs tente de s'affranchir des contraintes de l'espace et du temps ». Une même mise à nu est à l'œuvre dans son Western DDR, qui s'attaque à un endroit similaire, mais devenu ville fantôme, lui.
Les gens se rendent-ils vraiment compte de ce qu'ils disent ? C'est la question que soulève en nous chacun de ces moyens-métrages. Car leur montage, très fin sans être manipulateur, sait révéler la violence des paroles les plus anodines. Son superbe film Le bruit du canon est à cet égard révélateur. Ses premières
minutes font frémir, l'air de rien. On y voit des hommes attablés, paysans aux visages angoissés qui, chacun à tour de rôle, évoquent une drôle de guerre contre un envahisseur jamais nommé. « On a bien essayé de les enfumer, on a tout essayé pour en réduire la population (…) Les gazer, on le fera pas, mais ça serait la solution (…) En 1985, on les a aspergé de produits chimiques, 80% des dortoirs ont été détruits, mais maintenant c'est moins dans l'air du temps »… Contre qui, quoi, luttent-ils ? Leur discours réveille bien sûr les souvenirs du nazisme, les épandages de napalm américain sur les rizières du Vietnam, la lutte universelle contre les dangers supposés de l'immigration. Et pourtant, ce sont de simples étourneaux que ces malheureux, qui semblent à bout de force tant les oiseaux ruinent leurs terres agricoles, tentent de se protéger. En lançant sur eux des effraies, en faisant tonitruer de la musique, en en capturant quelques uns pour qu'ils crient et terrorisent leurs congénères. En vain. Sous le bruit de vent de leurs ailes, Marie Voignier filme longuement leurs nuées incroyables, leurs ciels d'abstraction chatoyante, une mer sans cesse mouvante qui ne peut qu'émouvoir quiconque n'en souffre pas. Elle les laisse planer comme un doute, heurtant la beauté de la nature à l'âpreté de la vie paysanne : comme si trop de beauté faisait écran à la réalité, et nuisait à notre écoute du monde.
Marie Voignier
11 juin – 8 août 2010
Effigies
Galerie Marcelle Alix, Paris
26 mai – 31 juillet 2010
Spatial City : An Architecture of Idealism
Exposition des collections des Frac
Institute of Visual Arts, Milwaukee, Etats-Unis
5 février – 18 avril 2010
CAC, Brétigny-sur-Orge
15 février – 21 mars 2009
Marie Voignier
Let the word breathe;confuse it gently, in its enormities posited like forms of sweet obviousness; make it like a beam, to stage the complex history of a place. In a word, question, dialogue, interview, relentlessly: the way journalists do? Quite the opposite? The video-maker Marie Voignier may put other people's word at the hub of her films, but her method bears no relation to that of a reporter. This seemingly innocent artist is not in a rush; she gets others to talk without bugging them with questions. Rather, she lets her rhetoric be expressed, down to its depths, and its paradoxes: she lets it dismantle itself, by itself. Whether she is filming a human resources department, a marketing director, or a press attaché, what she is after is the ideological factor, like a camouflaged hunter, feigning affection for her prey. And unfortunate souls give themselves away, quite sure that they are dealing with someone who has come to their own conclusions, seduced by the official chitchat of grand liberal thinking. It is only then that the artist intervenes. Through the simple device of editing, she pinpoints the violence of the realities in question: a fictitious office designed to instruct an army of trainees in sales techniques (The Ghosts); a theme park re-inventing the world of the western in a wilderness in what was once East Germany; a re-creation, under a dome, of a tropical paradise, again in East Germany (Hinterland, 2009). Be they places of entertainment or labour, these offbeat sets, for her, are an opportunity to reveal the way the world is going. Tired of being asked, at each shoot: "When will it be on TV? Which channel?", in 2009 she went to follow her pseudo-peer journalists in one of their vast arenas: in Austria, for many long weeks, she watched them at work during the trial of JosefFrizl, that father who locked up his daughter and raped her for 24 years. Focusing solely on the special correspondents, and not on the trial, she saw them panic, put on make-up, sum up a whole day in a few words, run around with cameras, and she wages this war for truth in a film that says nothing about what has happened, just as TV probably says nothing. This latest opus is being screened at the Berlin Biennial, this summer, as from 10 June.
But to get back to the nub of her project, let us bask for a few moments with her on a Tropical Islands beach, object of Hinterland. From outside, this wondrous microcosm looks like a huge elongated lemon squeezer: an old hangar designed for an air base that once housed thousands of Russian soldiers in the days of the Soviet empire. Abandoned by History, it seduced a cruise specialist who wanted to turn it into a haven of peace. So it now encompasses a sea (the equivalent of four Olympic pools), aflawless blue sky, a few yards high, an idyllic tropical garden ("with no snakes or dangerous animals", in the words of one of the actors).It is from this apparently perfect spot that Marie Voignier raises all manner of contradiction. In lengthily questioning its marketing director and its press attaché, she underscores the place's hidden atrocity: how this world is, in their view, the height of authenticity (the proof? workers came from Bali to build the thatched huts); how its managers elevate it to the rank of a monument to "pacifism", encouraging understanding between peoples (the proof? it was once an airport, yes, a military one, but are not all airports the very arenas of the great worldwide understanding, whispers the marketing director, proudly); how these latter, lastly, are trying to fight the neo-nazis who are not afraid of chanting their warmongering songs in the villages roundabout. For the wellbeing of humankind? No, of course not. But so that this fascist stench will not put tourists right off coming to plunge into these azure waters. "Tropical Islands is the spectacular product of this history, the tipping place from one moment to the next, from one (socialist) state to another (capitalist) state, from one conception of the world to another, as the artist analyzes it. This German village has crossed every manner of historical contrast and political contradiction over the past 60 years. A crux that makes sense at a time when the aspiration to mobility and pluralization of leisure activities is trying to free itself from the restrictions of time and space." The same exposition is at work in her Western DDR, which focuses on a similar place, now become a ghost town.
Do people really realize what they are saying? This is the question raised in us with each one of these medium-length films. For their editing, which is very subtle without being manipulative, manages to reveal the violence of the harmless words. Her superb film Le Bruit du canon is epiphanic in this regard. Its opening minutes make us shudder, in an unassuming way. In it we see people at table, country folk with worried faces who, turn by turn, conjure up a weird war against an invader who is never named. "We really tried to smoke them out, we did everything to reduce the population […] We wouldn't gas them, but that would be the solution […] In 1985, we sprayed them with chemicals, 80% of the dormitories were destroyed, but now it's not so much the mood of the times"…. Who and what are they fighting against? Their discourse, needless to say, stirs up memories of Nazism, the Americans napalming Vietnam's paddy fields, the universal struggle against the alleged dangers of immigration. And yet these unfortunate souls are just simple birdbrains, who seem at the end of their tether, with birds ruining their farmland, trying to protect themselves. By tossing barn owls at them, by playing deafening music, and by capturing some of them, so that they will cry out and terrorize their fellows. In vain. Beneath the noise of their wings, Marie Voignier films at length their incredible swarms, their skies of iridescent abstractness, a sea in perpetual motion which cannot fail but move anyone not suffering. She lets them float like doubts, making the beauty of nature collide with the harshness of peasant life: as if too much beauty were like a screen against reality, damaging the way we listen to the world.
Translated by Simon Pleasance & Fronza Woods.