Haris Epaminonda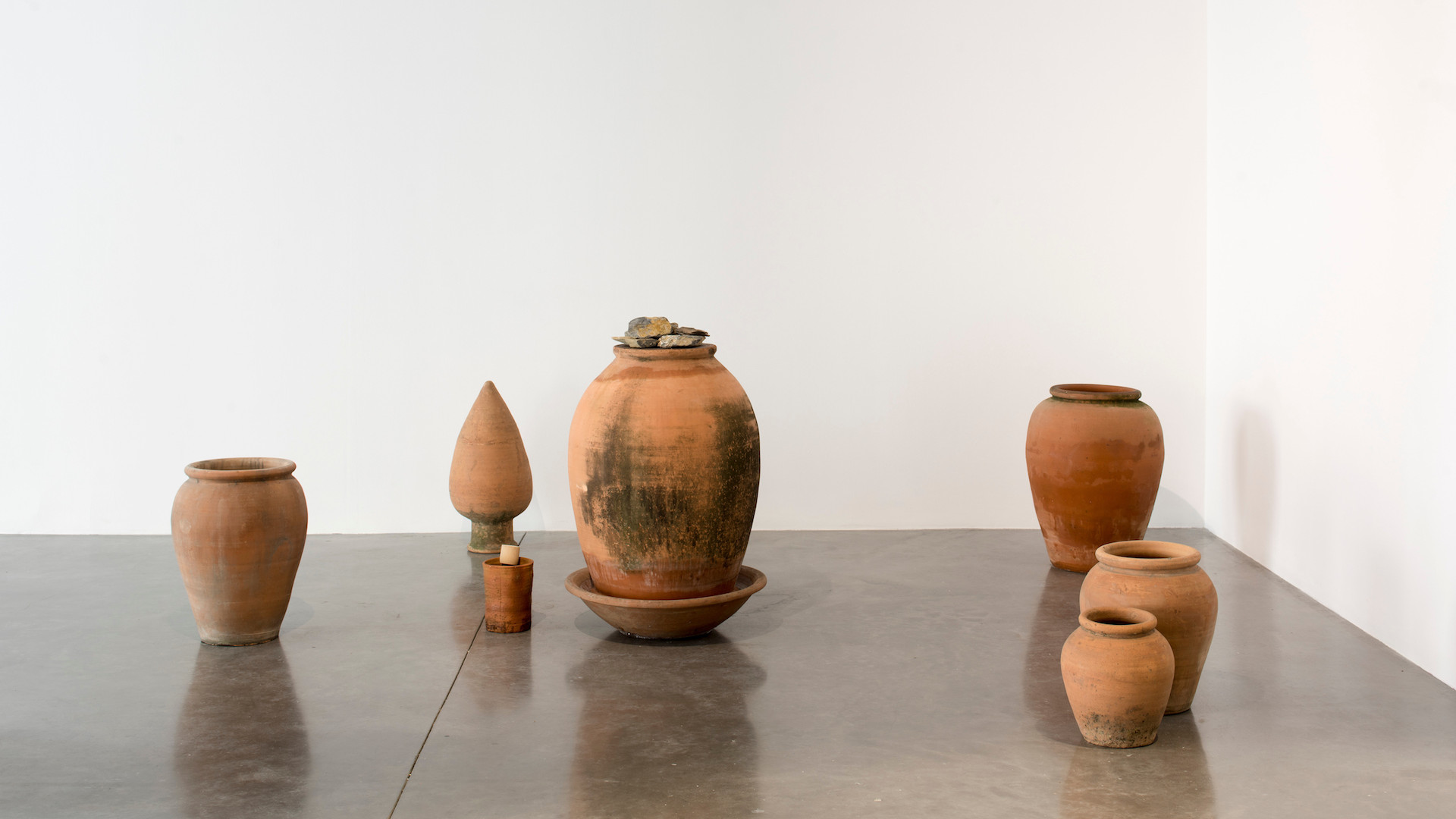 Moonrise-
Even if you tug at it
Its eye stays open
Kimura Toisho
They wander, between the suicide bridge and the temple of the Sibyl. Wearing heavy kimonos, and white make-up, which makes them courtly, they are lost. Who are they? Where do they come from? From south of the border, west of the sun, is how a Haruki Murakami novel would put it. Geishas transported by who knows what miracle into the maze of Buttes-Chaumont park: on their own, a journey. Small steps restricted by wooden soles, raspberry lips turned towards the modest skyline of highrise buildings on the Avenue de Flandres, precious gestures which already seem like music… This, at least, is how one imagines them. Who knows, they are just wearing raincoats. Anyway, do they really exist? Since the opening of the Haris Epaminonda exhibition at Le Plateau, in Paris, last October, the rumour about these two faraway silhouettes has in any event clung. The institution assures us about it, people dream about it: two beauties left their archipelago in the land of the rising sun for the mists of the rock garden. We don't know anything more, except that they look at one another, "seemingly absorbed in the contemplation of their own image, as if one were being diluted in the other's image. Perhaps to become a mirror image, a reflection on unstable water, ready to dissolve with the arrival of the first drops of rain", in the words of the artist responsible for this impromptu escapade. She leaves the rest like an ellipsis. Because with her everything is eclipse: what is hidden reveals.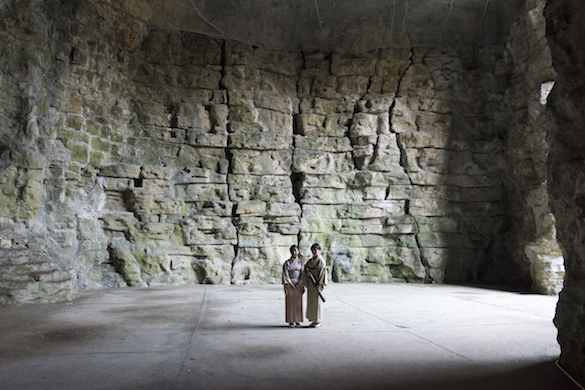 Might an adventurous person have set off in pursuit of the two unknown women to vouch for this tale? We don't know any, and what does it matter? The nub lies in this phantasmagorical story which proposes another use of the world for us. It rekindles this surrealistic vision borne by two people in love with the Buttes-Chaumont, brand new in their day: André Breton and Louis Aragon, who described in it an apparition whose ghost may have come to tinkle in Haris Epaminonda's ears: "But on the rim of this bowl, with this sharp edge of shadow, beyond the Chinese foliage, beneath a streetlamp dressed up for a ball casting its cold jewels on the meadow, wearing the colours of the unreal, electric frost and snow green, a proscenium in front of the music pit brings towards our eye a ghost act". And all of a sudden here are these ladies, at once Equinox Flower and Early Spring, to borrow the titles of two of Ozu's films, whose world seems here to transfuse reality.
For it is very much a question of transport, even within the walls of Le Plateau. Haris Epaminonda, on her own, is already a journey, a Cypriot living in Berlin. Her delicate exhibition results from the nomadism of certain objects, hailing from exotic lands to set up home for a while on this mountain, making it a little sacred. The rare things which form it are asserted in bare, white space, clues of a precious treasure hunt. And this place which we are familiar with becomes, like after an abrupt awakening, an absolute elsewhere. Through the rooms, reverted to their strictest elementariness, photos of Asian landscapes pass by (a waterfall, the three valleys of the Yangtze river?), while, here and there, one or two ceramic vases underscore the void, slender silhouettes placed on a sideboard. In a corner, the model of a gold pavilion, like the one the writer Yukio Mishima dreamed of, duplicated by a mirror. Near the showcase, a paving stone of black matter, thickened ink conveying promises of a space odyssey. A bonsai cleverly grows, while, in an aquarium, two goldfish grow bored around a small Buddha's head carved in stone. We glimpse a scholar's rock, too: a primordial telluric force, crystallized in a few ounces of stone, in whose grooves the initiated may read a whole world. Or an ancient pendulum system. At the end of the visit, it reminds us of the extent to which it is a matter of balance here. "For many years I've been collecting artefacts, old ceramic objects and pottery, fabrics, statuettes and books, in a nutshell, all sorts of things which I'm attracted by", explains the artist in the journal offered at the start of the show. "I surround myself with these objects and, from time to time, I realize that one or other of them has made its way into one of my works."
The objects would not be enough to underwrite this tightrope exhibition, if they did not play with the young artist's sculptures: thin metal bars, structures so fine that they are almost invisible. Placed in strategic spots, they act as counterpoints, as in a score where different melodic lines are cleverly overlaid. As a result the circuit round the show has something to do with a fugue, in an extremely well tempered form. "In this décor there is an immateriality which is endlessly repeated: make yourselves small, don't hurt the air, don't hurt our eye with your awful coloured jackets, don't be so fidgety and don't offend this slightly lifeless perfection that we've been cultivating for eight hundred years", wrote the traveller Nicolas Bouvier in his Japanese Chronicles. This advice about good conduct seems written for the show at Le Plateau: as soon as you start your visit, you find yourself making yourself very small, to leave this décor in peace. Slipping like a shadow into this tale about the hazy moon after the rain; contemplating the full moon duplicated on a backdrop of blood red carpet, soberly filmed by the artist as if to tell us about the mood required to enjoy the fullness of the visit.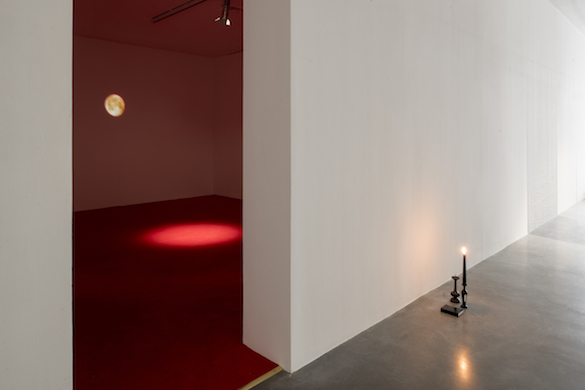 When suddenly… The most absolute calm reigned, when suddenly. A silhouette appears, and enters into the sequence shot. An old man, his back slightly stooped. A last emperor's sparse beard and moustache, faded blue smock, rope sandals: this man seems to have come forth from an ancient time. And yet he moves from one work to the next, as if there were nothing to it. Three afternoons a week he comes and lives in the exhibition, quite literally. In his eyes we are nothing, just useless, invisible viewers of his rituals. Every time his dance of little steps is the same. The wise man pours a trickle of water over the stone stoppers of antique amphorae and gets them to sing; with a wet rag, he spends a long time cleaning a large grey stone. He keeps the fire going, prepares tea in this black lacqueur pavilion surrounded by bamboo curtains, which has pride of place in the largest room, where his silk couch awaits him. Then he moves a rake over a pile of sand, like the gardeners of Kyoto tracing the movements of the stars on the ground. But his gesture is in vain, no form comes forth. Then he snuffs the candle. And vanishes. The crack in time has closed over him.
Haris Epaminonda usually occupies places more loaded with history; the neutral space of Le Plateau is unusual for her. At the Querini-Stampalia Foundation in Venice, she slipped into those oh-so-pure rooms designed by Carlo Scarpa, playing discreetly with the gold of a mosaic or the tempo of a frieze. At the 2012 documenta, with Daniel Gustav Cramer, she used an abandoned building in the station in Kassel, and, by means of a simple object, a silly image, each room constructed a world in all its fullness. At Le Plateau, on the other hand, the artist started from scratch. But faced with the white cube, her narrative acquires greater cinematographic poetry. And this preserves us, though it may not seem like it. We will long remember those three beings encountered at the top of a hill, and the quietness that they inhabited. They took us to their imaginary land, while just a stone's throw away, right by the canal below, winds and wolves howled.
Haris Epaminonda, VOL. XVI, Le Plateau, Paris, September 24 to December 6 2015.
(All images: View of the exhibition VOL. XVI, frac île-de-france, le plateau, Paris, 2015. Photos: Martin Argyroglo)
Related articles
by Sarah Matia Pasqualetti