Chloé Delarue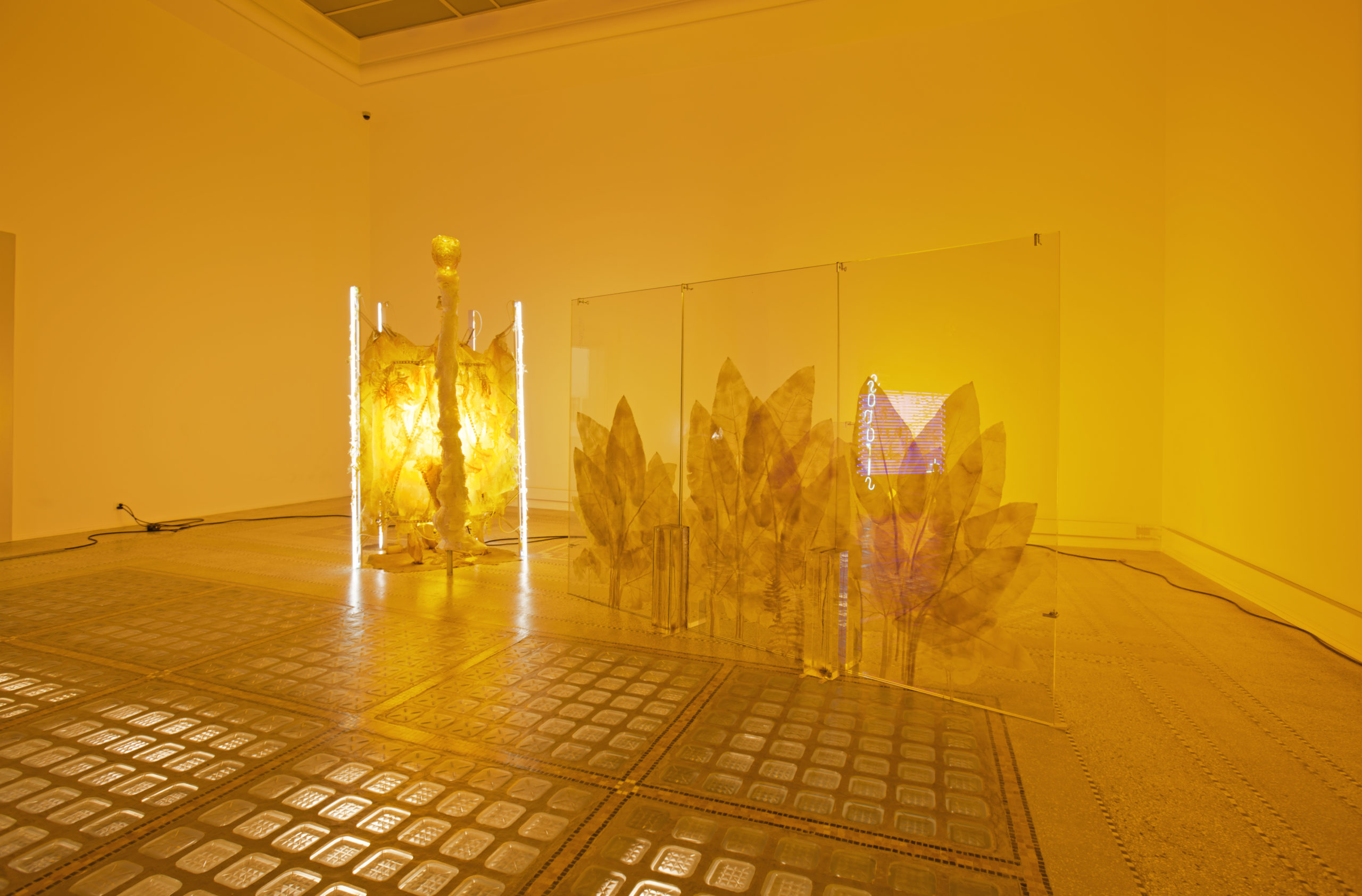 A Blessing and a Curse
Plunged into near total darkness pierced with pink and blue neon lights emanating from a paradise lostin TAFAA – PRISM at the Centre for Contemporary Art in Geneva in 2015. Floating in a solar fog of sodium lamps in TAFAA – ACID RAVE at the Fine Arts Museum in la Chaux-de-fonds in 2019. Electrified by fluorescent tubes which are as hypnotic as they are aggressive in TAFAA – BLUE LIGHTS TENDERNESS in Windhager von Kaenel in 2021. In Chloé Delarue's earliest installations up to the most recent, bodies are exposed to the sensations of a world in transition. Aside from the atmospheric variations created by the different luminous elements they are composed of, the installations are true environments due to their sensorial presence, like the organic, fluid smell latex gives off. There is a consistency to their sonority, as well, due to the ventilation system of certain works, such as TAFAA – FERTILITY DEVICE (COOL AIR). Through these different spatial-sensorial capsules, the artist generates experiential tours within reality which come close to virtual reality by playing upon sound, visual and olfactory immersion.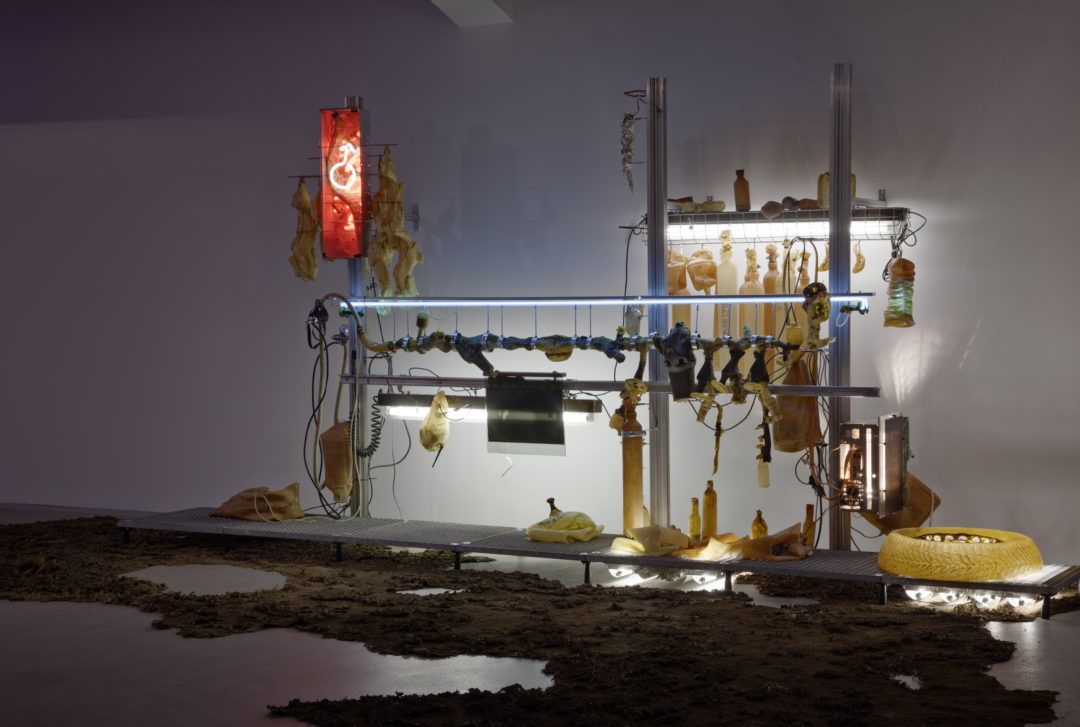 Each installation therefore becomes an environment, as the artist has referred to it: a repeated, yet unique occurrence which varies with each manifestation of the theoretical and aesthetic entity they are a part of and which are referred to under the acronym TAFAA (Toward A Fully Automated Appearance). Adapted from the title of an article written by the mathematician Fisher Black which appeared in the 1970s, "Toward a Fully Automated Stock Exchange", beginning with her early solo exhibitions in Geneva, Chloé Delarue has developed this system of representation and perception. TAFAA appropriates and transposes into visual form thoughts on automation and the rapidity of the execution of computer algorithms; no longer applied to the stock exchange but rather to our daily interactions, our most banal habits. Structured by the artist's sculpture practice and solidified by the form successive installations take on—their components, their title—TAFAA nonetheless can be traced back to the artist's early video works. In these videos, a human figure appears, navigating specific environments, whether filmed in a studio or natural setting. The character's physical appearance changes with each instance, always avoiding artifice, instilling these inquiries with interactions between living beings and technology, with simulations of the real through the use of camouflage, imitation, disguises. From video to sculpture, the appearance of the human body leads to de-individualization; a move toward a collective, troubled body which is present in the current work of the artist.
Like the head of a cephalopod, a common figure which crops up in vernacular mythologies as well as in political satire; or in reference to bioluminescence or in neurobiology, TAFAA spreads and multiplies itself through its singular tentacles. Each environment stems from a micro-narrative—a fragment which encapsulates the irrationality of our reality—that the artist draws out and causes to proliferate itself until it reaches the point of becoming an analogy or generic allegory. The artist leads us into the heart of contemporary disorientation, by way of sensorial and aesthetic experience. The system becomes larger through an interlacing, a criss-crossing and increasing of traces, bit by bit as each occurrence takes place. The environments interact with one another via resonance, taking form in one way or another for a time, in order to appear again with all of their paradoxes and similitudes at another time.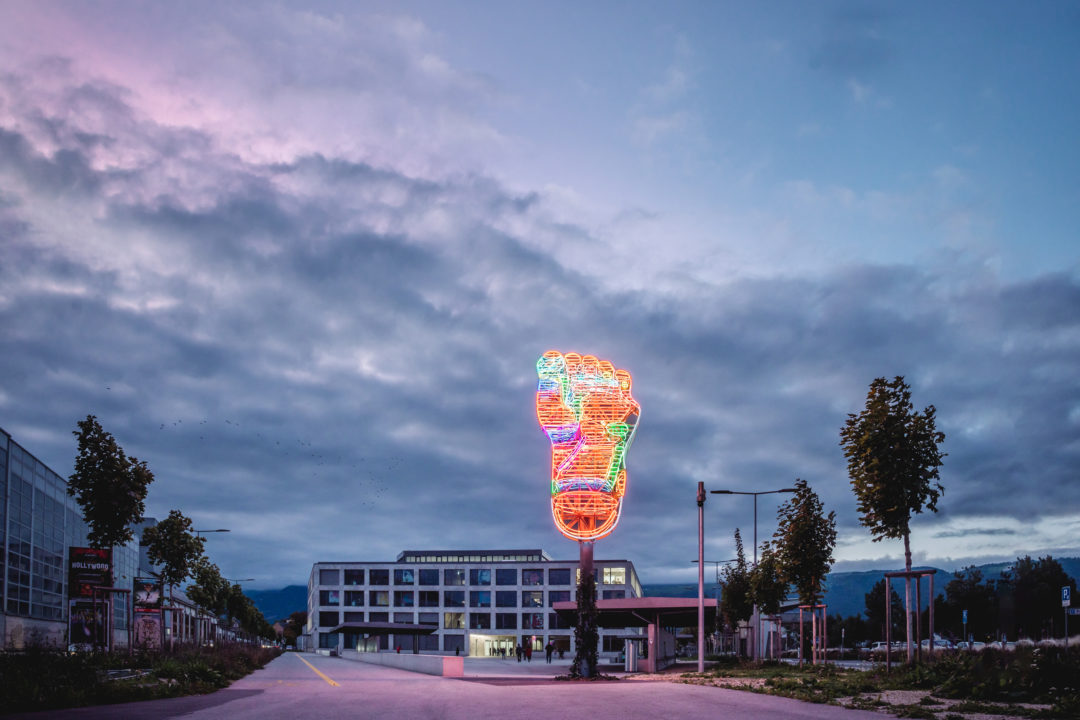 In an age of synthetisation of feelings and of the different methods of reproduction, Chloé Delarue carries out a metaphoric exploration of the culmination of the real through its simulated universes—those produced by all types of generative techniques (social media, 3D simulations, online video game platforms, etc.)—where she mines for symptoms as aesthetic and formal inspiration. It is also a way of pitting the imaginary against that which is tangible, in anticipation of what will eventually become visible, in an artistic approach which is dependent upon physical interaction, corporeal interaction, as well as upon touch, time, and an empiricism which is based on randomness and intuition. By working with different materials, taking them far beyond their intended uses within their standardized existences, the artist does not seek to carry out an investigation of a certain material and its related techniques. Instead, she gives them new realities, chosen via a thought process which takes into account the possibility of full reproducibility currently surrounding us (3D scanning, 3D modelling, 3D printing, etc.). Matter is used and sculpted in accordance to its potential to be translated and generated via computer, with its uncertain and unpredictable reactions.
Using visual fragments or recurring elements, the artist makes assemblages, producing successive flashes and familiar impressions which are disturbed by hybridization. In 2019, TAFAA – #30 transformed the Salle de bain, in Lyon, into an incognito tobacco leaf-drying atelier with refrigeration unit. In 2020, for the exhibition WE HYBRIDS! at the Istituto Svizzero in Rome, the artist presented TAFAA – TANNED SUBMISSION a new sequence which fused printing presses, papier maché, a loom and motors from burnt cars.
The idea is however not anticipatory, nor is it a speculative, science-fiction-esque universe, because as complex and composite as these environments are, they are not an escape from reality, but rather a concentration of it. Like vestiges of our current era, or as the artist has suggested, "of a future which has aged out before we had a chance to reach it." The artist attempts to seize, to capture the poetic ambiguity of a reality contaminated by its simulated double in a never-ending breakdown, exponentially accelerated and with an almost instantaneous obsolescence. The sequence TAFAA – ONLY RELICS FEED THE DESERT (New Fraudulent Taxonomy) uses the same technical procedure involving images which have been soaked in latex, then positioned under glass and backlit by grids of fluorescent tubes. The different instances of the inclined yellow plaques which succeed one another, with the relief of the images sealed beneath transparency, allows the artist to create space for drawn contours in her practice. This figurative insert in the work of Chloé Delarue is based on images sourced from the internet. These fossils from the digital world—a series of memes, like the brainlets, for example, or trolls—whose transformations, manipulations or reinterpretations which are made to serve varying ideologies are an example of the virality of images and of their complete decontextualisation.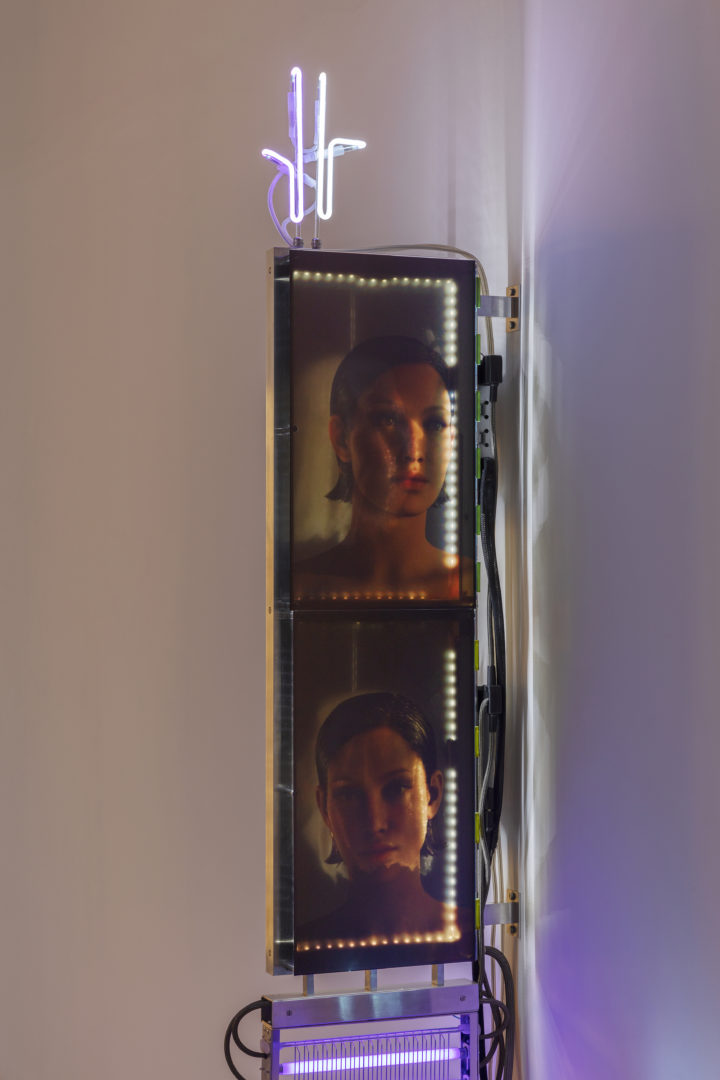 Behind this multiplicity of images and signs, Baudrillard's notion of the simulacrum can be detected, for example, "The simulacrum is a carbon copy of an original which never existed." Through the superposition of layers, and the use of replications, the artist reveals fractions of simulacra in a solid and tangible form. By multiplying strata, whether in the form of specific sculptures and their assemblages or at the systemic level of TAFAA, a perceptive and cognitive disruption arises, combining the techno-capitalistic experience with that of Capgras syndrome. The syndrome, which is also known as the 'delusion of doubles', is characterised by the irrational conviction that acquaintances or loved ones have been replaced by doubles.
The TAFAA – FERTILITY DEVICE corpus leads us into the realm of the chimera: in one instance, an animated, flayed man is shown walking, then melting into the drawn contours of a human nervous system. In another, two sculpted heads of the Virgin Mary covered in resin twirl behind a 3D model which poses, mimicking humanoid movements. Together the devices offer several points of view, making a kind of montage possible between the different screens, like a reality which has been buried underneath a multitude of occurrences to the point of total insubstantiality.
TAFAA – FERTILITY DEVICE neatly illustrates the notion of the graft which guides the artist's approach, consistently producing a coexistence between a formal language which functions like an optical illusion, where organic and chemical aspects influence one another in marked ways, like out-of-commission screens projecting ersatz versions of reality, latex taking on counter-concepts, or neon lights characterising volatile signs. The approach to form is horizontal, precluding any hierarchization between the objects and substances. In addition to drawing on technological artefacts, the works also borrow formal aspects from syncretic symbols which can be found in simulated environments therefore raising their unstable positions in this new horizon, which is under constant reconfiguration. Which reality should we cling to if everything is mere imitation and simulation?
Chloé Delarue complements this mental and moral vertigo with the compression of bodies under the impulse of computerized thinking. Different references are made to reinforce this impression of bodily coercion, for example in TAFAA – ONLY RELICS FEED THE DESERT (New Fraudulent Taxonomy II) a 'scold's bridle' is reproduced, or by combining 3D-printed plants with a neon hangman's noose in TAFAA – PROTEST (MONSTERA), or via détournement of the shibari technique to hang TAFAA – PALANTIR (ACID RAVE). The target remains unchanged: techno-capitalism; it is unsurprising to see a dollar become a pillory in TAFAA – ONLY RELICS FEEDS THE DESERT (New Fraudulent Taxonomy). The pressure exerted on bodies can be interpreted as the state of alienation and subjugation under which we are maintained in the insatiable quest for progress. Chloé Delarue's entire oeuvre is steeped in the total paradox that the human species experiences when producing a system of tools and digital knowledge which is becoming more and more autonomous, "a blessing and a curse," at the same time, a vector for its evolution as well as for its downfall.
Chloé Delarue (1986) lives and works in Geneva. She received degrees from Villa Arson (Nice) in 2012 and HEAD (Geneva) in 2014. Recent solo exhibitions were shown in Zürich, Berlin, Brussels and Nevers. She is presented by Frank Elbaz gallery, who will present her upcoming solo exhibition, TAFAA – SYCAMORE RABBIT (Give 'Em The Love Tonight II), from 25th February until 15th April, 2023.
1 Jean Baudrillard, Simulacres et simulation, Galilée, 1981
______________________________________________________________________________
Head image : Chloé Delarue, TAFAA – ACID RAVE (détail), 2019. Photo : Florimond Dupont. Courtesy de l'artiste et Musée des Beaux-Arts de la Chaux-de-Fonds (ch).