Peter Friedl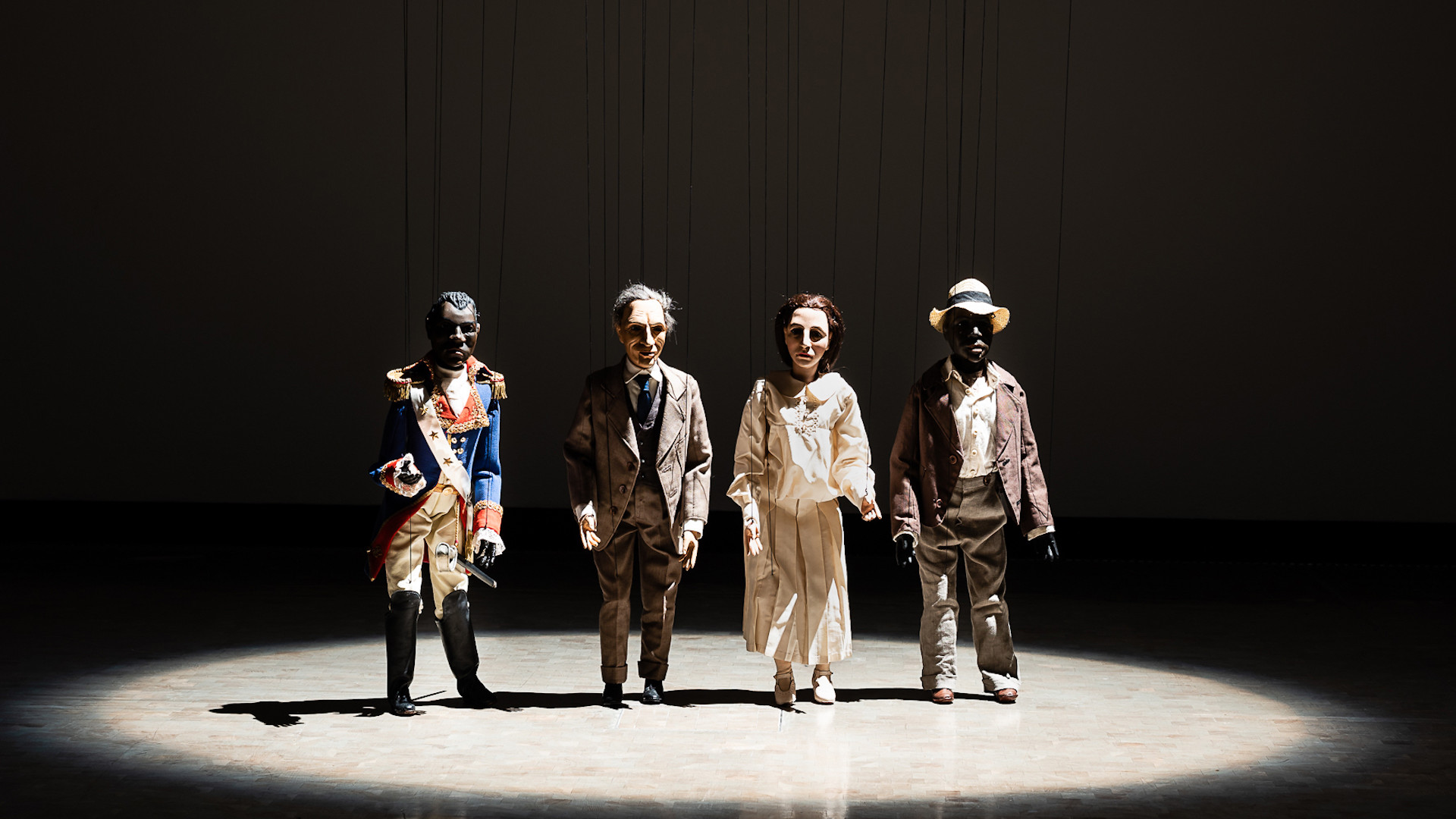 Teatro, Carré d'Art-Musée d'art contemporain, Nîmes, 25.10.2019 – 1.03.2020
Here's what can be read in a footnote about Peter Friedl's (ambivalent) interest in Daniel Johnston: "He was interested in this singer against the grain of clichés".1 "Against the grain of clichés". What if this expression, both simple and precise, was the key to understanding what Friedl was interested in, not only in Daniel Johnston and other artists, but what interests him in general, to the point of motivating his work? What if the need to go "against the grain of clichés" was what characterizes Friedl's approach and work? An apparently disparate work, made up of drawings, models, puppets, collected images, videos; interested in theatre, architecture, archives, dream interpretation; made complex by this profusion and a diversity of paths that could be said to go in all directions. However, seeing them as minor or distorted forms going against the current cultural or cultivated practices as they are currently absorbed to the point of becoming clichés, allows us to grasp them all together. Puppets are an attack on the theatre as a cliché. The house models are an attack on modernist architecture as a cliché. Collections of press clippings arranged by association, against the archive as a cliché. Every time Peter Friedl takes an interest in an area of activity, he approaches it against the grain of preconceived ideas in a way that places us in front of our thinking habits which are too easy. He does not attack these practices in themselves, but as clichés.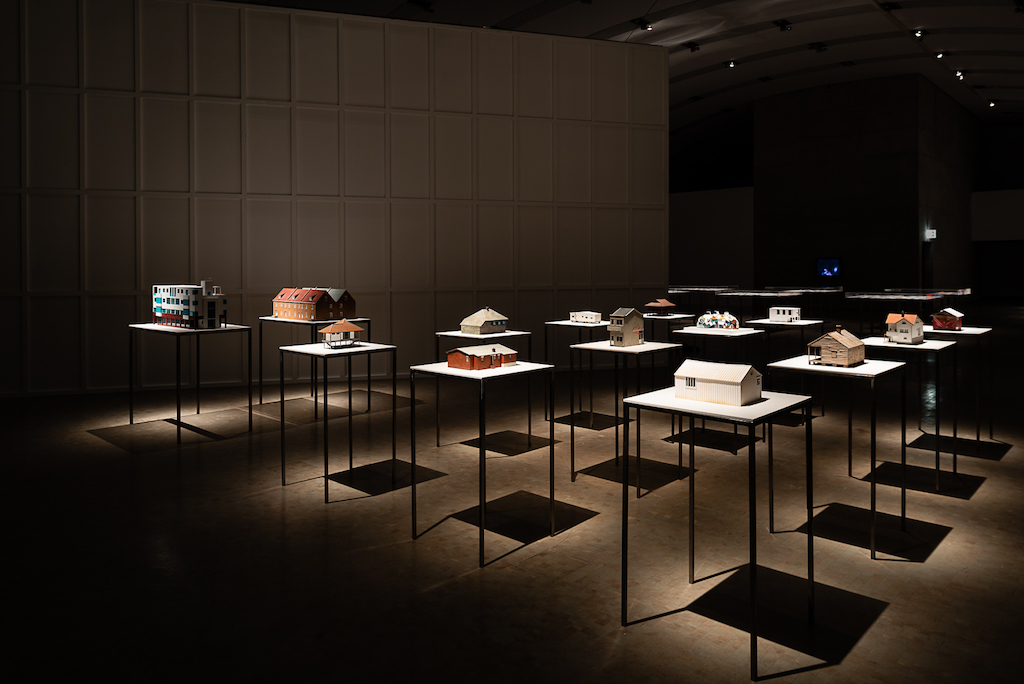 In this sense, Rehousing–an installation in Friedl's exhibition at the Carré d'Art in Nîmes–can be perceived as metonymic, an exhibition or collection in the exhibition, a collection of heterogeneous pieces that converge somewhere, beyond the visible, in the mind of the observer. Consisting of successive additions over several years, from 2012 to today, the work consists of models of houses set on metal tables high enough to let them be easily viewed in detail, each house belonging to a style, history and provenance far removed from those of the others. The models are not projects, they are miniature replicas of existing houses which, presented as models, once again become proposals for rethinking architecture. The house where the artist spent his childhood in Austria and that of Heidegger in the Black Forest are presented next to a modernist house by an Italian fascist architect for a colony in Africa, but also a container transformed into emergency housing in Jordan, a makeshift refugee construction in Berlin and a nail house resisting the authoritarian reconstruction of Beijing's working class neighbourhoods. The whole thing upsets the hierarchy with which we generally comply without questioning it, having integrated the great paradigms of 20th century culture, here something like: modernist architecture is good, the village house in Austria is bad. Friedl reverses this common reading by suggesting new ways of looking at architecture that take into account, alongside elitist and power-related architecture, vernacular or improvised constructions: architecture in a broader sense. The installation calls all the more for this awareness as it is completed by two other slightly larger models highlighting the complexity and complicity of architecture in relation to the various forms of power. Titled respectively Tripoli (2015) and German Village (2014-15), they evoke on the one hand a project of FIAT offices in an iron and glass architecture, from the time when Italy had colonized Libya and, on the other hand, a typically German building constructed by the American army with the help of Hollywood decorators to help train soldiers to attack Germany. Modernism and colonialism, war strategy and cinema, Friedl shows the constant ambivalence of human affairs, applied here to architecture.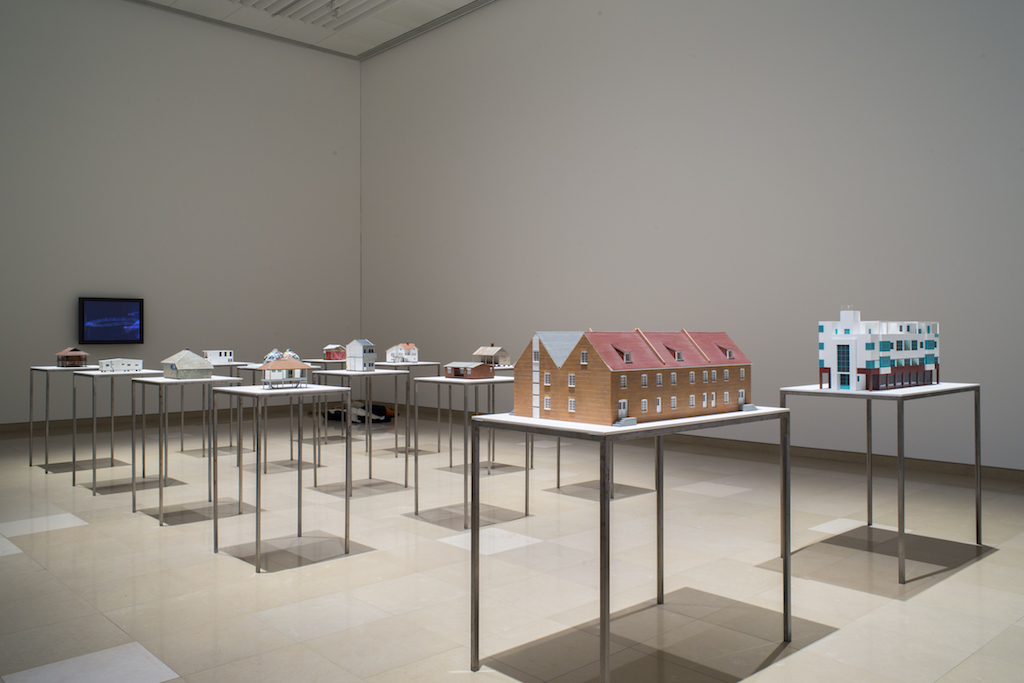 Another artistic field seems to irritate him particularly and leads him to the production of works that are very critical of it: theatre. Several installations and videos in the exhibition tackle it, with minor forms such as street puppet theatres, puppets themselves, video and, once again, models. This can be seen in the first room where the installation Teatro Popular (2016-17), inspired by street theatre in Portugal (originally designed for an exhibition in Lisbon), is presented, made up of colourful fabric huts and puppets scattered, above, upside down, balanced or lying on the ground, waiting to be activated in everyone's imagination. Puppets all the more intriguing because they bear the effigy of various characters, men, women, blacks, whites, obviously from different periods because they wear very different clothes–we learn from the text accompanying the exhibition that these are characters belonging to different periods in connection with the history of Portugal, from the Jews driven from the country in the Middle Ages to Ingrid Bergman (yes, via the film Casablanca). Despite the childish and colourful forms of the elements, a drama could be played out, but it remains virtual. Here again, it is in the mind of the observer who completes the work with his feeling, his thoughts and reflections, his presence. We can speak here of a "meta-discursive dimension"2 of the work or also remember the Beuysian notion of social sculpture, a work incomplete without the reception and comments of the spectator.3 But here, Friedl's critical mind towards theatre as much as towards the writing of history and even historical truth prohibits edifying words. It is interesting to compare this installation, similar to The Dramatist, also made with puppets a few years earlier4, with the 2016 video Report, shown in the last room of the Nîmes exhibition. On the large empty stage of the National Theatre of Greece in Athens, which, he likes to remind us, was built by a German architect at the very end of the 19th century (in a neoclassical style revisited by all European history), Friedl invited amateurs of different origins and languages to learn and recite a text by Kafka, itself very ironic in relation to the official culture, A Report for an Academy. Without any spectacular feature, with hesitant actors presenting themselves head-on in their usual clothes, and without any sets, made of excerpts from texts spoken in languages that we do not all understand, the work proposes a kind of anti- or counter-theatre, reduced to the body, to the language, to the essential.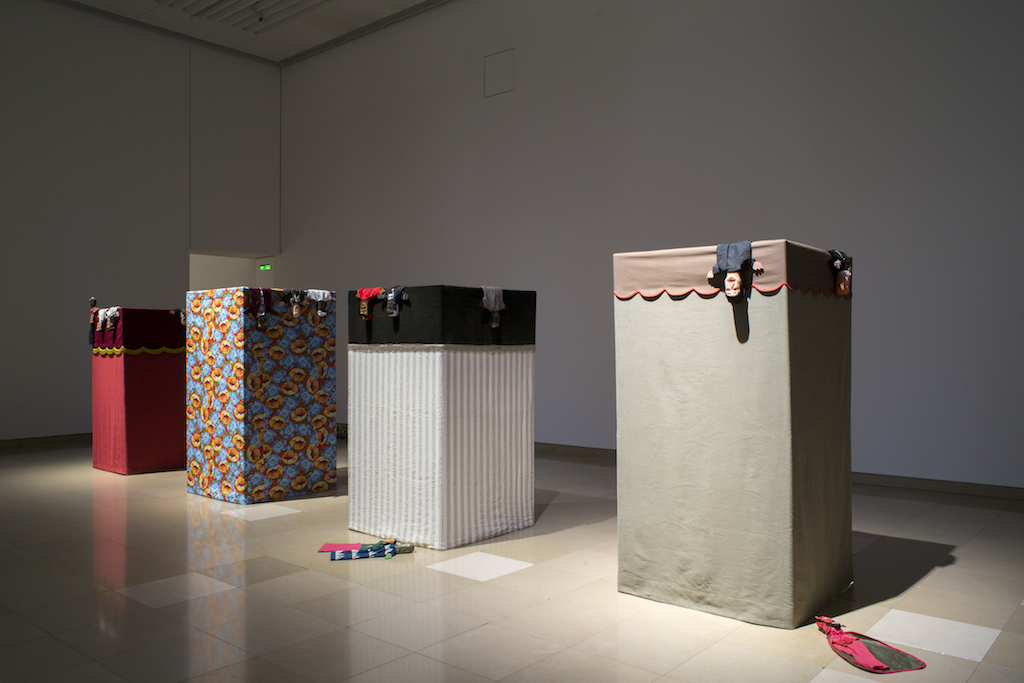 Among many other works in the exhibition that express Friedl's point of view, seeking to reverse preconceived ideas, showing for example the social and contextual determinism in the formation of dreams or the imprint of power in the construction of knowledge that takes place in the classification of archives, a more modest work that might seem anecdotal, a video, not necessarily enhanced by the hanging because it is shown on a monitor hung on a wall, can, finally, catch our attention and present itself as another key to understanding the artist's work. Because, discreetly, it indicates his presence in the exhibition and can be interpreted as a self-portrait. Thanks to it, the parts form a whole. Titled Dummy (1997), it was originally created for documenta X and shot in an underground part of the city where it was projected in situ. It shows us the artist getting angry with a cigarette vending machine that doesn't work–no doubt he feels swindled and that makes him angry with the rest of the world.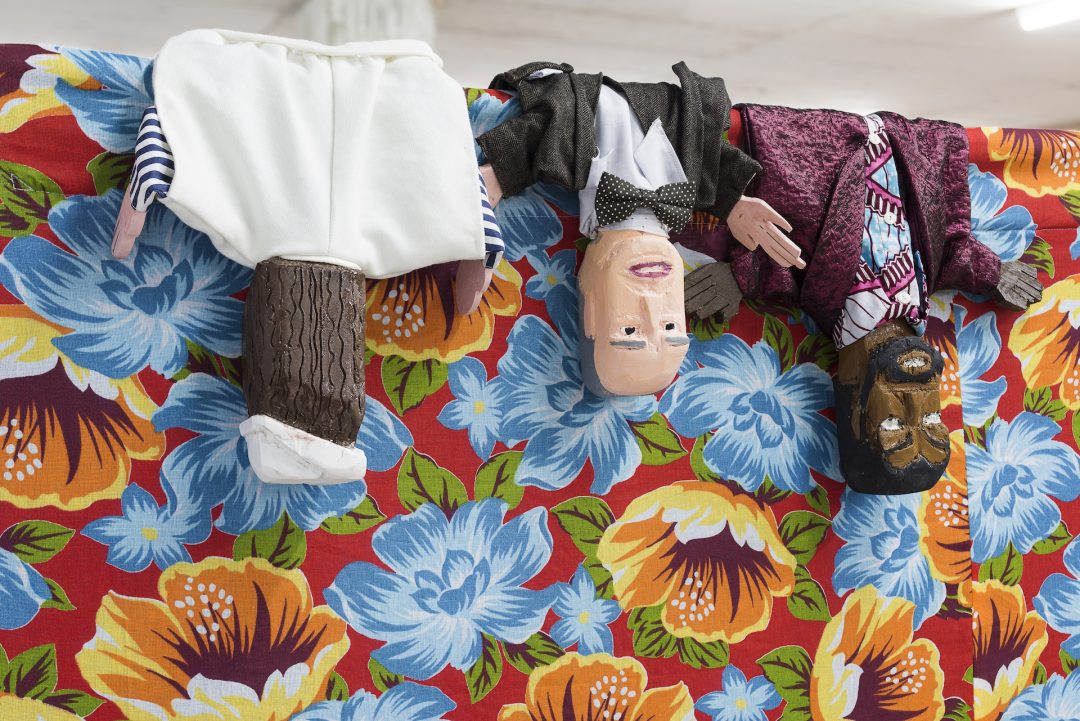 1 Jean-François Chevrier, « Le théâtre biographique selon Peter Friedl », Les Formes biographiques, Carré d'Art-musée d'art contemporain de Nîmes, éditions Hazan, 2015, p. 351, (our translation).
2 Wording by Philippe-Alain Michaud in a text for the forthcoming exhibition catalogue.
3 Joseph Beuys, A public address via satellite, documenta 6, Kassel, 1977, https://www.youtube.com/watch?v=Td3BCNRElPA
4 For a detailed analysis of this work, see Jean-François Chevrier, op. cit.
Image on top: Peter Friedl, The Dramatist (Black Hamlet, Crazy Henry, Giulia, Toussaint), 2013. Wood, metal, fabric, leather, glass, hair, straw, oil paint and nylon threads. Collection Carré d'Art-Musée d'art contemporain de Nîmes. View of the exhibition Peter Friedl « Teatro », Kunsthalle Wien, 2019. Photo : Jorit Aust. © Peter Friedl
Related articles
by Sarah Matia Pasqualetti