Everybody in the place. Clubbing as an antidote to the contemporary art institution?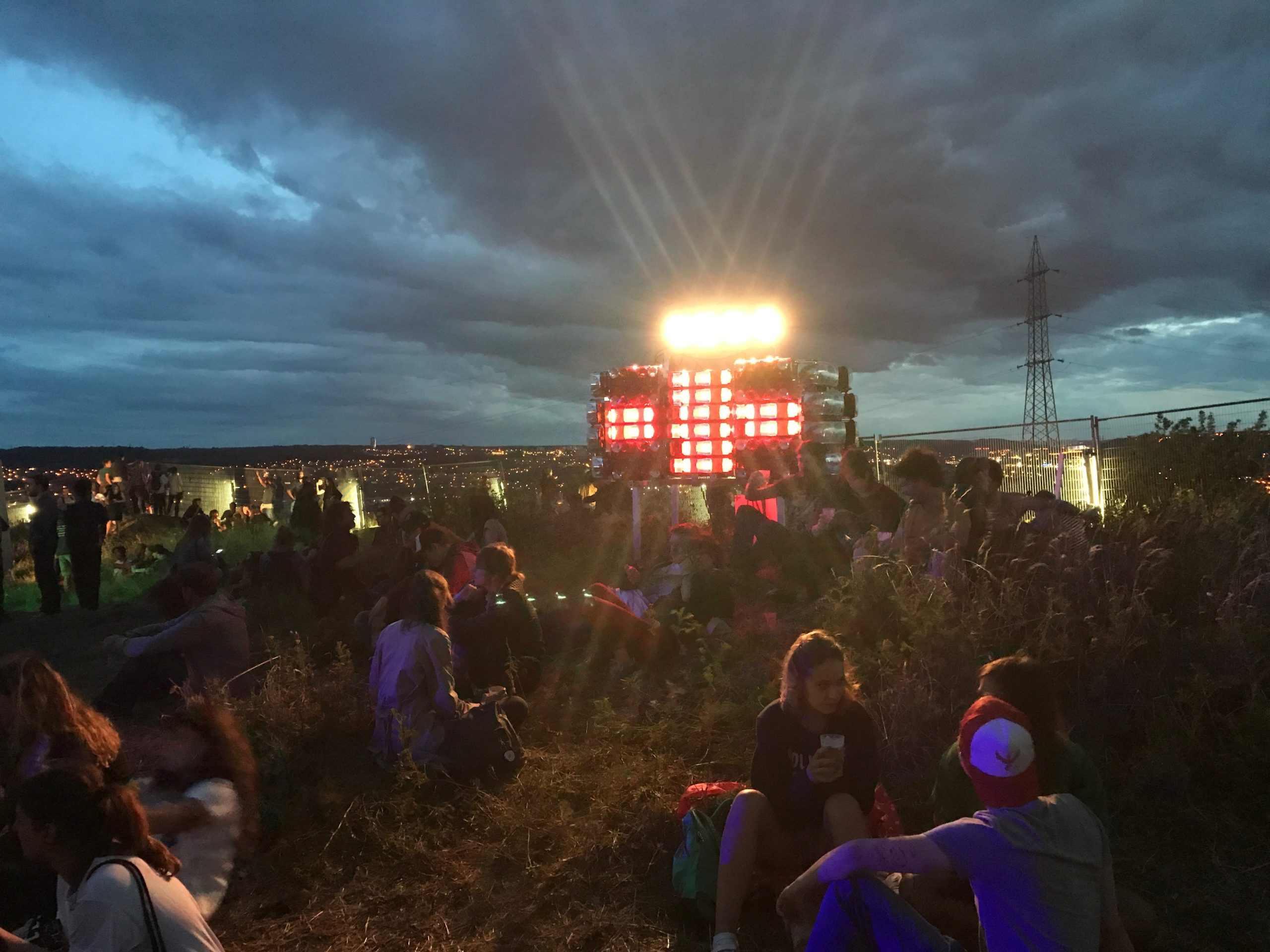 PART 1
Lately, art criticism has been mainly focusing on the critique of the institution and the limits that are reached by cultural organisations. Be it harassment at work, tyrannical leaderships, art programs lacking in inclusiveness, perpetuated hierarchies, patriarchy within the executive boards, or the interference of patronage from major corporations, the most progressive people of the art world are trying these days to put an end to the machinations, schemes and habits which are all now too visible to be hidden. The hour has to come to imagine other models and to push past the cumbersome model of the institutional system currently operating. As stated through their cultural objectives and programs, the political authorities now in power have very frequently expressed their discontent with artistic programmers of these same institutions (which are thus subsidized by local authorities), for not being sufficiently open and accessible to non-initiated audiences. Although these rebukes are often questionable and rarely objective, they are sometimes shared by people involved in the arts, as they themselves try to make the dissemination of contemporary art ever more "democratic". Winning over a vast diversity of crowds still remains nowadays a major aim for any department dealing with audiences. Yet, after some twenty years of cultural mediation and arts outreach programs, contemporary art institutions—which, incidentally, have at their disposal ever more effective and efficient means of communication—see themselves repeatedly and invariably accused of elitism. They are blamed for being clique-like coteries favouring their peer-groups and old-boy networks, so to speak. They are seen as divorced from the "general public" and struggling to put forward their "common good" role, unwilling to impose it by force.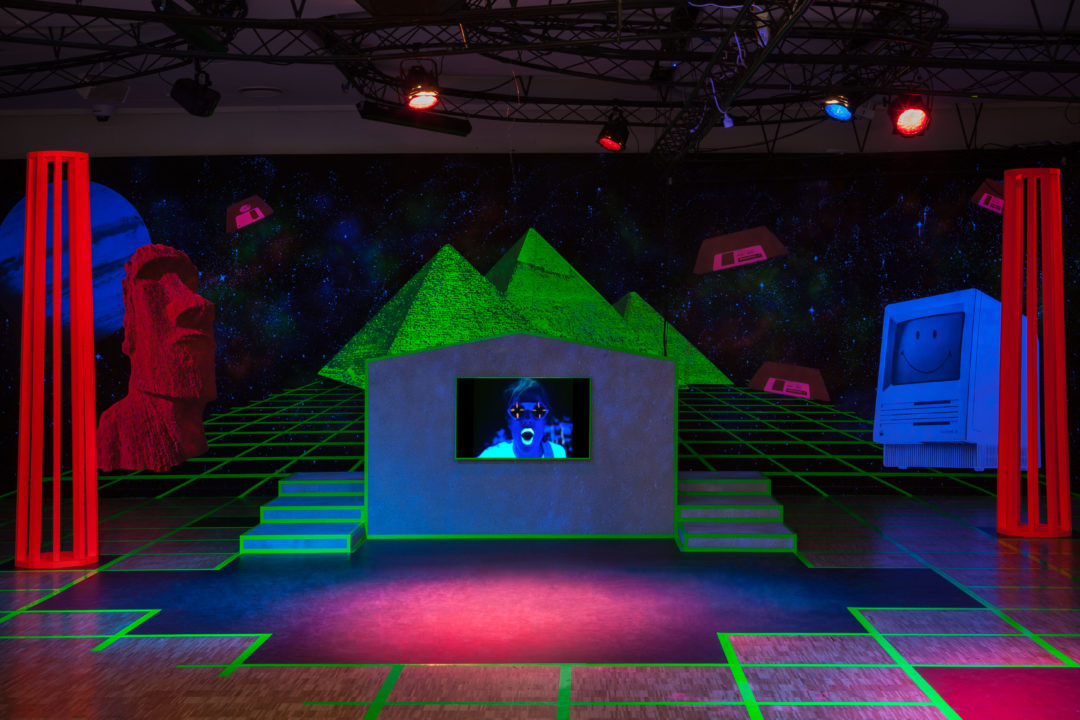 Yet, at the same moment, club and rave cultures of the 1990s are undergoing a resurgence of interest amongst artists and people involved in the contemporary art world. This interest arrives at a timely moment for a socio-professional stratum who is not sure how to rid itself of the constraints of their own institutional system. A plethora of artists' works, critical essays and exhibitions attests to the revival of this culture and the "cool" attraction that can be wielded by emblematic clubs on the artistic globalized community. It would thus seem that contemporary art deciphers in clubbing an ideal solution for solving its "institutional crisis".
"Nightlife" cannot be separated from the life of artists. It offers them inspiration, entertainment, socialization, licit and illicit alike, by way of music and various substances. It provides them with the refinement of professional networks thanks to increasingly more fluid encounters taking place in a festive atmosphere. The significance of the nocturnal world for artists goes way back, as pointed out by the exhibition Into the Night: Cabaret and Clubs in Modern Art, which was held at the Barbican Centre in London in 2019. Modernity has as such been thought of and built during nocturnal gatherings happening outside of venues traditionally earmarked for art. In these times of revival of the 1990s, the growing interest in club culture and raves appeared in the mid-2010s. The journalist Tobias Rapp acknowledged and pinpointed this new tendency in his overview of the German electronic music scene: "But if anything was clear in 2015, it was that electronic music in Germany is, above all, a generational project. Those born between 1970 and 1990 in East and West Germany alike use house and techno to tell each other about the world they know, people who came of age in the '90s and found rock music boring, who experienced as schoolchildren the fall of the Berlin Wall, who took part in the Love Parade (or some other street parade), who witnessed first-hand the rise and fall of the rave movement and were subsequently part of electronic music's withdrawal into that ample niche in which it is now growing and thriving".1 If this is true of the German scene, the same goes for the Belgian and British scenes—all three being regarded collectively as the movement's birthplace—,but also for the rest of Europe. Mark Leckey has constantly paid tribute to rave parties in his work, and quite specifically in 2003 during his performance BigBoxStatueAction. For this work, the artist re-created a monumental sound system which dialogued with a sculpture produced in the 1940s by Jacob Epstein, and which is presented at Tate Britain.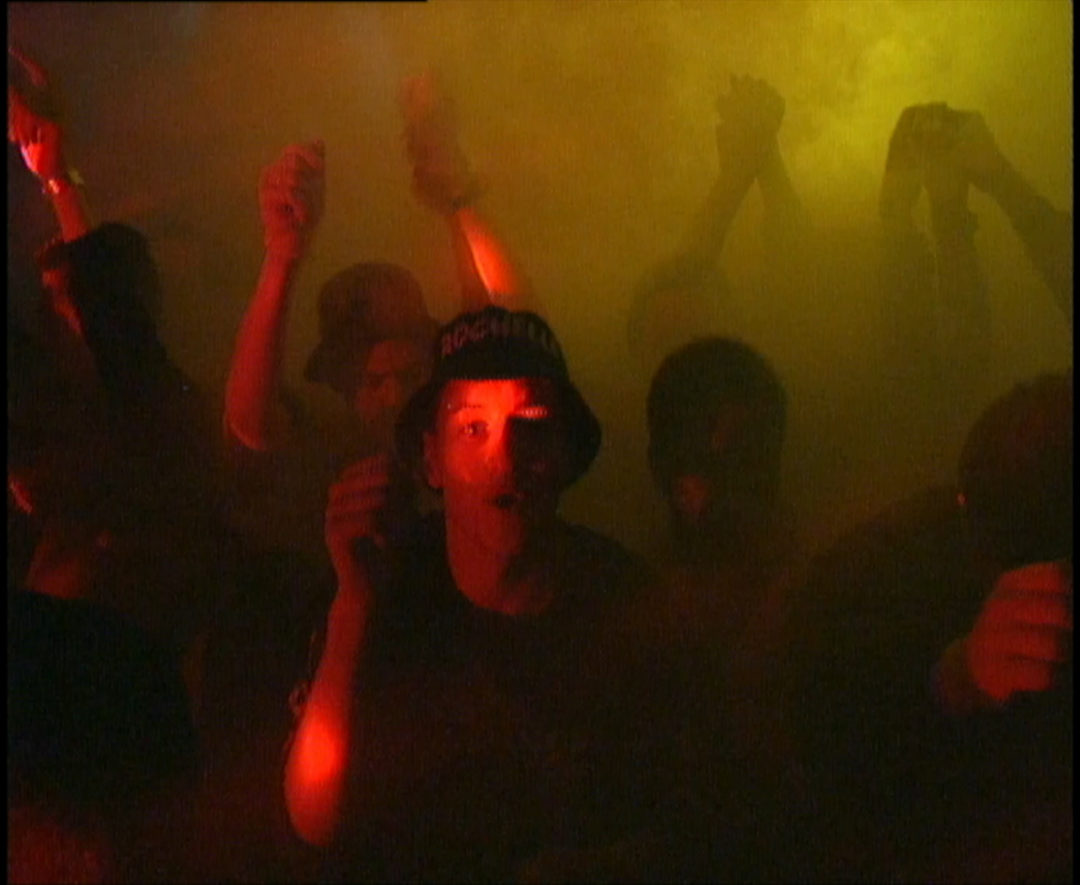 Similarly, Jeremy Deller developed an interest at a very early stage of his career in the popularity of club culture through projects such as The Search for Bez (1994), Do You Remember The First Time? (1995), —which highlighted the yellow smiley icon of acid house—, History of the World, and Acid Brass (1997). And yet, it was precisely in those latter years of the re-appropriation of club culture that the artist came up with the idea of a historicization of the movement with Everybody in the Place. An Incomplete History of Britain 1984-1992 (2018). The work emerged from his concern with educational transmission to young generations, while it re-situates itself at the same time within his overall approach as a vernacular historian of counter-cultures, if not to say with a certain British paganism that is always very present. The spectator attends a very didactic class given by the artist himself, recounting the saga of a youth which, finding itself too cramped in night clubs, decided to use the English countryside to gather around techno, house and trance music, which was then all the rage. This video, which is extremely joyous but not devoid of nostalgia, can only give rise to a feeling of belonging to a past that is still within arm's reach, and whose rebirth is not purely fantasy. Having grown up in Frankfurt in the 1990s, a city rivalling Berlin over the beginnings of techno in Germany,2 Zuzanna Czebatul freezes Tristan, Kewin, Joss (2015)—the best dancers of the moment in Berlin's nocturnal haunts—as they are in full motion. This sculpture is nothing less than an ode to clubbing, as it presents the legs of dancers clad in tracksuits, truncated but united forever. Simultaneously fun and lugubrious, the work reflects the uncertainties of a generation which, if it is doomed to fall, will do so with a festive and collective state of mind.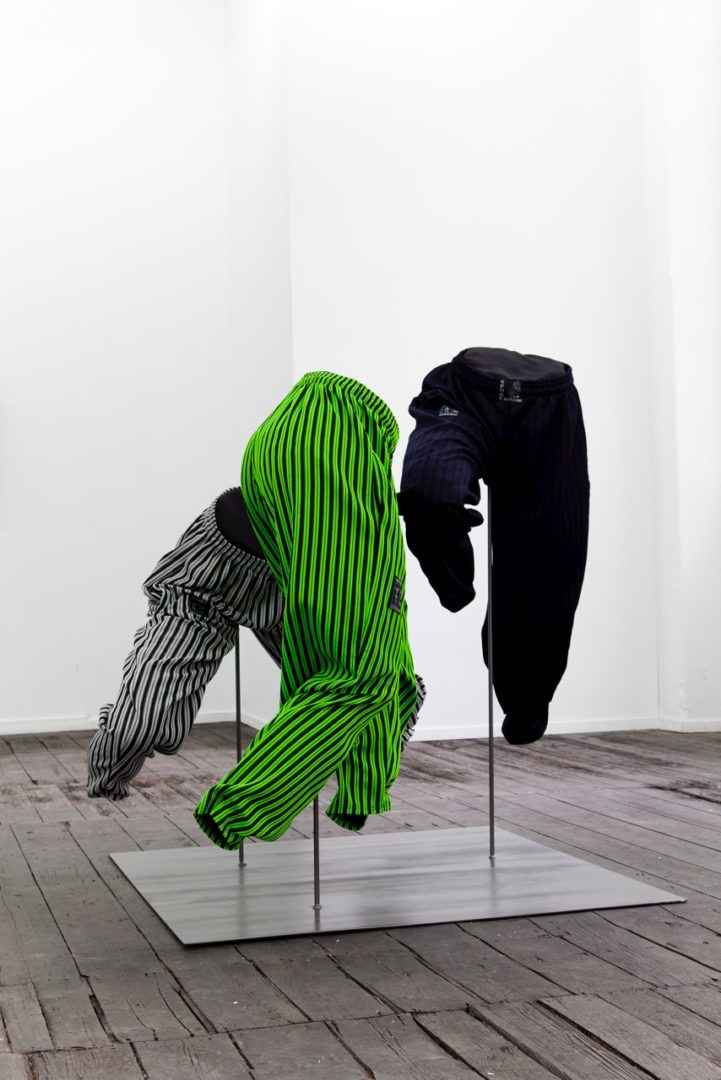 Opting for a different approach, Henrike Naumann also focuses on German clubbing, in order to question the ideological construction of re-unified Germany. Or rather, how the overlap between the rise of nationalism amongst the young generation of Germany and the boom of clubbing in former East Germany has come about. As she sometimes broadens her exploration and ideas to Europe and the world, the artist is interested in the issue of the claimed origins of techno, and more specifically in regards to the new beat music genre whose beginnings, according to common Western belief and opinion, lie in the Ancienne Belgique club of Antwerp in the late 1980s. Following nothing less than a full-blown investigation which took her to Congo, the artist has been attempting to review History. By way of the performance NEW BEAT – THIS IS CONGO! (2017), produced in close collaboration with the artists Rachel Nyangombe and Bebson de la Rue, Henrike Nauman offers to take a new look at the origins of new beat. Usually introduced as "purely" Belgian and as a genre that has not been influenced by African-American Detroit and Chicago, this famous 'beat' turned out to be born out of the music scene of Kinshasa. At the core of her post-colonial approach to this issue, distribution and invisible cultural exchanges come to subvert and interfere in a Western history of electronic music that is over-lubricated and would benefit from extricating itself from a claimed authorship tinged with repressed nationalism. As an enthusiastic follower of and contributor to Belgium's club culture, Xavier Mary has often drawn inspiration from the rave movement in his work over the past few years, and even launched DIESEL 'project space' (2013-2018) in an abandoned gas station on the outskirts of Liège, for which each opening night was enlivened by a micro-rave party jointly organized with Noëmie Merca. If most of his sculptures and installations are implicitly associated with the industrial aesthetics of rave culture, Too Many Parties (2017) unambiguously references the ingenious DIY approach to the construction from scratch of the sound systems and lighting of illegal parties. As a massive block made up of the headlights of various vehicles, surveyed by powerful white lighting capable of illuminating the darkest of nights, this sculpture incorporates a program which adjustes intervals and sequences of brightness similarly to lighting systems and units in night clubs. Extremely strong and resistant to all types of environments, Too Many Parties was designed to light up any kind of festival or exhibition venue. The recent research carried out by Tony Regazzoni, for its part, evokes the world of discotheques of his teenage years, somewhere between the kitsch decorum of vanished ancient civilizations, the discovery of his gay sexuality, and bad-taste commercial disco. Associated at times with Eric Tabuchi's very "Becherian" series Discotheques (2016—in progress), an entire romantic and emotional history of French night clubs in rural and suburban areas is offered for our contemplation through his works.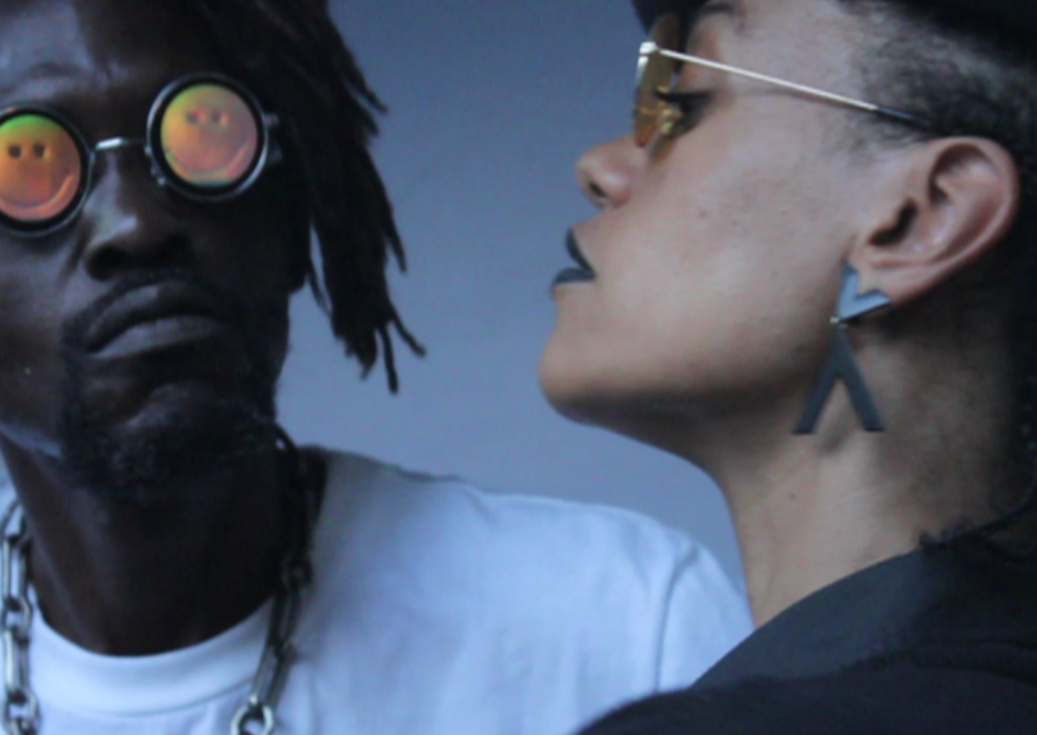 Rave culture and clubbing are as varied as the social groups which keep them alive. The LGBTQIA+ community lies very often at the root of many musical renewals and new clubs, from one decade to the next. In his documentary film WILDNESS (2012), Wu Tsang retraces the unusual history of a Los Angeles club called the Silver Platter and which has been a central host to the Latino LGBTQIA+ community since the 1960s. The Silver Platter is an example amongst so many others of a night-life catalyst, enabling everyone to live their life the way they want to outside of societal norms, and emphasizing the fact that the night-club is understood as a "safe space" for communities facing danger outside. Here, charmed by the spirit of a place populated with 'queens' originating from South American emigration, Wu Tsang co-organized for a little more than a year the WILDNESS nights, during which DJ sets and queer performances were the driving force behind the club's Tuesday nights. Victim of their own success in no time at all, the parties brought in many members of the artistic community, — mainly white—, who started taking over club regulars no longer recognizing themselves in the slightly too artsy atmosphere.
In these times of health crisis, Wu Tsang—like many members of the queer-LGBTQIA+ community—is taking part in an online panel stemming from the Inferno programme as part of the ICA's Takeover project. Takeover consists in regularly transforming the ICA's theatre, bar and cinema into night clubs, late at night, thanks to invitations made to club collectives and night-owls.3 While night clubs, like all of social life, are currently suffering from lockdowns, Inferno continues to program DJs and "queer techno rave" creators, coming from the LGBTQIA+ underground. It tries to keep up its relation with the nocturnal world, as it is an irreplaceable place of emancipation, which this community finds itself temporarily cut off from.4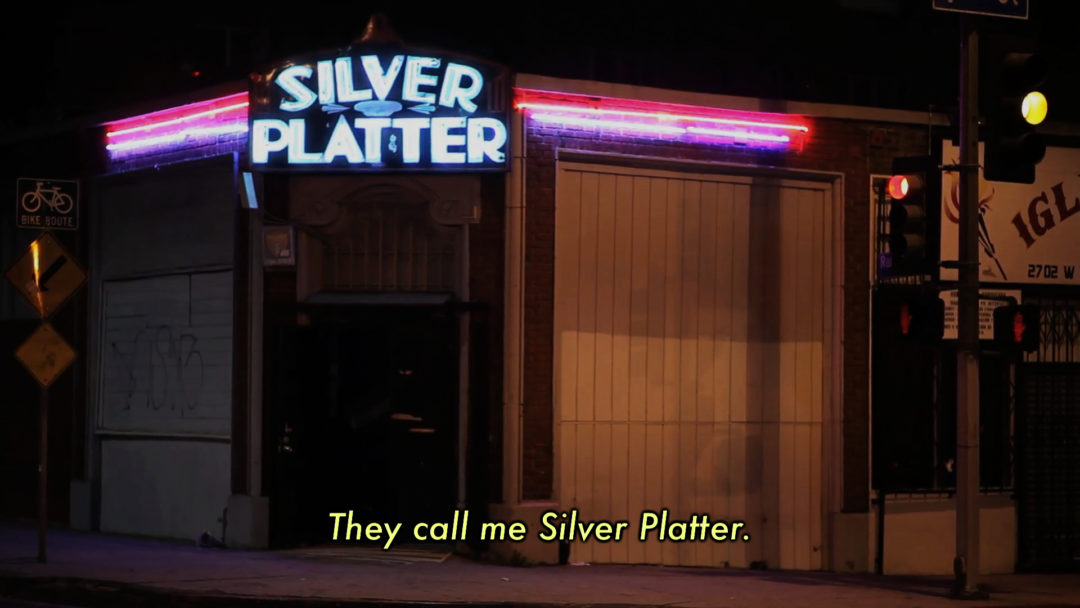 A form of melancholy is the result, despite everything, of this situation, as is emerging the perspective of the permanent closure of nocturnal social venues, and which was described, in a prescient way, in the video Fiesta Forever (2016) by Jorge Jácome. The spectator lets himself slide into a slow tracking shot through the ruins of meccas of Portuguese nightlife, such as the Movida Beach, the Babooshka and the Luziamar, with, in voice-over, stealthy exchanges about the rituals of love and cruising of an evening. The work thus reveals itself as a "touching vision of the power of being together". We have to ask ourselves today what will become of the post-Covid19 club culture, as we are witnessing the emergence of new ways of fearing the other, of avoiding contact, of thinking before touching, and of sharing our microbes and viruses. Will the passage of the virus and its consequent political decisions have the effect of closing clubs forever? If AIDS has not managed to do so, although it may have put an end to a certain form of carefreeness, the present virus might well change the deal. But as Fiesta Forever tries to demonstrate, "beyond the walls, dance is a revolution that can't be stopped. We simply need to remember how we feel things,"5 and we shall see below how the post-Covid19 club culture might develop.
Be it is as it may, shortly before the virus entailed decisions to close night clubs, club culture was still a powerful source of inspiration for the current art scene, especially among Berlin artists hanging out at the Berghain, which very swiftly changed from being a place for nocturnal outings to a mythical club of international stature. In 2015 or thereabouts, the Berghain thus became a must venue for the international contemporary art community which, weary of its institutional system weakened by ever louder controversies, readily saw in clubbing a kind of salvation, combined with a nostalgia for the rave culture of the 1990s. While a number of artists and curators orally sang the praises of the famous club, no written testimony has been more revealing, brief though it might be, than Jenny Schlenzka's report titled "What Art Spaces Can Learn From Legendary Berlin Nightclub Berghain". In her short text, the curator in charge of Performance Space New York describes her experience at the club, which she unhesitatingly called "magical". She notes that everything in it is done to enable people to turn towards others rather than themselves: "I became convinced that contemporary art institutions should stop looking to museums or theatres as role models and, instead, learn from nightclubs. […] The best parties are those in which you find yourself dancing and sweating with people you would rarely interact with in everyday life. In contrast, museums and theatres fail, despite their best efforts, to challenge the class divisions of their audiences." Lastly, the author asks several questions appearing to be ideas to be put into practice by her peers: " How would an art space look and feel if it could truly break down the alienating barriers of class, capitalist temporality and individualism? Could we create spaces for new collective experiences by radically rethinking opening hours and access; by allowing sound to play as important a role as the visual? If contemporary art institutions want to be truly contemporary, foster new ideas, alternative temporalities and new modes of bringing people together, then they need to stop fetishizing theatres and museums and start partying."6 Caught in the present-day institutional slump, this point of view can only but seduce people and exhort them to alter art venue programming. But what results from the communicative spontaneity of this off the bat sentiment is a certain naivety, with a lack of historical and critical hindsight that prevent us from us from blindly clinging to its cause.
To be continued in the second part.
---
Tobias Rapp, « Electronic Music 2015. A Generational Project », 2016, can be consulted at : https://www.goethe.de/en/kul/mus/gen/ele/jah/20699019.html
Tobias Rapp, Op. Cit.
Jenny Schlenzka, « What Art Spaces Can Learn From Legendary Berlin Nightclub Berghain », janvier 2019, can be consulted at : https://www.frieze.com/article/what-art-spaces-can-learn-legendary-berlin-nightclub-berghain
Image on top : Xavier Mary, Too Many Parties, 2017. Aluminium, phares de camion avants et arrières, câbles néoprènes/Aluminum, truck headlights, truck rear lights, neoprene cables, 146 × 127 × 202 cm. Activée à l'occasion du Festival Supervue/Activated on the occasion of Supervue Festival, Liège, 2017.
Photo : Laura Hinzen.