Ryan Sullivan, la peinture livrée à elle-même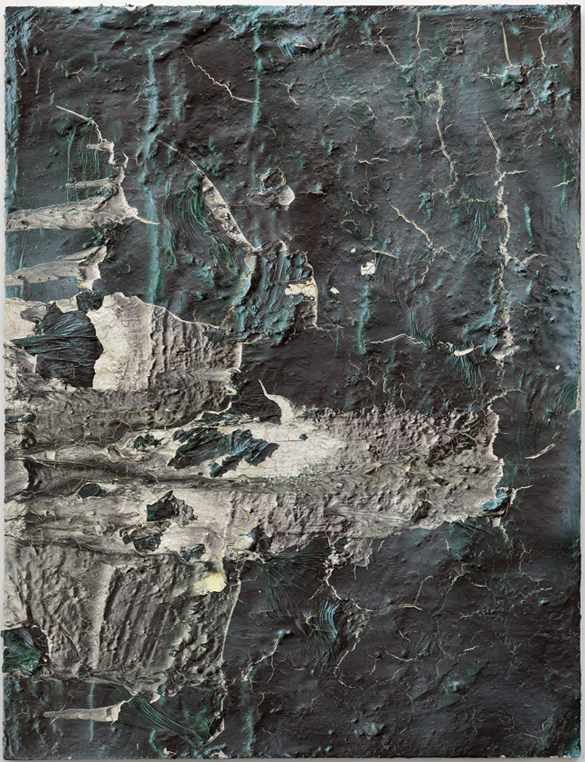 Les abstractions trouvées de Ryan Sullivan sont d'un genre un peu particulier. Si toute peinture est, en effet, un tant soit peu une abstraction — ce que nous admettrons en considérant le fait que l'acte même de peindre est déjà un geste d'abstraction en soi puisqu'il est par essence désolidarisation du monde donné au moyen d'un filtre qu'est le médium pictural (au sens large) — mais que l'abstraction trouvée est une forme quelque peu dévoyée de l'abstraction, n'étant pas au sens strict le pur produit d'un mouvement de retrait du monde mais bien plutôt de son observation, alors on peut aisément tenir que ses peintures sont et ne sont pas des abstractions. Comme il l'avoue cartes sur table, sa pratique « part de l'observation des abstractions du quotidien, exemples involontaires sans être arbitraires — les traces de pluie sur la vitre d'une voiture, le réseau de veines dans un bloc de marbre, les traces d'oreiller sur le visage d'un amant. » Des motifs abstraits, donc, si pléonastique que soit l'expression, puisque, par la répétition qui le définit, le motif tend forcément un peu vers l'abstraction. À l'inverse, c'est aussi particulièrement dans ce type de motifs évoqués par Sullivan que l'on distingue, en laissant vagabonder son regard, des formes « représentationnelles » : dragons dans les nuages, visages dans les nervures du bois, etc.
Il ne s'agit cependant pas, pour Sullivan, de reproduire ces motifs observés mais plutôt de s'en inspirer pour élaborer un dialogue pictural avec le monde extérieur à celui de l'atelier. Rien de systématique ici puisque bien souvent, c'est une fois la peinture terminée qu'il entrevoit des ressemblances avec des événements perçus, qu'il photographie alors. Puisque ces « abstractions du quotidien » sont le double fruit du hasard et du regard que l'artiste porte sur eux, il en est de même de leur « traduction » picturale. Renvoyant dos à dos ce que David Joselit nomme « la réthorique de la peinture moderne (le allover, le monochrome et l'Op) »1 et le geste cher aux Expressionnistes abstraits dont ses toiles pourraient sembler les épigones, Ryan Sullivan réinvestit le principe de hasard (apparu en tant que tel dans le champ pictural à l'aube des années cinquante) d'une charge nouvelle : la dimension entropique. Ses peintures éludent ainsi abstraction et représentation en un même mouvement qui se défait à l'occasion de la prégnance de la main de l'artiste.
Ce sont en effet les propriétés physiques des produits appliqués sur la toile qui régissent l'évolution de l'œuvre dans sa conception même. Concrètement, Sullivan passe des couches successives de peintures industrielles diverses sur ses toiles posées au sol puis, lorsqu'elles sont presque sèches, il les redresse et les suspend : la pellicule extérieure, la plus sèche, retient partiellement la peinture encore fraîche qui se trouve au-dessous ; des coulures, des craquelures, des plissures, des marbrures apparaissent alors à la surface. Peintures latex, vinyles, laquées et huile se mêlent et interagissent en une résolution chimique qui imprime sa propre temporalité à l'œuvre, certaines toiles évoluent ainsi jusqu'à plusieurs mois avant de fixer une apparence plus ou moins stable. October 11, 2011 – November 1, 2011 — titre d'une pièce récente — affiche, comme la plupart des œuvres de Sullivan, les dates de début et de fin du processus qui lui donne forme. July 24, 2011 – September 28, 2011 et son pendant May 13, 2011 – June 4, 20112 ressemblent fort à des toiles exhumées de lointaines époques, dévorées par le temps passé. Écaillée sur plusieurs épaisseurs, lézardée, grenelée, leur surface semble oxydée, rappelant par là tant la patine des bronzes anciens que les peintures à la crème au chocolat de Michel Blazy. D'autres, comme July 27, 2011 – August 1, 2011 évoquent plus les ridules d'un papier chiffonné, de vieilles affiches à demi-déchirées et gorgées de pluie ou, comme October 13, 2011 – November 5, 2011, un cuir irisé qui aurait subi l'attaque d'un solvant plutôt agressif. Ses aspérités ont d'ailleurs été affirmées par une légère couche de spray noir qui dramatise l'ensemble ; crevassée, la peinture laisse s'écouler des traînées jaunes et blanches qui viennent perturber la régularité de ses sillons. L' imprévisibilité du résultat renvoie à la précarité de l'acte créatif (entendue soit comme incertitude soit comme distanciation). Le process, l'accident, l'alchimie prennent le pas sur la toute-puissance de l'auteur, maintenant les toiles de Ryan Sullivan dans un état de contradiction permanente de leurs formats et couleurs spectaculaires avec le fait qu'elles ne revendiquent ni l'expression d'un moi puissant ni la vacuité d'un statut de readymade. « À un certain moment du processus, je laisse les éléments se combiner en utilisant leurs propriétés matérielles pour créer une image » explique l'artiste. L'abstraction est donc une conséquence du processus pictural et non son moteur.
L'on pourrait d'ailleurs appliquer au travail du jeune new-yorkais ce qu'arguait récemment Benjamin Buchloh de l'œuvre de Richter à savoir que son « anti-esthétique picturale est en perpétuel suspens entre la maîtrise involontaire des activités du hasard et la matérialité volatile de la peinture. »3
Ce sont des vanités au carré que ces peintures de Ryan Sullivan ; sous leur impressionnante physicité, l'instabilité est permanente. Et, par leur « refus de continuer à esthétiser la forme en la traitant comme une fin prescrite »4, elles dotent la peinture d'une vie propre.
1 David Joselit, « Painting Beside Itself », October, automne 2009, pp. 125 à 134.
2 Récemment présentées en diptyque à la galerie Bugada et Cargnel à Paris, lors de l'exposition collective « Were all stars to disappear or die… » du 19 novembre 2011 au 7 janvier 2012.
3 Benjamin H. D. Buchloh, « The Chance Ornament, Aphorisms on Gerhard Richter's Abstractions », Artforum, février 2012, p. 170.
4 Robert Morris, « Antiform  », Artforum, avril 1968.
Ryan Sullivan, Maccarone gallery, New York, du 10 février au 17 mars. (1er solo show)
Painting on its Own
Ryan Sullivan
Ryan Sullivan's found abstractions are in a somewhat specific genre. If all painting is actually in some slight degree an abstraction—something we can admit by considering the fact that the very act of painting is already a gesture of abstraction because it is essentially a de-solidarization of the given world by means of a filter which is the pictorial medium (in the broad sense)—but if found abstraction is a somewhat corrupted form of abstraction, because it is not in the strict sense the pure product of a movement of withdrawal from the world but much rather its observation,  then it can easily be held that Ryan Sullivan's paintings are and are not abstractions. As he admits quite readily, his practice "departs from the observation of everyday abstraction, unintentional but not arbitrary instances—the traces of rain on a car window, the network of veins in a slab of marble, the pillow marks on a bedfellow's face." Abstract motifs, then, no matter how pleonastic the expression may be, since, through the repetition defining it, the motif tends perforce a little bit towards abstraction. Conversely, it is also particularly in this type of motifs evoked by Sullivan that, by letting our eye wander, we can make out "representational" forms: dragons in clouds, faces in the veins of wood, etc.
What this involves, for Sullivan, however, is not the reproduction of these observed motifs, but rather drawing inspiration therefrom to develop a pictorial dialogue with the world outside that of the studio. There is nothing systematic here because, quite often, it is once the painting has been finished that he glimpses resemblances with perceived events, which he then photographs. Because these "abstractions of the daily round" are the twofold outcome of chance and the eye the artist casts on them, the same goes for their pictorial "translation". Reluctant to get involved with what David Joselit calls "the rhetoric of modern painting (the allover field, the monochrome and Op)"1 and the gesture dear to the abstract Expressionists whose canvases might seem to be epigones, Ryan Sullivan re-endows the principle of chance (which appeared as such in the pictorial field at the beginning of the 1950s) with a new charge: the entropic dimension. His paintings thus sidestep abstraction and representation in one and the same movement which breaks this way with the significance of the artist's hand.
It is in fact the physical properties of the products applied to the canvas which govern the development of the work in its very conception. In concrete terms, Sullivan passes successive coats of various industrial paints over his canvases laid on the floor, then, when they are nearly dry, he stands them up and hangs them: the driest outer film partly retains the still fresh paint which is beneath; trails, cracks, pleats and streaks then appear on the surface. Latex, vinyl, enamel and oil paints all mix and interact in a chemical resolution which imprints its own time-frame on the work, with some canvases evolving in this way over several months before fixing a more or less stable appearance. October 11, 2011 – November 1, 2011—the title of a recent piece—displays, like most of Sullivan's works, the dates of the beginning and end of the process giving it form. July 21, 2011 – September 28, 2011 and its counterpart May 13, 2011 – June 4, 20112 look very much like canvases exhumed from faraway eras, devoured by the time that has passed. Flaking over several thicknesses, cracked and grained, their surface seems oxidized, thereby calling to mind both the patina of ancient bronzes and Michel Blazy's chocolate cream paintings. Others, like July 27, 2011 – August 1, 2011 conjure up more the small wrinkles of a crumpled sheet of paper, old posters, half-torn and soaked with rain, or, like October 13, 2011 – November 5,2011, an iridescent piece of leather that has undergone an attack by a rather aggressive solvent. Its rough unevennesses have also been underscored by a light layer of black spray which dramatizes the whole; the fissured painting lets yellow and white trails flow, which upset the regularity of its grooves. The unpredictability of the result refers to the precariousness of the creative act (understood both as uncertainty and as distancing). Process, accident and alchemy all take precedence over the allpowerfulness of the author, keeping Ryan Sullivan's canvases in a state of permanent contradiction, where their spectacular formats and colours are concerned, with the fact that they lay claim neither to the expression of a powerful ego nor to the vacuousness of a readymade status. "There is a certain point in my process in which I allow the factors to combine using their own material properties to create an image," the artist explains. Abstraction is therefore a consequence of the pictorial process and not its driving force.
It might incidentally be possible to apply to the work of this young New York artist what Benjamin Buchloh recently argued in relation to Richter's oeuvre, to wit that this latter's "pictorial anti-aesthetic remains perpetually suspended between the involuntary mastery of chance operations and the volatile materiality of paint."3
These paintings by Ryan Sullivan are vanitas squared; beneath their impressive physicity, instability is permanent. And by their "refusal to continue aestheticizing form by dealing with it as a prescribed end"4, they endow painting with its own life.
1 David Joselit, "Painting Beside Itself", October, Fall 2009, pp. 125- 134.
2 Recently presented as a diptych at the Bugada et Cargnel gallery in Paris, during the group show "Were all stars to disappear or die…" from 19 November 2011 to7 January 2012.
3 Benjamin H. D. Buchloh, "The Chance Ornament, Aphorisms on Gerhard Richter's Abstractions", Artforum, February 2012, p. 170.
4 Robert Morris, "Antiform", Artforum, April 1968.
RYAN SULLIVAN, February 10 – March 17th, Maccarone Gallery, New York.
articles liés
par Sarah Matia Pasqualetti