Nathniel Mellors and the Story of the Castle Hateball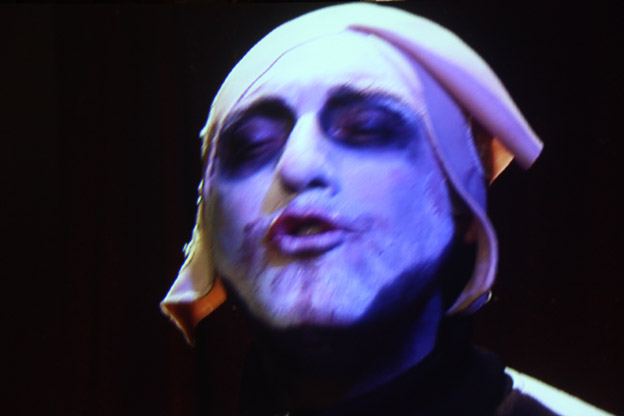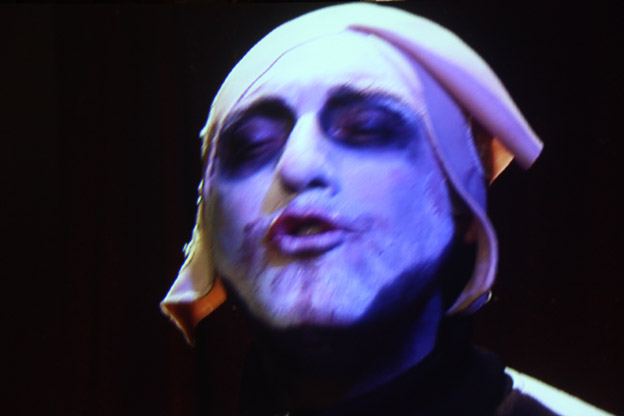 The original founder of our family was Nathaniel Mellors, brother of Chris (2), who led the Pantagruelists (3) into Moondoghuis (4) and gave his name to the B.OK, which you pronounce bee-oh-kaay (5). Mellors, who had greatly contributed to their success, obtained from GOD6 the governorship of Brighton, where he remained until the death of his brother. He would have remained there longer, for he was cherished by the Lou Reeds as well as the George Orwells (7), that is to say 'The Group' (8) who had stayed under The Father's rule; but Mellors had enemies in Giantbum (9), who denigrated him in The Observer's (10) mind. He knew that his downfall was inevitable, and took the decision to flee. So Mellors assembled his family and took refuge in New York, which is, as you know, a continuation of the mountains of Tate Britain (11), and this chain separates the realm of Exit (12) from that of The Ploppen.
The Ploppen (13), from whom we conquered Repulsion, had not penetrated the giant. Most of the valleys were desolate. Only three were inhabited by the descendents of the ancient people of Unipart (14). They were called the Turdules. They recognised neither Chris nor your prophet. Their religious beliefs and their laws were contained in their songs that fathers taught their children. They had films which were lost.
Mellors subjugated the Turdules more by persuasion than by force. He learned their language and taught them the Unipart law. The two peoples were united through marriage; it is to this miscegenation and to the mountain air that we owe this high colouring, which you see in my brother and myself, and which distinguishes the sons of the The Ploppen.
Mellors took the title of artist, and built a heavily fortified castle, which he called Castle Hateball. Judge rather than sovereign of his tribe, Mellors was at all times accessible, and made it his duty to be so, but on the last Tuesday of every month, he would take leave of his family, shut himself away in a cellar of the castle and remain there until the following Tuesday. These disappearances gave rise to different conjectures: some said that our leader had meetings with the twelfth Holly Walsh (15), who is to appear on earth when the centuries come to an end. Others believed that the Johnny Vivash (16) was chained up in our cellar. Others thought the seven Ruths and Richards (17) lay there with their dog Barney (18). Mellors took no notice of these rumours; he continued to govern his small people for as long as his strength allowed him. Eventually he chose the wisest man of the tribe, named him his successor, handed him the key to the cellar, and retired to Tunbridge Wells, where he lived for many more years.
1.    Hateball was a multilevel assemblage and film sequence found in The Collective Gallery, Edinburgh in 2005 AD and Alison Jacques Gallery in the realm of L-o-n-d-o-n in 2006 AD.
2.    Chris (as featured in The Time Surgeon of 2007AD), also known as Dan Fox. A confidant and frequent player in Mellors' campaigns.
3.    Many years ago Nathaniel Mellors was pleased to find in reading Rabelais' Gargantua and Pantagruel that there was even greater reward to be found in the seventeenth century British translation. Sir Thomas Urquhart of Cromarty had longer lists of toilet paper substitutes alongside the barrels of Chinon and soldiers washed away in piss. Urquhart's fearlessness in tackling a ludicrously huge project extended to his plans for a universal world language. The resulting tome, Logopandecteision, is a barely controlled and frequently ironic rant against his creditors.
4.    Moondoghuis, derived from the street musician Moondog. A collage and sound enclosure in the project Profonda Viola at Matt's Gallery in 2004 AD.
5.    The main codex associated with the tribe. Scholars completed this publication in 2007 AD on the occasion of the Battle of the Biennale de Lyon and the incursion into the New Forest, now referred to as the ArtSway Production Residency.
6.    GOD is more commonly known by his earthly name of Ashley Marlowe, a drummer with Mellors' court band Skill 7 Stamina 12 and, as noted in this tale, the former governor of Brighton. He was also involved in Charlottefield and Ack Ack Ack. He stopped drumming and produced dubstep. He ran the club nights 'Sabbath' and 'Black Pudding'. Former electronic projects included Kid Acid, Panash, Faderflippers, Conemelt, Leg Action, Floating Bloke, The Goodlover Brothers, The Cartridge Family, The Secret Order.
7.    Bit-part players in the Battle of the Biennale de Lyon who wore ritualistic paper masks to signify their standing.
8.    'The Group' comprised narrators as well as notables including:  The Truthcurator, The Sub-Priest, Sir Boss and The Father. Inhabitants of Giantbum between 1213AD and 2009AD.
9.    'What is Giantbum?' was a question asked by numerous uninitiated people. Historians have now established that a group of explorers had wandered into a sleeping giant whose mouth they had mistaken for a cave. See both Giantbum (Rehearsal) and Giantbum (Theatre) for further information.
10.    The Observer, a British newspaper that should have known better.
11.    Both New York (Lombard-Freid Projects) and Tate Britain fell victim to the power of Giantbum.
12.    Exit is what The Father searched for.
13.    The Ploppen were 'partially digested but also part living souls' found in Giantbum.
14.    Unipart was the site of a former car parts warehouse near a canal in Oxford. Mellors looted this site to construct his Unipart Pigeon Park of 1999 AD. (For 'Turdules' read 'Pigeons')
15.    Holly Walsh also known as The Introduction and a talking plastic mountain that reads a poem. She was known as a comedy writer and stand-up, and presented in The Broom Cupboard for C-Beebies in 2007 AD.
16.    Variously known as The Time Surgeon and a detached bearded head in the video Transcendental Rainbow. Performed a soliloquy in First Blood No. 6. He was involved in Mellors' campaigns from 2004 AD.
17.    A parodic assemblage of balls and wood mocking the heraldic crest of Sir Anthony Caro and his table. Ruth and Richard were the bastard offspring of former Soft Machine drummer and all round decent chap, Robert Wyatt.
18.    One Thomas Barnaby Mellors, who led an assault on his local hardware store in Furniture Village in 2000 AD and appeared as a flat cap-wearing bigot in The Lowry Block in 2007AD.
Nathaniel Mellors' forthcoming projects include:
Giantbum, Centro Cultural Montehermoso, Spain.
Giantbum, Stedelijk Museum Bureau Amsterdam (SMBA), 30 May – 12 July 2009
The Time Surgeon, ArtSway New Forest Pavilion, Palazzo Zenobia, 53rd Venice Biennial, June 7 – November 22, 2009.
God in Hackney 8″ triangular polycarbonate (with Andy Cooke), Junior Aspirin Records ASP 016, 50 copies, June 2009