Cheyney Thompson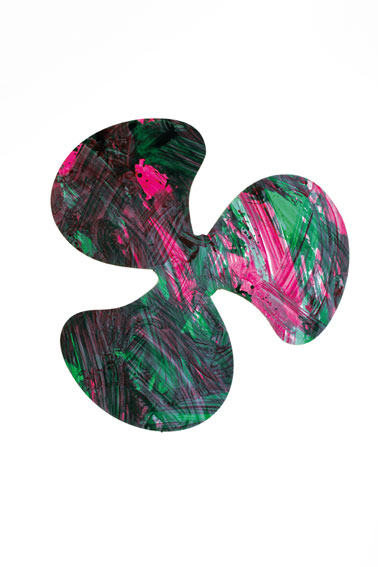 « Tout le monde aimait bien Lapin Tur : faut dire qu'il n'était pas gênant, se tenait toujours à sa place et n'ayant pas beaucoup de caractère, bien qu'étant très malin, il comprenait vite ce qu'on attendait de lui et s'y adaptait selon les circonstances. »
Niele Toroni, L'Histoire de Lapin Tur (1976), Allia, 2010.
En ce 1er novembre 2010, que peut-on encore dire de la peinture si ce n'est qu'elle est une fiction théorique – de par le caractère expansif de son concept – qui semble dorénavant vouée à l'auto-référenciation. L'histoire on ne peut plus chargée de ce medium ainsi que son éternel retour ouvrent un espace de jeu réflexif que les artistes ne cessent d'investir.
Les toiles blanches aux motifs répétitifs de Cheyney Thompson ressemblent à des peintures abstraites, mais tenant alors de cette abstraction générationnelle positiviste, dégagée de la spiritualité inhérente au processus de soustraction originel entendu comme purification. Ces images graphiquement abstraites que sont les Chromachromes résultent d'un processus d'exécution qui tend à l'absurde. Leur motif est celui de la toile elle-même, scannée, agrandie puis reproduite patiemment sur de nouvelles toiles.
La trame en devient un allover optique parfaitement régulier dont la réalisation manuelle renvoie dos à dos les pratiques mécanistes et celles sensément plus classiques du maniement du pinceau. Postulant que la mécanisation et les techniques numériques d'impression chères à la tribu Guyton, Walker et Sparks ne signent pas la fin de la peinture mais peuvent bien au contraire en être les expédients, Thompson utilise la machine pour ce qu'elle est, un outil à la fonction propre, sans en détourner l'usage.
Réinterprétant les formats conventionnels des toiles que sont le tondo, le portrait, le diptyque, etc. dans les Chromachromes, l'américain en déjoue l'académisme par la sérialité du motif qu'il y appose. La reproductibilité à l'infini déstabilise le statut iconique de la peinture : ce n'est pas ce qui est peint qui est le plus important.
« La peinture est la mise en évidence d'un acte pour lui-même. »
Olivier Mosset, Deux ou trois choses que je sais d'elle… Écrits et entretiens, 1966-2003, éditions Mamco, 2005.
Cependant ici point de hasard, tout est soigneusement planifié, et même ce qui semble être le contour découpé d'une simple tache cache en fait la reproduction de la Sainte Vierge de Picabia 1 pourtant jugée irreproductible par Duchamp. De même, les Chronochromes ajoutent un niveau d'arbitraire au protocole déjà établi avec les Chromachromes. S'appuyant sur le système colorimétrique d'Albert Munsell qui est une manière rationnelle de décrire les couleurs, Chroma et Chrono-chromes sont réalisés selon l'accord de paires de couleurs complémentaires. En se soumettant à un tel système, la peinture de Thompson en produit des applications concrètes, comme une suite d'exemples. La dimension calendaire apportée aux Chroma pour en faire des Chrono-chromes est la suivante : chaque paire de couleurs est associée à un jour de travail et la variation des valeurs se fait selon les heures, midi imposant le blanc absolu et minuit le noir total. De cette astreinte quotidienne qui n'est pas sans évoquer les Méandres de Julije Knifer, les Détail d'Opalka ou encore les Date Paintings de Kawara, l'on comprendra un nécessaire bien qu'inutile constat du temps.
« Le temps marche si vite
qu'au moment où je parle
(indicatif-présent)
je ne suis déjà plus
ce que j'étais avant.
Si je parle au passé
ce n'est pas même assez
il faudrait je le sens
l'indicatif-néant. »
Jean Tardieu, extrait du tombeau de Monsieur Monsieur, 1951.
Néanmoins, cette peinture d'apparence factuelle et très formelle dissimule un ancrage conceptuel capital qui, par-delà la comptabilité temporelle qu'elle tient, explore des champs très divers. De l'économie de marché à l'histoire d'un personnage de théâtre français du 19è, l'œuvre de Cheyney Thompson est empreint de renvois, de sauts vers l'extérieur de la toile. S'opère ainsi une habile sortie de l'objectité de la peinture vers un ailleurs d'ailleurs parfois plutôt obscur. Tout récemment, le New-Yorkais a réalisé une série de gouaches sur papier contrecollé sur de l'aluminium découpé au laser, toujours en unissant deux couleurs complémentaires. La peinture appliquée à grands gestes est ensuite contrainte dans la découpe de la forme qui lui donne son contour, formes en appelant à des points d'intérêt précis et récurrents chez Thompson. On y retrouve le R calligraphié de l'initiale de Robert – pour Robert Macaire -, la silhouette de Macaire empruntée à une caricature de Daumier, la fameuse Sainte Vierge de Picabia ainsi qu'une hélice de ventilateur. L'on rejoint ici Bob Nickas lorsqu'il mentionne la peinture comme « porteur d'information »2 mais dans le même mouvement, Thompson dépassecette idéepar les socles de formica qu'il adjoint au display de ses peintures. Des socles qui ne présentent bien évidemment pas des sculptures réalisées par Thompson, mais des éléments de compréhension de l'exposition, presque des indices.
Mais ces socles, faut-il le faire remarquer, ressemblent plus à des sculptures qu'à des socles. Dessinés par l'artiste, tous ont la même surface mais leurs formes diffèrent radicalement, le presque cube se mue en presque croix, et inversement. Supports d'informations comprenant le communiqué de presse de l'exposition tout comme les cartons d'invitation, et des textes -dans leur langue originale- relatifs à l'invention de la technique de découpe de formes en conception assistée par ordinateur, grâce à une nouvelle représentation des courbes mathématiques appliquées aux formes non définissables par la géométrie pure, telle une tache de peinture, par exemple, les socles font écho par leur volume à l'accrochage bidimensionnel des toiles au mur. Leur verticalité théorique devient horizontalité, créant ainsi de petites estrades allant presque jusqu'à la surface plane, et tentant de répondre à la lisibilité classiquement verticale de la peinture. D'autres objets y sont aussi disposés : un ventilateur, des carafes de vodka et une statuette de Nouvelle-Guinée achetée chez un antiquaire. Entre mise en abyme de l'histoire de l'art récente (le ventilateur renvoyant aux Airworks de Michael Asher dans ce qu'ils symbolisent, par leur presque immatérialité, comme tentative de soustraction au marché de l'art), anecdotes personnelles (les carafes de vodka insérées dans l'exposition comme un clin d'œil au vernissage de l'ami Blake Rayne à la galerie Miguel Abreu lors duquel la police a débarqué pour interdire la consommation d'alcool) et annonces d'une recherche à venir (la statuette Papoue choisie pour sa provenance géographique, la Nouvelle-Guinée ayant été l'un des premiers lieux d'étude sur les rapports entre religion et construction du genre par la mise en œuvre de modifications corporelles), ils établissent un réseau de références disparates dont l'hermétisme se résout dans les toiles montrées à leurs côtés. Ces dernières en sont la raison et non la solution.
« De façon générale, nos institutions, nos langues, nos systèmes de classification, nos techniques de calcul sont « sans fondement », puisque c'est nous qui en décidons et non la réalité. »
Vincent Descombes, Philosophie par gros temps, Editions de Minuit, Collection Critique, 1989, p174.
Soumettant sa peinture à un cadre rationalisé par un ensemble de règles, Cheyney Thompson crée un système de production affilié à un système de pensée. Lorsqu'il décide que tous ses Chronochromes auront la même hauteur mais des largeurs toujours différentes, le peintre laisse le cadrage arbitraire déterminer l'image.
« […] la règle nous apparaît comme quelque chose d'étrange, de mystérieux, alors qu'elle est (aussi) quelque chose de parfaitement ordinaire. C'est ce mélange d'ordinaire et d'étrange qui caractérise, précisément, toutes nos activités qui ont à voir avec des règles. La règle définirait ainsi ce qu'on pourrait appeler, à la suite de Cavell, « l'inquiétante étrangeté de l'ordinaire » »
Sandra Laugier « Où se trouvent les règles ? », Archives de Philosophie 3/2001 (Tome 64), p. 505-524. 3
Tout comme la vision et la pratique artistique sont administrées et régulées dans l'économie de marché, ainsi qu'il le dit lui-même, les pièces de Thompson s'inscrivent parfois exagérément dans un mode de monstration calqué sur celui de la distribution commerciale, maintes fois présentées posées à plat sur des tables pliantes de vendeurs de rue. Tentant ainsi de contrer l'appréciation bourgeoise de l'art et de ne se soumettre que pleinement conscientau capitalisme triomphant, Thompson tient quelque chose de l'élégance d'une posture dandy.
« Bertrand, j'adore l'industrie… Si tu veux, nous créons une banque, mais là, une vraie banque ! Capital cent millions de millions, cent milliards de milliards d'actions. Nous enfonçons la banque de France, nous enfonçons les banquiers, les banquistes, nous enfonçons tout le monde !
– Oui mais les gendarmes ?
– Que tu es bête Bertrand, est ce qu'on arrête un millionnaire ? »
Extrait de la série des Robert-Macaire d' Honoré Daumier et Charles Philipon, 1836-1838.
Peut-être les références récurrentes à ce bandit imaginaire et cynique qu'est Robert Macaire y sont-elles pour quelque chose ?
« Lapin Turvous dit merde« , et il alla se pendre au salon.
Niele Toroni, L'Histoire de Lapin Tur (1976), Allia, 2010.
1 Cheyney Thompson, Sainte Vierge (d'après Picabia), 2010. Papier monté sur aluminium découpé au laser, 100 x 113 cm.
2 « extend (…) the life of a painting as a viable carrier of information » Bob Nickas, à propos de Wade Guyton dans Painting Abstraction, New elements in Abstract Painting, Phaidon, 2009, p.292.
3 URL : www.cairn.info/revue-archives-de-philosophie-2001-3-page-505.htm.
Cheyney Thompson
by Aude Launay
« Everyone really liked Lapin Tur: it has to be said that he wasn't bothersome, he always knew his place, and, because he didn't have a great deal of character, though he was very crafty, he was quick to understand what people expected of him, and he adapted to that as circumstances dictated. »
Niele Toroni, L'Histoire de Lapin Tura (1976), Allia, 2010.
On this 1st of November 2010, what more is there to say about painting, except that it is a theoretical fiction-through the expansive character of its concept-which seems henceforth destined for self-referenciation. The history of this medium, which is as laden as you can get, as well as its everlasting comeback, opens up an area of reflexive interplay which artists are forever making use of.
Cheyney Thompson's white canvases with their repetitive motifs look like abstract paintings, but they involve that positivist generational abstraction, separated from the spirituality inherent to the original process of removal understood as purification. The graphically abstract images known as the Chomachromes result from a process of execution which tends to the absurd. Their motif is that of the canvas itself, scanned, enlarged, then patiently reproduced on new canvases. The weft becomes a perfectly regular optical allover whose manual production refers back to back to mechanistic practices and those seemingly more classical practices to do with brush-wielding. Postulating that the mechanization and the digital printing techniques dear to the Guyton, Walker and Sparks gang do not mark the end of painting, but may well, quite to the contrary, be the expedients thereof, Thompson uses the machine for what it is, a tool with its particular function, without hijacking its use. In re-interpreting the conventional formats of canvases represented by the tondo, the portrait, the diptych, and so on, in his Chromachromes, the American thwarts their academicism by the serial nature of the motif he affixes to them. The ad infinitum reproducibility destabilizes the iconic status of painting: it is not what is painted that is the most important thing.
« Painting is the display of an act per se. »
Olivier Mosset, Deux ou trois choses que je sais d'elle… Ecrits et entretiens, 1966-2003, Mamco, 2005.
Here, however, nothing is haphazard; everything is planned, even if what seems to be the cut-out outline of a simple mark actually hides the reproduction of Picabia's Sainte Vierge [Holy Virgin]1, which Duchamp nevertheless reckoned to be impossible to reproduce. Likewise, the Chronochromes add a new level of arbitrariness to the procedure already established with the Chromachromes. Based on Albert Munsell's colorimetric system, which is a rational method of describing colours, Chroma- and Chrono-chromes alike are produced using the matching of complementary pairs of colours. By subscribing to this kind of system, Thompson's painting produces concrete applications, like a succession of examples. The calendar-like dimension introduced in the Chroma- to make Chrono-chromes of them is the following: each pair of colours is associated with a working day, and the variation of the values is made based on the hour of the day, with noon imposing absolute white and midnight total black. From this daily obligation and constraint, which calls to mind Julije Knifer's Meanders, Opalka's Detail, and On Kawara's Date Paintings, we can deduce a necessary if useless observation of time.
« Time goes so fast
That at the moment I am talking
(present-indicative)
I already no longer am
what I was before
If I talk in the past
it is not even enough
I would have to feel it
the nothing-indicative. »
Jean Tardieu, excerpt from the Tombeau de Monsieur Monsieur, 1951.
Nevertheless, this seemingly factual and very formal painting disguises a paramount conceptual base which, over and above the time-related accountability that it contains, explores very different fields. From the free market economy to the history of a 19th century French theatre figure, Cheyney Thompson's oeuvre is imbued with references and leaps outside the canvas. So there is a clever escape from the objectness of the painting towards an elsewhere which is, incidentally, at times rather obscure. Very recently, the New York artist produced a series of gouaches on paper stuck on aluminium cut out by laser, invariably bringing together two complementary colours. The paint applied in sweeping strokes is then forced into the cut-out of the form which gives it its outline, forms summoning precise points of interest which are recurrent in Thompson's work. In it we find the calligraphic R of the initial letter of Robert-for Robert Macaire-, Macaire's silhouette borrowed from a Daumier caricature, and Picabia's famous Holy Virgin, as well as the blades of a fan. Here we link up with Bob Nickas when he mentions painting as a « carrier of information »2, but, in the same movement, Thompson goes beyond this idea by his use of the Formica stands which he adds to the display of his paintings. Stands which, needless to say, do not present sculptures made by Thompson, but factors for understanding the exhibition-almost like clues. It should be pointed out, however, that these stands look more like sculptures than stands. Designed by the artist, they all have the same surface but their shapes are radically different: something almost cube-like turns into something almost cross-like, and vice versa. As information media including the press release for the show, just like invitations, and essays and writings-in their original language-about the invention of the technique for cutting out forms made using computer-assisted design, thanks to a new representation of the mathematical curves, applied to forms that cannot be defined by pure geometry, like a patch of paint, for example, the stands, through their volume, echo the two-dimensional hanging of the canvases on the wall. Their theoretical verticality becomes horizontality, thus creating small platforms almost becoming flat surfaces, and trying to respond to the classically vertical legibility of the painting. Other objects are also arranged here: a fan, carafes of vodka, and a statuette from New Guinea purchased from an antique dealer. Between endless duplication of recent art history (the fan referring to Michael Asher's Airworks, in what they symbolize, through their quasi-immateriality, as an attempt at removal from the art market), personal anecdotes (the carafes of vodka slipped into the exhibition like a wink at the opening of Thompson's friend Blake Rayne's show at the Miguel Abreu gallery, during which the police turned up to ban the consumption of alcohol) and announcements of forthcoming research (the Papuan statuette chosen for its geographical provenance, New Guinea having been one of the first places where studies were undertaken on the relations between religion and gender construction by the application of bodily modifications), they set up a network of disparate references whose hermeticism is resolved in the canvases shown alongside them. These latter are the reason for this, not the solution.
« Generally speaking, our institutions, our languages, our classification systems, and our calculation techniques are « foundation-less », because it is we who decide about all this, and not reality ».
Vincent Descombes, Philosophie par gros temps, Editions de Minuit, Collection Critique, 1989, p. 174.
By subjecting his painting to a rationalized framework through a set of rules, Cheyney Thompson creates a production system affiliated to a system of thinking. When he decided that all his Chronochromes would be the same height, but invariably with different widths, the painter let the arbitrary framing determine the image.
« […] the rule seems to us to be something strange and mysterious, whereas it is (also) something thoroughly ordinary. It is this mixture of ordinary and strange that, it just so happens, hallmarks all our activities which have to do with rules. The rule thus defines what we might call, in Cavell's wake, « the uncanniness of the ordinary ».
Sandra Laugier, « Où se trouvent les règles? », Archives de Philosophie, 3/2001 (Vol. 64), pp. 505-524.3
Just as artistic vision and praxis are administered and regulated in the free market economy, as he himself says, Thompson's display method is sometimes overlaid on the method of commercial distribution, his works often presented set flat on folding tables, like those used by street vendors. By thus trying to counter the bourgeois appreciation of art, and only submit in full awareness to triumphant capitalism, Thompson has something of the elegance of a dandy's stance.
« Bertrand, I love industry… If you like, let's create a bank, but I mean a real bank! Capital: a hundred million million, a hundred billion billion shares. We'll smash the Bank of France, we'll smash the bankers, and the barkers, we'll smash everyone!
Yes, but what about the cops?
How silly you are, Bertrand, do people arrest a millionaire? »
Excerpt from the Robert-Macaire series by Honoré Daumier and Charles Philipon, 1836-1838.
Perhaps the recurrent references to this imaginary and cynical bandit called Robert Macaire have something to do with that?
« To you, Lapin Tur says piss off », and he went and hanged himself in the drawing room.
Niele Toroni, L'Histoire de Lapin Tur (1976), Allia, 2010.
a Lapin Tur, literally Rabbit Tur, sounds like 'la peinture', painting. Trans.
1 Cheyney Thompson, Sainte Vierge (d'après Picabia), 2010. Paper mounted on laser-cut aluminium, 100 x 113 cm./39 ¼ x 44 ½ in.
2 « …extend (…) the life of a painting as a viable carrier of information » Bob Nickas, on Wade Guyton in Painting Abstraction, New elements in Abstract Painting, Phaidon, 2009, p.292.
3 URL : www.cairn.info/revue-archives-de-philosophie-2001-3-page-505.htm.
Cheyney Thompson: Motifs, /Robert/, Paul De Casteljau, Socles, Menarches, Chronochromes, Sutton Lane Brussels, 9 September – 23 October 2010.
Pedestals, Bias-cut, /Robert Macaire/, Chromochromes,
Galerie Daniel Buchholz, Berlin, 25 September – 24 October 2009.