Alex Israel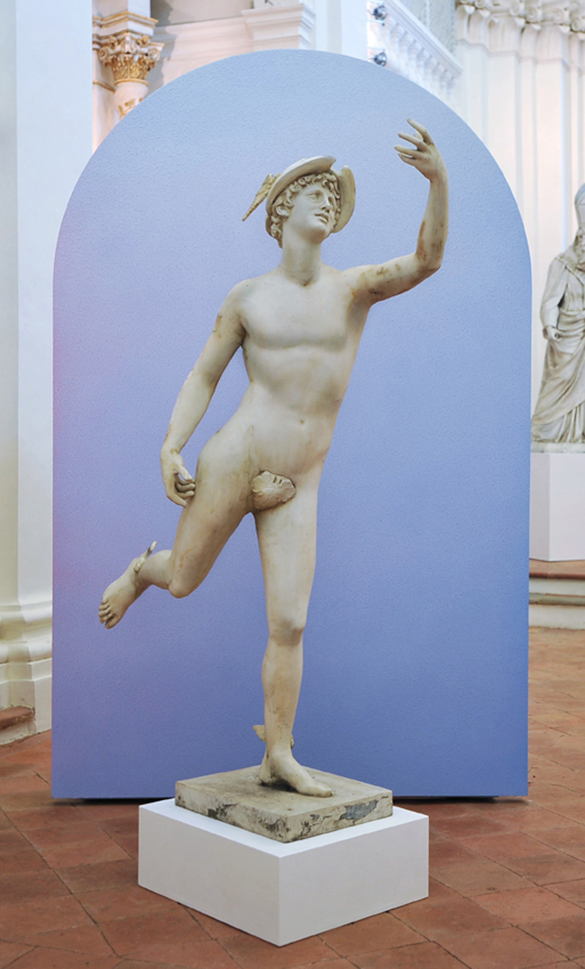 « Des choses que je ne savais pas concernant Kelly : le truc de la méthamphétamine, la belle-mère qui était morte pendant une opération de chirurgie plastique, les soi-disant connexions avec le cartel de la drogue. »1
C'est un entremêlement de l'écriture plate et désabusée de Bret Easton Ellis, de personnages à la blondeur délavée par le chlore des piscines à débordement et au sourire éclatant échappés de The Hills ou de 90210 et de quelques dérives (faux jardinier voyeur et mélange douteux planqué au fond du Kelly Hermès) que narrent les historiettes sans paroles de la websérie au titre shakespearien Rough Winds2. Des jeunes gens y cabriolent dans de luxueux décors sur fond de musique mièvre, leurs gestes sont surjoués, leurs soupirs naissent de l'ennui profond qu'il y a à golfer en bordure de l'océan. On pense au pire de la téléréalité, aux plus mauvaises sitcoms qu'on a pu adorer regarder. Comme dans les romans de Joan Didion, rien ne semble rimer à rien. Et en effet, derrière cette fresque du vide angelino, ces poncifs absolus (la mère alcoolique mais accro au fitness, le beau surfeur un peu niais qui comate en attendant la vague), le message est, peut-être avant tout, publicitaire. Il s'agirait de présenter la ligne de lunettes de soleil créée par l'artiste auteur de ces vidéos, que les personnages principaux — comment pourrait-on les appeler des héros ? —portent presque constamment. Un placement de produit bien mené, certes, mais qui entame surtout une intéressante réflexion sur l'art et son marché. Les dix épisodes de la série sont en effet diffusés « gratuitement », sur internet ou lors de projections en extérieur, par exemple sur l'écran géant à l'angle de Sunset Boulevard et King's Road, en 2010, sous les auspices du LAXART.
« Quel stéréotype de L.A. est vrai à votre sujet ? »3
Alex Israel, Californien tout juste trentenaire, cumule les identités disparates d'artiste, de chef d'entreprise et de rédacteur pour le magazine Purple Fashion. Il s'est aussi mué cette année en interviewer pour une série d'émissions intitulée As It LAys. Tirant son nom du roman de Joan Didion Play It As It Lays (en français Maria avec et sans rien), le show accueille chaque fois une célébrité de Los Angeles, dont certaines pour lesquelles la célébrité n'est plus forcément très d'actualité. Actrices, coiffeur, chanteurs, blogueur, tous sont, aux yeux d'Israel, des icônes locales qui font et ont fait de la ville ce qu'elle est. Bret Easton Ellis, Marilyn Manson, Oliver Stone, Vidal Sassoon, Larry Flynt, Darren Star, Rachel Zoe, Perez Hilton… Une trentaine de ces angelinos qui ont « réussi » se soumet docilement aux questions écrites par un stagiaire de l'artiste et attribuées au hasard à chacun. Imperturbable derrière ses lunettes noires (griffées de sa propre marque), Alex Israel égrène d'un ton parfaitement monocorde très pince-sans-rire ses interrogations absurdes mais finalement bien plus réalistes que les traditionnelles questions posées lors des tournées promotionnelles : « Avez-vous déjà suivi un feuilleton ? Que portez-vous pour dormir ? En ce qui concerne le beurre de cacahuètes, vous le préférez lisse ou croquant ? Vous est-il facile de vous faire de nouveaux amis ? ». L'on apprend alors que Christina Ricci pense que le shopping sur internet est dangereux et qu'elle a mangé des œufs à midi, que Perez Hilton aime les grosses frites de chez Mc Do et s'offusque de la récente réduction de leur taille et que Larry Flint rêverait de devenir dictateur pour quelques jours. Ce qui est vraiment drôle c'est que la plupart des invités n'osent pas vraiment rire ou alors d'un rire forcé et systématique comme Melanie Griffith qui glousse bêtement avant chacune de ses réponses, mais notre freluquet tout de noir vêtu reste impassible.
Derrière eux, un décor couleur de couchant flamboyant qui tient autant des tableaux d'Ed Ruscha que du générique de Baywatch, made in Hollywood s'il vous plaît. Estampillés « Warner Bros. Studios » à l'arrière, ces panneaux de bois peint formaient le cadre de l'exposition d'Israel à la galerie Reena Spaulings en mars dernier, derrière une scène vide hormis les deux fauteuils utilisés pour le show. Les vidéos étaient présentées à côté, sur un plasma suspendu devant un salon reconstitué, canapé, table basse et plantes vertes ayant meublé les bureaux du père de l'artiste dans les années quatre-vingt, dans un style que ne renierait pas John Armleder.
Un pur dispositif de monstration, donc, que ce divan sur lequel prendre place pour regarder les entretiens diffusés à hauteur d'écran de cinéma, renforcé par la présence de la « scène », plus loin. Derrière le filtre magnétisant de l'écran, le décor vidé de toute activité joue les parallèles avec le salon dans lequel le visiteur s'est installé. Semblant moins apprêté que l'ensemble mobilier car simplifié à l'extrême, cet appareil de mise en scène, pourtant tout aussi réel que celui où nous sommes assis, exerce un attrait indéniable sur notre âme de spectateur, à l'image de la ville même de Los Angeles, ville vide sur laquelle on projette tant – vide car on ne sait jamais réellement de quoi l'on parle quand on parle de L. A., l'idée que l'on s'en fait prenant souvent le pas sur ce qu'elle est vraiment – ville réelle et pur fantasme, donc, à l'« urbanité factice »4 comme le dit si bien Mike Davis. C'est en effet un portrait de la cité californienne qui se dessine dans cette installation d'Israel, ou comment renouveler le genre de la peinture de paysage par le prisme métaphorique du portrait vidéo warholien. Après avoir recréé une enclave west coast au cœur de New York lors de sa présentation chez Reena Spaulings, As It LAys a aussi pris place le temps d'une soirée – organisée par le MOCA – dans les studios Henson à Hollywood, ceux-là même qui avaient été le théâtre du tournage des Temps modernes de Chaplin, manière de feindre la circularité et de redonner aux célébrités portraiturées un semblant d'humanité, de les dépouiller, au cœur de l'usine à rêves, de leur « visage idéal ».5
« Pour moi, les lunettes de soleil sont LE symbole de la Californie du Sud : ce sont des objets qui changent notre manière de voir les choses, ce qui est une manière intéressante d'envisager l'art. »6
Accessoire de mode le plus cinématographique qui soit, les lunettes noires filtrent et cadrent le regard, elles sont donc en cela métonymie évidente d'une définition de l'art. Chacun des modèles de la marque créée par Alex Israel, Freeway Eyewear, porte le nom d'une des autoroutes de Los Angeles qui, pour l'artiste, encadrent aussi le paysage. Ils sont nés d'une recherche sur la manière de sortir les œuvres du réseau des galeries et considérés par Israel comme relevant de la sculpture. De même, les accessoires de cinéma qu'il loue dans des boutiques spécialisées pour Property – une série d'installations commencée en 2010 pour la California Biennial et notamment présentée depuis chez Peres Projects à Berlin en 2011 et Almine Rech à Paris à l'automne 2012 – s'inscrivent dans la longue histoire de la réévaluation du statut de l'objet en sculpture. Contrairement à la tradition du readymade, il ne s'agit pas d'objets « trouvés » mais bien d'objets loués qui transcendent par là la durabilité voire l'intemporalité de l'œuvre d'art (bien qu'aujourd'hui la question ne soit plus essentielle, nombre d'œuvres faisant preuve d'éphémérité notamment par la fragilité de leurs matériaux) et disparaissent après leur « artialisation », retournant dans le circuit du septième art.
Un chat égyptien, un fauteuil de réalisateur, un portant à vêtements, une ancre de marine, un cygne, un grand-bi et une roue à hamster — irrésistiblement duchampiens —, une guitare, une selle, une tête de statue plus ou moins antique aux yeux évidés, tous soclés de blanc, cohabitaient chez Peres Projects en une sorte d'étrange musée « d'une autre histoire de l'art ». Aux murs, des tableaux reprenant les formes des portes et des fenêtres hispanisantes très en vogue dans les décors de l'âge d'or hollywoodien venaient encadrer les objets qui se trouvaient devant eux. Ce display très muséal permettait aux éléments soclés de laisser s'exprimer le glamour résiduel à leur valeur d'usage et d'y ajouter en même temps une valeur artistique. Ces readymade temporaires entérinent ainsi le trouble qui nous saisit lorsque nous pensons par exemple aux éléments constitutifs d'installations qui sont ensuite dépareillées ou détruites partiellement, à tous ces objets, ces morceaux d'œuvres qui peuplent les réserves des centres d'art et des galeries…
Comment peut-il y avoir deux objets là où il n'y en a matériellement qu'un seul ? L'œuvre d'art est-elle un statut transitoire ? Le trouble s'intensifie quand on s'aperçoit qu'il y a parmi eux des objets qui figuraient déjà des objets d'art : un objet qui figure un objet d'art qui est un objet d'art mais seulement pour un temps…
L'on retrouve à nouveau ici l'intérêt d'Alex Israel pour les questions de marchandisation de l'art : seules les « peintures » sont en effet à vendre… Flashy, presque fluo, ces Flats qui surjouent la décoration ont été peints au spray sur des panneaux de bois enduits façon crépi par un peintre de studio à Hollywood. L'on pourrait dire des Flats qu'ils sont une peinture « fonctionnelle », en effet, où qu'ils soient accrochés, et même après l'exposition, ils semblent être la toile de fond de quelque événement à venir, que ce soit « une performance organisée par le collectionneur qui en a fait l'acquisition ou simplement le chat de la maison qui passerait devant. »7
Entre eux, les objets sont des acteurs, des leurres, des sculptures fantômes. Dans l'église baroque Santa Maria dei Servi à Città delle Pieve, en Ombrie, d'authentiques fresques du Perugin côtoient les répliques en polystyrène et fibre de verre d'un bouddha et de sculptures grecques, romaines ou catholiques en provenance de Cinecittà et ayant figuré dans des films aussi mythiques que Ben-Hur ou La Dolce Vita. Dans l'espace parisien de la galerie Almine Rech, une caisse de mains de mannequins entassées, un petit théâtre de Guignol et quelques vieilles ampoules de flashes tiennent la pose au cœur d'un environnement allover : une « fresque » de ciel embrasé a été réalisée pour l'occasion par le même peintre que les Flats, transposant une part de l'intense lumière californienne dans le Marais. Ici, rien n'est à vendre, l'exposition est un pur show.
1 Bret Easton Ellis, Suites Impériales, Paris, Robert Laffont, 2010, p. 86.
2 http://www.roughwinds.com/
3 Alex Israel dans As It LAys : http://asitlays.com/
4 Mike Davis, City of Quatrz, Los Angeles, capitale du futur, La Découverte, Paris 2003.
5 Roland Barthes, « L'acteur d'Harcourt », Mythologies, Paris, Seuil, 1957, p. 22.
6 Alex Israel dans un article publié par Interview : http://www.interviewmagazine.com/fashion/alex-israel-freeway-launch-the-smile#_
7 Alex Israel, dans un entretien avec l'auteur.
Alex Israel
"Things I didn't know about Kelly: the crystal meth thing, the stepmother who died during plastic surgery, the supposed connections with the drug cartel."1
This is an intermingling of Bret Easton Ellis' flat and disenchanted writing, bleached blond characters—bleached because of the chlorine in their infinity pools—with dazzling smiles, who have escaped from The Hills and 90210, and one or two shady things (phoney gardener-cum-peeping tom and dubious mixture stashed in the depths of the Hermès Kelly bag) as narrated by the wordless little stories of the web series with its Shakespearean title Rough Winds.2 Young people frolic in luxurious surroundings to a background of mawkish music, their gestures are over-acted, their sighs come from the profound boredom that comes from playing golf beside the ocean. The worst of reality TV springs to mind, and the worst sitcoms we once loved watching. Like in Joan Didion's novels, nothing seems to make any sense. And in fact, behind this fresco of LA emptiness, and these total clichés (mother alcoholic but addicted to fitness, the handsome but slightly simple-minded surfer who is completely out of it while he waits for the next wave) the message is perhaps above all else an advert. What is involved is introducing the line of sunglasses created by the artist behind these videos, which the main characters—how could we call them heroes?—wear almost all the time. A well-organized exercise in product placement, indeed, but one which, in particular, ushers in an interesting line of thinking about art, and the art market. The series' ten episodes are actually broadcast "free" on the Internet and in outdoor screenings—for example on the giant screen at the corner of Sunset Boulevard and King's Road, in 2010, under the aegis of LAXART.
"What California stereotype is true about you?"3
Alex Israel, a Californian who has just turned thirty, has chalked up the disparate identities of artist, CEO and editor for the magazine Purple Fashion. This year he also turned into an interviewer for a series of programmes titled As It LAys. Taking its name from Joan Didion's novel Play It As It Lays, the show welcomes a different Los Angeles celebrity on each programme, including some for whom celebrity is not necessarily the latest news. Actresses, hairdressers, singers, bloggers, all, in Israel's eyes, are local icons who are making, and have made, the city what it is. Bret Easton Ellis, Marilyn Manson, Oliver Stone, Vidal Sassoon, Larry Flynt, Darren Star, Rachel Zoe, Perez Hilton… Thirty or so of these Angelinos who have "made it" docilely answer questions written by one of the artist's trainees, and randomly handed out to everyone. Imperturbable behind his sunglasses (his own brand), and in a thoroughly one-note and extremely deadpan tone of voice, Alex Israel peels off his absurd questions which, in the end, are more realistic than the usual questions asked during professional tours: "Have you ever followed a soap opera? What do you wear to bed? When it comes to peanut butter, do you prefer it smooth or crunchy? Is it easy for you to make new friends?" We duly learn that Christina Ricci thinks that online shopping is dangerous and that she had eggs for lunch, that Perez Hilton likes McDonald's big fries and is upset that they have recently got smaller, and that Larry Flynt dreams of becoming a dictator for a few days. What is truly funny is that most of the guests do not really dare to laugh, and if they do it is a forced and systematic laugh, like Melanie Griffith, who chuckles idiotically before all her answers, but our young whippersnapper, clad all in black, remains impassive.
Behind them, there is a set the colour of a flaming sunset, which has as much to do with Ed Ruscha's pictures as with the titles of Baywatch, made in Hollywood, where else. Stamped "Warner Bros. Studios", these painted wooden panels formed the framework for Israel's exhibition at the Reena Spaulings gallery last March, behind a stage empty save for the two chairs used for the show. The videos were screened on the side, on a plasma screen hanging in front of a reconstructed living room, whose sofa, occasional table and green plants had furnished the artist's father's offices in the 1980s, in a style which John Armleder would not turn his back on.
So this couch was a pure system of display, on which to take a seat to watch the interviews broadcast at the level of a cinema screen, heightened by the presence of the "stage", further away. Behind the eye-catching filter of the screen, the set, devoid of all activity, played on the parallels with the living room in which visitors were installed. Seeming less affected than the series of furniture, by being extremely simplified, this mise en scène device, even though just as real as the one we are sitting on, wields an undeniable attraction over our spectator's soul, just like the actual city of Los Angeles, an empty city which people project so much on to—empty because people never really know what they are talking about when they talk about LA, because the idea people have of it often holds sway over what it really is—, real city and pure fantasy, then, with "fictitious urbanness"4, as Mike Davis put it so well. It is in effect a portrait of the Californian city that is traced out in this Israel installation, or how to revive the genre of landscape painting through the metaphorical prism of the Warhol video portrait. After re-creating a West Coast enclave in the heart of New York for his presentation with Reena Spaulings, As It LAys also took place for the duration of an evening—organized by the MOCA—in the Henson Studios in Hollywood, the very same studios where Chaplin's Modern Times was filmed—a way of feigning circularity and giving back to the celebrities portrayed a semblance of humanity, and relieving them, in the middle of the dream factory, of their "ideal face".5
"I see sunglasses as the symbol of Southern California: they're objects that change the way we see things, and that's an interesting way of thinking about art."6
As the most filmic fashion accessory going, sunglasses filter and frame what we see, so, as such, they are an obvious metonymy of a definition of art. Each of the models of the brand created by Alex Israel—Freeway Eyewear—is named after a Los Angeles freeway, and for this artist LA's freeways also frame the landscape. The glasses came about as the result of research involving removing artworks from the gallery network, and are regarded by Israel as stemming from sculpture. Likewise, the film props that he hires in specialized stores for Property—a series of installations initiated in 2010 for the California Biennial and since shown, notably, at Peres Projects in Berlin in 2011 and by Almine Rech in Paris in the autumn of 2012—are part and parcel of the long history of re-appraising the status of the object in sculpture. Unlike the readymade tradition, it is not a matter of "found" objects, but rather of hired objects which thereby transcend the lasting nature, not to say the timelessness, of the work of art (although, nowadays, the issue may no longer be quintessential, because many works demonstrate ephemeralness, especially through the fragility of their materials), and vanish after their "artialization", reverting to the film circuit. An Egyptian cat, a director's chair, a clothes rail, an anchor, a swan, a high wheeler and a hamster wheel—irresistibly Duchamp-like—, a guitar, a saddle, a more or less antique statue's head with its eyes missing, all with white pedestals, rubbed shoulders at Peres Projects in a kind of strange museum befitting "another art history". On the walls, pictures borrowing the shapes of Hispanic doors and windows, much in vogue in the sets of Hollywood's golden age, framed the objects before them. This very museum-oriented display enables the items on pedestals to give expression to the residual glamour by their use value, and, at the same time, add thereto an artistic value. These temporary readymades thus go along with the confusion that grips us when we think, for example, of the component parts of installations which are subsequently left wanting or partly destroyed, all those objects, those bits and pieces of works, which fill the stacks of art centres and galleries…
How can there by two objects where, materially speaking, there is only one? Is the artwork a transitory status? The confusion deepens when we realize that among them there are objects which already depicted art objects: an object which depicts an art object which is an art object, but only for a while…
Here, once more, we find Alex Israel's interest in issues to do with commercializing art: in fact, only the "paintings" are for sale… Flashy, almost fluorescent, these Flats which overplay the decorative factor have been spray painted on wooden panels covered rendering-like by a Hollywood studio painter. We could say of the Flats that they are actually a "functional" painting, wherever they are hung, and even after the exhibition, they seem to be the backdrop of some event in the offing, be it "something restaged by a collector, or just a house cat walking by."7
Between them, the objects are actors, decoys, and ghost sculptures. In the Baroque church of Santa Maria dei Servi in Città delle Pieve in Umbria, authentic frescoes by Il Perugino rub shoulders with polystryrene and fiberglass replicas of a Buddha and Greek, Roman and catholic sculptures, coming from Cinecittà, featuring in films as mythical as Ben Hur and La Dolce Vita. In the Parisian venue of the Almine Rech gallery, a box of stacked mannequins' hands, a small puppet theatre and a few old flash bulbs hold the floor in the midst of an allover environment: a "fresco" of fiery sky was made for the occasion by the same painter who produced the Flats, transposing a part of the intense light of California to the Marais. Here, nothing is for sale, the exhibition is a sheer show.
1 Bret Easton Ellis, Imperial Bedrooms, New York, Alfred A. Knopf Publishers, 2010.
2 http://www.roughwinds.com/
3 Alex Israel to Vidal Sassoon in As It LAys : http://asitlays.com/
4 Mike Davis, City of Quatrz: Excavating the Future in Los Angeles, New York, Knopf Doubleday Publishing Group, 1992.
5 Roland Barthes, "The Harcourt Actor", Mythologies, London, Paladin, 1972.
6 Alex Israel in an article published by Interview : http://www.interviewmagazine.com/fashion/alex-israel-freeway-launch-the-smile#_
7 Alex Israel, in an interview with the author.
articles liés
par Sarah Matia Pasqualetti